After launching four successful airlines in 30 years, serial entrepreneur David Neeleman's latest project sees him targeting underserved US cities with Breeze Airways
Salt Lake City sits in the valley west of the snow-covered peaks of the Wasatch Range, which stand like silent sentinels, guarding the bustling cities below.
On a recent, clear morning in the suburb of Cottonwood Heights, the summits look close enough to touch. As skiers head into the mountains to shred the slopes made famous when the city hosted the 2002 Winter Olympics, aviation impresario David Neeleman is masterminding his fifth act, an airline called Breeze.
The name conjures up an image of light and carefree summer afternoons, relaxing on the veranda of a neo-classical pre-Civil War-era mansion shadowed by old-growth oaks cloaked in Spanish moss, and perhaps sipping a chilled glass of sweetened iced tea. Or a mint julep. Easy, relaxed, friendly, comfortable, unique.
Imagine no further: that's exactly what Neeleman wants you to envision when you ponder his new airline.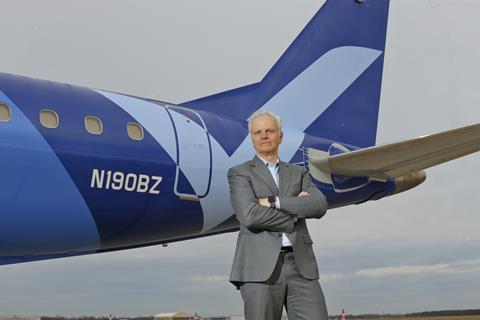 And, of course, he wants a Breeze flight to whisk you away to that veranda – be it in Nashville, Charleston, or Savannah, or one of a dozen other places in the southeast USA that have been rumoured to be in the new airline's route network.
He's marketing his new carrier – which will target mid-sized, underserved secondary cities that currently have few nonstop flight options – as "the world's nicest airline", more than 20 years after creating something similar with JetBlue Airways.
Indeed, the office from which Neeleman is hustling to get Breeze airborne is just steps away from the JetBlue office he set up two decades ago.
And for some, Breeze looks like a sort of "JetBlue 2.0" with fancier technology and newer aircraft. For Neeleman, though, it is completely different.
JetBlue was two airlines ago, he says, and a wealth of industry experience ago, too.
"Every time I start an airline I learn more about the business. And I know I don't want to compete with JetBlue because they're really good at what they do."
HALCYON DAYS
To launch Breeze, he's gathered a team of airline talent that includes colleagues from his halcyon days at JetBlue and veterans of Virgin America and Allegiant Air – a giveaway as to what he wants Breeze to look like someday.
"It's a great melding of everyone's life experiences," he says with a chuckle.
Neeleman, 61, is a well-known quantity across the aviation world. A modern-day Midas whose background, business philosophy, street smarts and risk appetite have made him one of the most successful entrepreneurs in the industry.
Neeleman jumped into the commercial aviation business with Morris Air, which introduced the concept of ticketless travel in the late 1980s. After selling the company to Southwest Airlines (and at the mercy of a five-year non-compete agreement), he moved to Canada to help create WestJet, which has grown to be that country's number two behind legacy carrier Air Canada. Alongside WestJet, he built up an airline reservation and check-in systems company called Open Skies, which was later sold to information technology company HP.
He then returned to the USA to launch JetBlue in 1999. After leaving the New York-based airline in 2007, he went to Brazil and unveiled Azul – the word means "blue" in Portuguese, a nod to his former company – fulfilling a promise that he had made to himself years earlier.
Born in Brazil in 1959, Neeleman and his family came to the USA when he was five years old. His father Gary worked as a journalist for global news agency United Press International. During his youth, the family often travelled back to the Latin American country to visit.
He and his siblings were raised in the Mormon church, a faith in which mission plays an important role. It is customary for young Mormons, after finishing school, to complete overseas missions that last up to two years.
Already fluent in Portuguese, 19-year-old David Neeleman went to Brazil.
"I lived in Brazil as a young boy and visited as a teenager, and I saw the rich side of Brazil. And then I went as a missionary, and worked in the favelas and the slums, and experienced the poor side of Brazil."
His time there shaped his ideas of "servant leadership", and that striking life experience plays a central role in his management style and his business philosophy, to this day.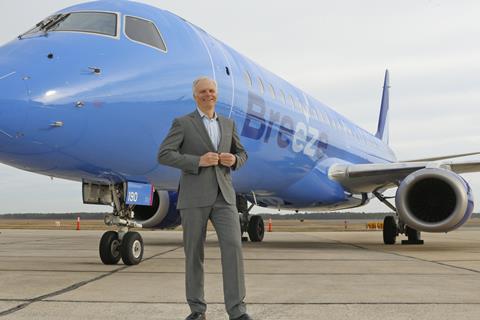 Neeleman founded Azul in 2008, seeing opportunity for a low-cost airline to thrive in a huge country that was in desperate need of improved air transport infrastructure. But forming Azul was also Neeleman's way of giving back to Brazil decades after he'd come face-to-face with some shocking human truths.
"During my mission, I found these really good-hearted people and I was furious to see the class system that existed there."
He sees the USA as more egalitarian than other countries – a place where people face comparatively fewer barriers in chasing economic opportunities than in some other countries. But Brazilians without the right connections, education and heritage are often excluded from prospects that would help them succeed and climb from the stations into which they were born.
In addition, leadership in Brazil tends to be top-down, rather than collaborative.
"There is no word in Portuguese for 'servant leadership', because it is so foreign to the culture of Brazil. There, all they know is that the boss dictates. The boss makes policies and rules and regulations, which ties people's hands. So, the first thing we did when we started Azul was to untie their hands, and say, 'Make the right decision for the customer'.
"You have to create an environment where people feel loved and trusted, communicate with them so they feel like they're part of the team," he says. "Your job as a leader is to make peoples' lives better, and to make them better people."
EMPLOYEE RELATIONS
He's bringing that approach to his new US venture, creating a special sauce he hopes will make travelling on Breeze an experience customers want to repeat, and make employees feel a part of something bigger.
"I don't ever want special perks like parking spots for the executives. We never had that in my companies," Neeleman says.
Neeleman himself has passed out snacks on his airlines' flights, interacting directly with customers, listening to their comments and suggestions. He expects his executives to do the same.
"You don't just sit in your office and… think you know what you're talking about," he says.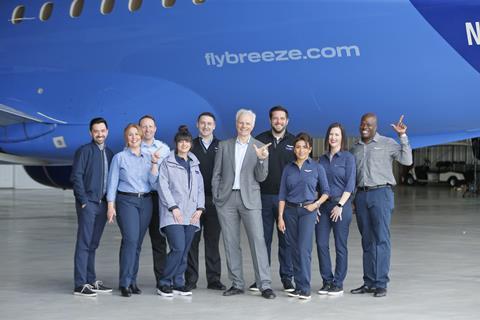 Breeze plans to launch in mid-April, after a six-month coronavirus-driven delay, unveiling what it is calling a "super-app" and beginning to sell tickets. It has scheduled its first flights by the end of May.
While major carriers globally continue gaming out what their new normal may look like, Neeleman is charging ahead with a technology-driven low-cost concept – fueled by investor funding to the tune of $100 million – that he believes will succeed from day one.
He has set his sights squarely on leisure travellers, anticipating a surge of demand from customers clamouring to get out and visit family and friends after a year of sitting at home. The timing of the US immunisation campaign – president Joe Biden has promised to make vaccines available to every adult in the USA by 19 April – plays directly into his hands.
"There's just a huge amount of pent-up demand. I am seeing it in my own family. Each of my kids have something like three trips planned. They're all ready to go.
"It's good timing to be starting in May and spooling up by July and August," he adds.
Cut-rate aircraft lease rates – due to the industry's near-collapse in the last year – make the prospect of starting an airline amid an industry crisis even more enticing.
"One of the silver linings of Covid is that the planes came cheap. We are paying a third of what we were paying for the same airplane at Azul," Neeleman says.
"Same airplane" could not be more accurate. Breeze has already taken delivery of four leased Embraer E-Jets, including two E195s formerly operated by Azul and two former Air Canada E190s, according to the airline. Breeze has agreements to lease a total 15 E190s from Nordic Aviation Capital.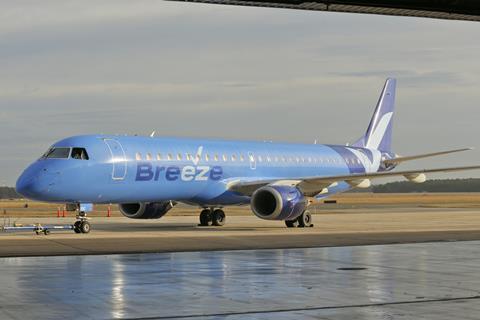 By the end of 2021, the carrier plans to operate 15 aircraft on a network of 15 "rustbelt-to-sunbelt" routes.
Like ultra-low-cost peer Allegiant Air, Breeze will focus most of its flying on days of the week when leisure demand is highest – Thursday through Monday.
It is set to enter the segment of the market where Allegiant, Spirit Airlines, Frontier Airlines and Sun Country Airlines are all rather successful at what they do. So, really, does the USA need yet another low-cost airline?
"What I learned from Azul is that you need to focus on trip costs," Neeleman says. "And we can do all this with much lower trip costs. Our planes are virtually free. We can get parts for pennies on the dollar, so our maintenance costs are low. You'll be able to interact with us on our app, and do everything you need to do with your booking."
An Uber-like Breeze "super app" is core to the airline's low-cost business model. Passengers can use the app to access various flight information and to make, cancel, upgrade and change their bookings. What is different about it is that it will also allow customers to reserve hotel rooms and rental cars, order inflight food and access other services related to their trips.
Neeleman's standard wording is that Breeze "is a technology company that just happens to fly airplanes".
While the Embraers will do the heavy lifting during the airline's ramp-up, the real stars of the fleet will be new Airbus A220s, set for delivery beginning in October 2021.
Neeleman becomes animated when speaking about the Toulouse-based airframer's smallest narrowbody.
"That airplane is a game-changer," he says. Enough of a game-changer he adds, to revolutionise US air travel in the post-pandemic era.
"When you can fly seven hours of range, and we're working really closely with these guys to put an auxiliary tank on that thing… that means we can go 4,000 miles. That means we can go from the northeast US into Europe, and Florida into South America. We can go into Hawaii from anywhere west of Kansas. We can do things no other plane can do."
Other attractions of the former Bombardier CSeries programme, which Airbus acquired and re-branded in 2018, include the aircraft's short-field take-off capabilities, being able to quickly reconfigure the aircraft cabin to include, some day, a luxury first-class cabin with lie-flat seats, and the economics of lower fuel burn and maintenance costs.
"We can't fly a E195 for three and a half hours and make money doing that. But we can fly an A220 for six or seven hours and make money doing that," he says.
Breeze has 60 of the type on order with Airbus, and 60 on option. All of the airline's examples will be built in Mobile, Alabama. Breeze has signed sale-and-lease back deals covering five A220s with Voyager Aviation.

"We're going to be getting one a month for the next 10 years. That's a long time. I'll be 71. And we'll still be getting one a month."
All that potential success also requires staff to make it happen. For its start-up phase, the airline has about 150 employees, and is looking to expand quickly. For the better part of the past year, its website was little more than a recruiting platform.
A notable programme Neeleman has set up – and another sign that this is not just another low-cost airline – is a partnership with a local university. He is hiring students to become flight attendants, and in return providing them with a debt-free path to a university degree.
"The nature of our business is nomadic, and we are going to move around with the seasons," Neeleman says. "So we came up with this idea that we could get young people – who are used to studying online now – work 15 days a month, and give them 15 days off. We provide tuition, a salary, housing and a trip home every month. You may be flying out of one city that's peak in the wintertime, and then switch to another that's peak in the summertime.
"When you graduate, you'll have learned how to do customer service, how to work under pressure, and then you're able to get your degree, go follow your dreams."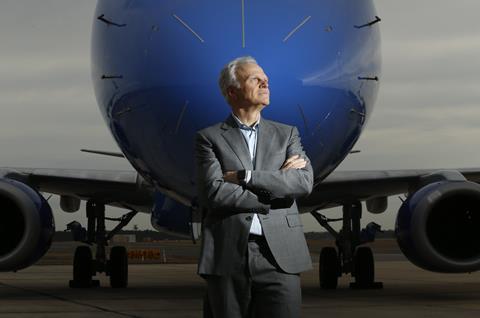 BUSINESS PASSION
Neeleman's work ethic, coupled with his strong personality, make him a force to be reckoned with, and he has been publicly shown the door at his own companies more times than he wishes to remember. But each experience made him return stronger, better and shrewder.
"I have a passion for the business – figuring out what to fly, moving people around, and figuring out routes, I love that stuff," he says.
But after 30 years in the business, he has no desire to fly an aircraft himself.
"I don't think that's something I'd be good at," he says.
"I tell our pilots that I will never tell them how to fly the airplane… if they don't tell me where to fly the airplane."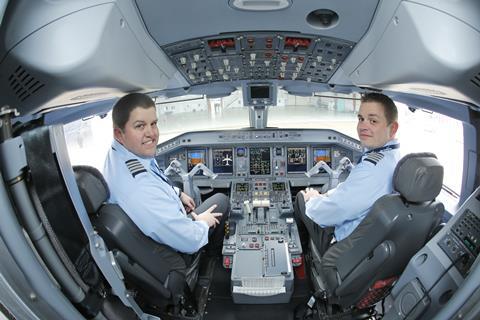 In the end, the goal is simple, Neeleman says. Have a vision, take a risk, and break the rules to make it real.
"When you start from scratch like this you can do things that no-one has been able to do," he says. "And I know Breeze can do this so much better than everyone else.
"What's important is you don't make rules for yourself. Just look at the opportunities."
The airline start-ups trying to confound Covid crisis by launching during pandemic
1

2

Currently reading

David Neeleman ready for his fifth act with Breeze Airways

3

4

5

6

7