US air travel bookings declined in October, with ticket demand falling "as consumers feel pinched", according to a 21 November report from Bloomberg Intelligence.
October is always a relatively slow month for travel. But total bookings in October were 19% less than in the same month in pre-pandemic 2019, while schedules had been reduced only 5% over the same period, meaning airlines will "require capacity cuts to maintain profits", says the report, citing data from Airlines Reporting Corporation (ARC).
ARC data shows US travel agencies settled slightly fewer air travel trips in September than October. In other recent years, those agencies have settled more trips in October than September.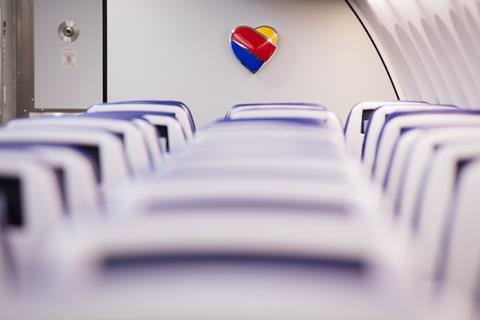 Leisure airline bookings in October slid to 85% of 2019 levels, "possibly signalling that consumers were responding to pressured budgets", the report says.

"Airlines lost ground on margins in October as they fought to regain 2019 profit levels," the report reads. "Though core inflation is improving, it remains elevated historically, which will pressure consumer budgets and could hurt demand for flying."
Corporate travel bookings were down even more in October, to 66% of 2019 levels.
October fares and bookings in Europe were also down from 2019, "signalling potential weakness in winter travel across the Atlantic", the report says.
The Bloomberg Intelligence report presents an uncertain outlook for US airlines, many of which had reported strong demand for air travel through the third quarter. Indeed, the report strikes a tone discordant with that of many airline executives, as a downturn in travel demand would be a disappointing fall-off from the resurgence in bookings following the Covid-19 pandemic.
For example, on 27 October, regional airline company SkyWest reported a $48 million third-quarter profit despite a "crew imbalance" related to the global pilot shortage, chief executive Chip said. Demand for air travel remained "exceptionally high," he said, though SkyWest had been unable to "fully monetise this demand" due to the pilot shortage.
Sounding a similar note, Southwest Airlines reported a profit of $277 million in the third quarter thanks to "robust" demand for discount air travel, CEO Bob Jordan said on 27 October.
Low-cost carrier Frontier Airlines, meanwhile, reported a second consecutive profitable quarter for the period ending on 30 September. Barry Biffle, CEO of Frontier, said strong demand for leisure travel contributed to the profit, pointing to an internal poll finding that customers are more willing to spend on airfares than they were before the Covid-19 pandemic.
"The results of the survey revealed an inclination to buy more frequently than they had pre-pandemic, with over half of survey respondents indicating that they now have more money and more flexibility to do so," Biffle said.