Boeing's much-awaited resumption of 787 deliveries on Wednesday provided a welcome boost for the manufacturer and Dreamliner customers who have been facing operational headaches caused by the aircraft delays.
American Airlines became the first airline to take delivery of a 787 since US regulators gave Boeing the green light to resume deliveries earlier this week.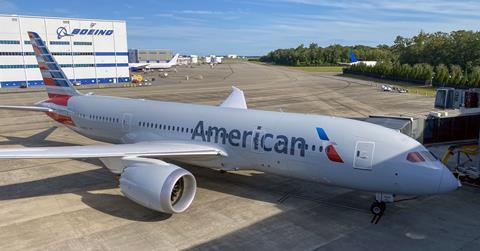 It marks the first 787 delivery since May last year. Boeing has not delivered 787s for most of the last 21 months due to manufacturing quality issues largely involving gaps between fuselage sections being larger than specified. Boeing briefly resumed in 2021 before pausing again.
The FAA says Boeing has now made the necessary changes to ensure that the 787 meets "all certification standards".
It marks the first 787-8 taken by American Airlines since April 2021. The Oneworld carrier's chief executive Robert Isom says: "This is the first of nine 787s we expect to receive this year."
While deliveries of 787s have now resumed, the wider supply-chain challenges impacting aircraft production rates for airframers persist.
The boss of one 787 customer, Lufthansa Group chief executive Carsten Spohr, notes aircraft delivery delays are part of the ''global supply bottleneck" which he expects to constrain capacity going into 2023 and support "sustainable" yields at the European airline group.
Speaking on 4 August, Spohr said that while delays in aircraft deliveries from both Boeing and Airbus are "painful for us operationally", they will combine with other factors to moderate global capacity growth and support "sustainably high yields compared to the pre-crisis levels".
John Plueger, chief executive of US lessor Air Lease, also cites persisting concerns over delivery delays as driving strong customer demand to secure capacity. Air Lease in its second quarter results briefing said it is experiencing a higher pace of lease extensions, "well in advance" of lease expiration. Notably that extends to the long-haul sector, where it says 80% of its widebody aircraft order book has been placed.
It comes after Boeing landed new orders for 130 aircraft in July, most of which were 737 airframes, with four cancellations. The majority of these orders, including Delta Air Line's commitment for 100 Max jets, were disclosed during the Farnborough air show.
While Airbus announced relatively little business at the air show, it added nearly 400 net orders to its total for the year, following a strong July, which includes the large agreement for aircraft from four Chinese carriers.