Speaking before the scale of the coronavirus impact became clear, El Al chief executive Gonen Usishkin explains how the Israeli flag carrier handles its unique operating environment
Talking to Airline Business in January – before the coronavirus outbreak had seen airlines across the world ground part or all of their fleets – El Al chief executive Gonen Usishkin explained that the 72-year-old loss-making flag-carrier was in many ways a reborn airline, and one he was resolved to restore to financial health by making it first choice for Israelis, as well as visitors to the country. "I am pretty determined to turn this thing around and become more ­profitable," he said.
However, despite one of the freshest fleets in the world, with an average age of less than 10 years, and, during normal times, a thriving market for travel by Israelis as well as for inward tourism, the ­former pilot – who began his career with El Al as a first officer on its 747 fleet and is giving his first media interview since stepping up to the top job two years ago – knew it would not be easy. Not all the levers are within his control.
In common with most international airlines, El Al has since been heavily exposed to the coronavirus crisis, suspending in February flights to Bangkok, Beijing and Hong Kong, and to Milan and Rome once the situation began to escalate in Italy in March. Usishkin warned of having to make further cost-saving measures, with the airline predicting a $50-70 million reduction to its previously stated revenue forecast in the first four months of the year.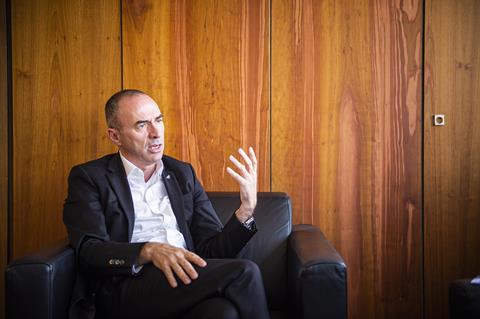 While the country was not included in President Trump's 11 March ban on travel by non-US citizens from 26 European countries, the Israeli government's own decision to compel all those arriving from abroad to self-quarantine for two weeks will continue to have a marked impact on travel to and from Israel. As Airline Business went to press on 13 March, El Al was continuing to fly to the USA and its European destinations outside Italy, although Delta Air Lines had suspended its New York Kennedy to Tel Aviv service, and a number of European airlines had halted their flights to Israel. Usishkin was quoted in Israeli media saying that the flag carrier had a "national responsibility" to maintain its schedule as best it could.
While the coronavirus problems will not impact full-year 2019 results – due in late March – El Al was already battling to stay in the black. In the first nine months of last year, the airline recorded a loss of $28 million on revenues that were slightly up on 2018, at $1.66 billion. Usishkin is confident new routes and an enhanced passenger ­offering – based on the Dreamliners and a cabin refurbishment programme across the rest of the fleet – can boost revenues and restore margins.
The coronavirus is not the only external factor steepening El Al's ascent to profitability. Despite protests at the time, El Al and other Israeli airlines are learning to live with a 2012 open skies treaty with Europe that delivered an economic boost, with the likes of EasyJet, Virgin Atlantic and Wizz Air bringing an influx of tourists. Usishkin believes he can differentiate his product from low-cost and other leisure carriers by being the "only airline flying to Europe with a proper business class on narrowbodies".
Other competitive threats are harder to counter. For political reasons, the Gulf states do not offer El Al overflight rights, meaning that – on services to and from Asia – pilots must detour down the Red Sea and around the south of the Arabian peninsula. That would be inconvenient enough if rivals such as Air India were not permitted to fly to and from Tel Aviv via the more direct route over Saudi Arabia. Air India began its service from Mumbai two years ago in competition with El Al.
Usishkin says the 2h time penalty from Tel Aviv to the Indian city – El Al takes 7h compared with 5h for Air India – affects premium traffic in particular. "It is more important for the business traveller, who values time over fare," he says, describing the government's decision to give Air India bilateral rights on such a basis as "a very bold move that has created unfair competition". He adds: "I have nothing against Air India, but I have raised concerns with the government to limit the situation."
Given that a treaty between Saudi Arabia and Israel would likely be required for El Al to fly through Saudi airspace, it is unclear whether Usishkin wants Air India to be forced to take the longer route or be banned altogether. However, he says his argument is no different in principle to US majors lobbying against alleged unfair competition from Gulf carriers, or European airlines protesting against state support for Alitalia. "They are raising concerns about fair and equal competition," he says.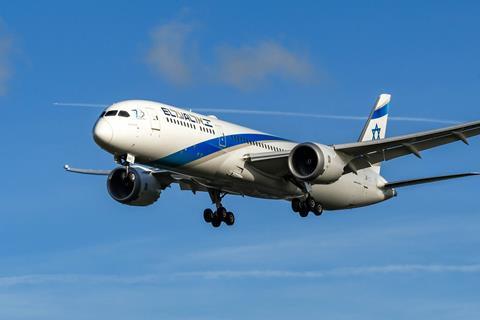 The Rolls-Royce Trent 1000-powered 787 fleet is central to Usishkin's strategy to create a new El Al. The agreement with Boeing and various lessors to purchase and lease 16 Dreamliners – 12 -9s and four -8s – was signed in 2015, and all the aircraft were scheduled to arrive in Tel Aviv by the end of March. They join a fleet of six 777-200ERs, and 26 737NGs – 16 -800s and eight -900s – with the airline's final 747-400 following its 767-300ERs into retirement in November last year.
The demise of the 747, the former flagship of El Al's long-haul fleet, after a final, high-profile flight from Rome to Ben Gurion airport, marked the end of an era for the airline, after 48 years of flying some 20 jumbos. However, Usishkin believes that, despite the affection among many of El Al's regulars for the "Queen of the skies", the enhanced comfort and amenities of the 787s will win over passengers, while the superior economics will help the bottom line.
ENHANCED OFFERING
In parallel with the introduction of the 787s is a cabin refurbishment plan for the 737 and 777 fleets. The 737-800s were due to have been upgraded by the first half of this year, with a package that includes ­in-flight ­connectivity. Meanwhile, the 777s – some of which are approaching 20 years old – will begin their outfitting this year, with the programme due to complete by the first quarter of 2021. It includes new seating with wider seat-back screens.
Usishkin says the current three-type fleet is "what we need for the next couple of years". After that, the next major fleet decision will be a replacement for the 737NG. While Usishkin says "everything is on the table", it would take a miracle to tempt El Al from Boeing, a brand the carrier has been exclusively loyal to since the early 1970s. However, Usishkin says the grounding of the Max "does not make our decision so easy".
For the medium term, he says El Al is comfortable with a roughly half-and-half narrowbody and twin-aisle portfolio, with both fleets expected to "grow in a staggered manner". Europe remains the "most dense part of our business", delivering roughly $1 billion of El Al's $2.2 billion revenues, and with aircraft – generally 737s – flying the majority of destinations there twice a day. North America makes up about another $800 million, with Asia accounting for the remainder.
All three regions are key to the airline's route expansion strategy, with services to Nice, Las Vegas, Manchester and San Francisco added in 2019, and Chicago, Dublin, Dusseldorf, and Tokyo launching in 2020. El Al announced in February that it was to reopen a connection to London Stansted, more than a decade after it last served the UK capital's third airport. The airline, which already flies to London Heathrow with 787s, as well as to Luton, will use 737-800s on the ­additional route.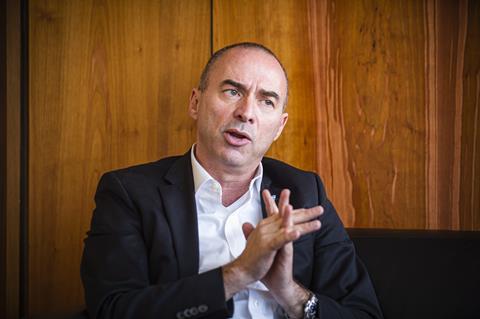 In addition, El Al is to trial its first ultra-long-range services to Melbourne, during April and May, with three direct flights using 787-9s. Until now it has served the ­Australian market solely through codeshare connections at Hong Kong or Bangkok. There is a large Jewish community in the city, and Usishkin says he wants to "test the water" with the 16h 15min service, although he admits – as with other Asian routes – the Saudi airspace exclusion "restricts our ­performance".
The Jewish diaspora is a major influence on El Al's route strategy. Many Jews have family or business connections in Israel, or choose to travel there for cultural reasons, often preferring the country's flag carrier. However, there are other drivers too. Israel has become more prosperous and more ­citizens are travelling abroad for leisure, while the relative safety of the country in recent years has boosted inward tourism. "Yields are softer, but the demand is still there," says Usishkin.
Cities have been picked for different reasons. "We try to find markets where we have a competitive advantage, such as Dublin, which is a premium destination, thanks to the hi-tech ties between the two countries," he says. Google and Facebook have major presences in both. Meanwhile, Usishkin acknowledges the need to grow US services, with the "crown jewel", Chicago, joining Boston, Miami, New York, San Francisco, and Las Vegas in the first quarter.
While El Al can rely on strong origin and destination demand for all the above reasons, another limitation on its growth is its almost entire absence of hub traffic, despite its location in the same crossroads of the world that the likes of the Gulf carriers and Turkish Airlines have exploited to their advantage. As a result, says Usishkin, we "operate in an almost entirely point-to-point market and have to cherry pick destinations that will work for us".
A further objective for Usishkin has been repairing the relationship with its employees and strengthening their sense of identification with the airline, which was privatised on the Tel Aviv stock exchange in 2003 with Israeli financial house Knafaim Holdings now the largest shareholder. A new labour agreement was signed with pilots in Ocober 2018 and Usishkin says he is "putting a lot of effort into improving our people".
Because of its history, El Al is an airline like none other. Although privately held, politicians – often swayed by interest groups – still have an influence, including, for instance, over the airline's decision to retain its restriction on flying during the Jewish Sabbath, or Shabbat. This means that all ­services have to land by sunset on Friday, and cannot depart on a Saturday, something that Usishkin admits can lead to ­"operational challenges".
But the ban, he insists, is "who we are. It creates loyalty to the brand but affects ­utilisation, and that is something we have to work around". El Al has been forced to cancel flights because of technical delays that have run into the Shabbat, but Usishkin says this affects around five flights a year out of 40,000. "It's a schedule challenge. We offer compensation where necessary, but our operational excellence means it is rarely an issue," he says. "We are experienced in how to deal with it."
HOME-FROM-HOME
Usishkin sees the airline's identification with the Jewish State as a strength. "It means we can provide a home-from-home for Israelis, and, for visiting tourists, a full Israeli experience," he says. He admits there is work to be done on El Al's loyalty programme, and with bundling car hire, hotels and tourist experiences to the airline's booking platform. "We have the potential to do things much smarter," he says. "Creating greater engagement with the customer is a big chunk of our strategy."
El Al is not a member of an alliance, and, while Usishkin would not rule out joining, he believes "the world is moving on beyond alliances to joint ventures and other partnerships based on codeshares". He says El Al has a "pretty solid relationship" with American Airlines and JetBlue, particularly out of New York, which is its biggest market. "We've managed to create a relationship with JetBlue especially that is based on friendship and no threat of direct competition," he says.
From airspace bans by neighbouring states to its self-imposed Shabbat restrictions, and open skies agreements that it believes are weighted in favour of competitors, Israel's flag-carrier faces a unique set of challenges. However, it has a brand heritage that inspires customer loyalty, and, thanks to its 787s, the benefit of a largely young long-haul fleet. After making the transition from the cockpit to the C-suite, El Al's chief executive is ­confident he can pilot the airline into a ­prosperous future.
Flying around politics
El Al is the same age as the Israeli state – both came into being in 1948 – and throughout its history, the turbulent politics of the region have been entwined with the airline's fortunes. El Al says on its web site that it was founded "as an expression of ­national existence and pride", growing along with the nation and "sharing moments of glory and joy". But there has been trauma too.
El Al's association with the Jewish State has seen it fall victim to a number of terrorist ­attacks over the years, including a hijacking by a Palestinian organisation in 1968 of a flight from Rome to Tel Aviv, and an attack on an aircraft at Zurich airport the following year. The airline and the Israeli authorities have always had to treat security especially seriously.
Despite peace treaties with neighbours Egypt and Jordan, no Arab Gulf states recognise the state of Israel and do not grant El Al overflight rights. However, tentative trade and political links have opened between Israel and some Gulf countries in recent years – partly prompted by shared hostility to Iran. There have been reports of behind-the-scenes co-operation on defence technology and intelligence.
While full friendly relations are some way distant, overflight rights could be a stepping stone to eventual air transport links between Tel Aviv and some of the cities of the Arabian peninsula. It is perhaps not as far fetched as some might believe. Tehran used to be a popular route for El Al – before the 1979 Iranian revolution.
Pilot in command
For someone who has largely shunned publicity since his ascension to chief executive two years ago, Gonen Usishkin is a charming and obliging interviewee, ­delighting in showing Airline Business around and posing for a photographer ­inside one of the new Boeing 787s in a hangar next to El Al's offices.
One of a select group of airline leaders who began their aviation careers as pilots, Usishkin, 53, flew Boeing 747-200s and -400s for the airline full time between 2004 and 2007, before joining the commercial team and taking on a number of senior positions in commercial planning and scheduling, initially while continuing to fly.
He became vice-president responsible for commerce and strategy in 2016, during which time he led negotiations for the acquisition of the 787 fleet.
Prior to joining El Al, he served as a combat pilot with the Israeli air force and worked in the high-tech sector. Born in St Petersburg, he came to Israel with his family aged 11 and has a degree in economics and management, and an MBA from Tel Aviv University.