Etihad's announcement that it aims to begin restoring its passenger network from the start of May and Emirates' initial move to test passengers for coronavirus ahead of flights show the Gulf carriers readying for a return to operations.
Emirates and Etihad both halted scheduled passenger flights – as did other UAE operators such Flydubai and Air Arabia – in line with a national ban on foreign air travel from 25 March.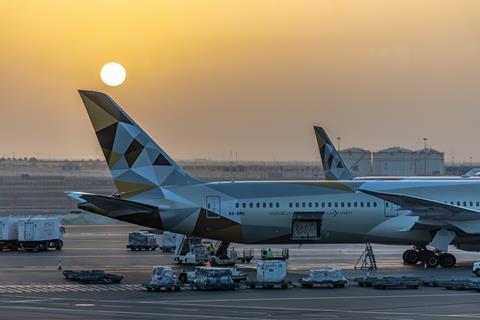 The two carriers, which have both maintained cargo operations during the grounding, have already resumed limited services to a small number of destinations in support of repatriation flights. Both have since extended the flights served.
Now Etihad has outlined plans, travel restrictions permitting, to gradually resume passenger services from the start of May – with the objective of returning to a fuller schedule "as and when the global situation improves".
"The monumental challenges being faced by all airlines, and our customers, have been beyond measure," says Etihad Aviation Group chief executive Tony Douglas. "However, we remain cautiously optimistic and will push ahead with our plans to resume normal flying, while striving to better serve and support our customers and our employees.
"While the intention is to assume a 'business as usual' approach to the restart of our operations, the aviation landscape has changed, and how it will look month by month is difficult to predict," he adds.
For its part, Dubai's government was quick to pledge financial support for Emirates during the period – describing Dubai's position as a global travel hub as one of the "main pillars" of its economy. Dubai's crown prince Sheikh Hamdan bin Mohammed bin Rashid Al Maktoum at the end of March said the government is "committed to providing full support" to the airline during the crisis.
He says that, as part of this support, it will "inject new capital" into the carrier, affirming the airline's "great strategic value" to the emirate. Al Maktoum has not yet detailed the extent of the financial assistance to be provided, stating only that this will be "announced later".
Notably, in a development aimed to overcoming potential health concerns around international travel, Emirates claims to have been the first airline to carry out blood tests on passengers to assess whether they are affected by coronavirus.
The airline says the "quick" blood test – carried out for the first time ahead of a flight to Tunisia at the check-in zone of Terminal 3 in co-operation with Dubai Health Authority – returns results inside 10min.
Emirates chief operating officer Adel Al Redha says the "innovative" testing programme went "smoothly". The airline has not indicated whether any passengers tested positive for coronavirus.
"We are working on plans to scale up testing capabilities in the future and extend it to other flights," says Al Redha. "This will enable us to conduct on-site tests and provide immediate confirmation for Emirates passengers travelling to countries that require Covid-19 test certificates."
Crisis takes its toll on Arab region
In its amended assessment of the financial impact of the crisis, released on 14 April, IATA estimates Middle East carrier traffic this year will be around half the levels of 2019. It points to a likely related $24 billion reduction in passenger revenues compared with last year.
Associations in the region – the Arab tourism, civil aviation and air carrier organisations respectively – point to the heavy economic impact on the tourism industry in the region. They note that the sector represents around 14% of the GDP of Arab countries and that over the first three months of this year around $25 billion and $8 billion were lost in tourism and airline revenues respectively.
As a result, they are calling for Arab governments to take steps to help "jump-start" the economic contribution of the travel and tourism sector post-crisis. Alongside financial measures to help ensure the survival of operators through the crisis, they are also calling for a simplification or reduction in the cost of visas, barriers to entry at ports and airports, and in air travel and hotel taxes.
What challenges are airlines facing through coronavirus grounding by region
1

2

3

4

5

6

7

8

Currently reading

Etihad and Emirates prepare ground for service return