Ask industry stakeholders which carriers are at the forefront of tackling sustainability challenges, and Finnair will often be high on the list.
The Finnish flag carrier has openly discussed sustainability for longer than many of its peers – and plans to reach net-zero CO2 emissions a full five years ahead of the global industry, in 2045. Before then, it intends to halve its level of net emissions from 2019 by the end of 2025.
Leading that effort today is Eveliina Huurre, in her role as senior vice-president of sustainability.
"This has been a must-do thing for as long as I've been working in Finnair," she tells FlightGlobal during an early April interview. "It has been obvious that this has to be in our DNA."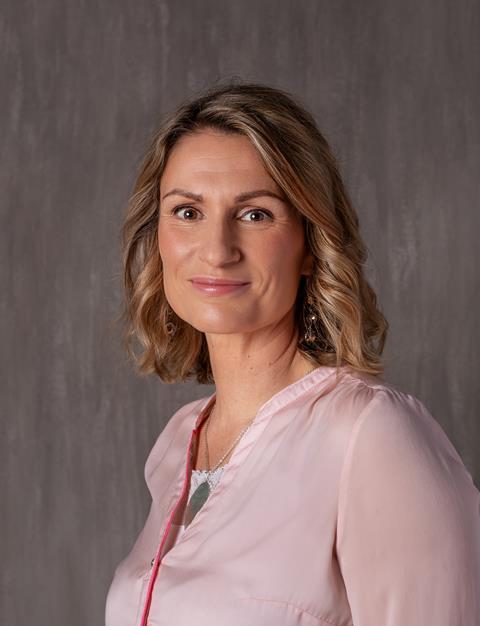 Huurre is relatively new to the role, having transferred from her previous position as vice-president of in-flight experience in November 2021.
But while her recent background – including time in the healthcare sector, with much of her work in the social responsibility arena – is not sustainability-focused, her education was.
"I studied urban science and urban studies, so this is the first time in my career that I am doing exactly what I studied," she states. "I'm now doing exactly that thing but while 20 years wiser than I was when I graduated."
Armed with that knowledge and experience, Huurre is enthusiastic in explaining what the airline can do today when it comes to addressing human- influenced climate change, and the challenges ahead.
In immediate terms, of the sustainability levers that Finnair can pull in 2022, "operational excellence" is a key focus, she explains.
"For example, we have a weight and fuel working group, which is working with the planners on a daily basis on how we can work more efficiently in our operational daily life," Huurre states.
Other initiatives with an immediate impact include a "very active Finnair kitchen and the working group there", which has a focus on "lowering the aircraft weight… boosting pre-ordering so we're not loading so much food into the aircraft".
Indeed, reducing the weight of aircraft is one segment of Finnair's long-term path to net-zero emissions, which also includes developing fuel-efficient flight methods, using sustainable aviation fuel (SAF) and carbon offsets, and engaging customers in reducing emissions. The Oneworld carrier is also exploring new aircraft technologies.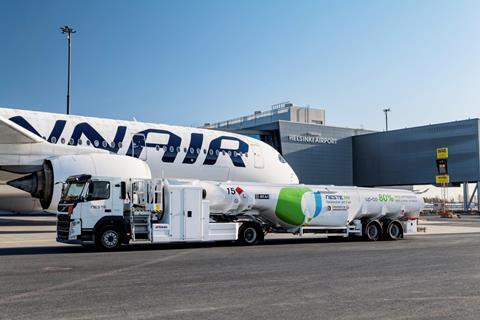 But when considering how the airline industry convinces people it is doing enough on sustainability – particularly during the next five to 10 years, with limited scope for game-changing developments – Huurre describes Finnair's philosophy as being focused on "what we need to do together with the customers and other stakeholders".
She explains: "This cannot be Finnair or an airline company feeding news or marketing campaigns about sustainability; it has to be a way of doing, a way of living, a way of working, a way of providing services."
Beyond its own actions, Finnair is, for example, engaging with customers on reducing the weight of their luggage.
The airline pointed out in 2021 that if every passenger reduced their luggage by 1kg for a year, the emissions saving would equate to 20 roundtrip flights between Helsinki and Tokyo (in pre-Russian-airspace-closure terms, anyway).
"We need to build this in a way that this is our common target," Huurre continues of the net-zero journey. "To fly and operate in a sustainable way. We are doing everything we can but we are also inviting you all to do what you can, and the [corporate customers] and the cargo customers… and the other stakeholders."
She further highlights the importance of being "open and transparent with information and giving concrete examples" of what the carrier is achieving, citing examples including the recycling of an aircraft or highlighting how certain long-haul routes operated by Finnair burn less fuel than alternative services offered by peers.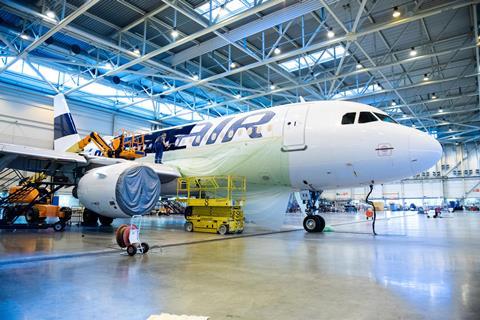 "We need to be able to say 'these are the added values in flying Finnair and these are the actions we are really taking'," she states.
To help facilitate this, Huurre is a keen advocate for the establishment of industry-wide sustainability standards from which metrics can be drawn on a like-for-like basis.
"If the industry is able to adopt something like ISO standards – so you get the book stamped when you are doing things in a sustainable way from an environmental, social and governance perspective – if we have common and openly communicated standards for the sustainability topics, then that should could cover a part of [showing the industry is acting]," she states.
Huurre likens such an approach to that taken by airlines towards safety – indeed, she goes further and suggests sustainability is intrinsically linked to that topic.
"Safety is the most important thing that an airline company needs to take care of, and that's something that we will never compromise on," she states.
"So when we are doing sustainability actions and developing those, it has to be part of the safety cloud as well. So we're always doing the things that are 100% safe – and we are just doing some of those in a more sustainable way.
"When we are talking about sustainability, we are also talking about safety at the same time."
PRODUCTION VOLUMES
In terms of the key factors in reaching net-zero emissions, Huurre says that increased SAF production volumes will be crucial in the coming years.
"The SAF production volume increase is a huge topic from a future perspective," she states.
When it comes to government and regulator support for achieving the necessary steps, she contrasts the approach in the European Union with that in the USA, and requests "more carrot than stick" from the former.
"The EU is mandating [SAF use] and the taxes are getting higher and higher and higher, [compared to] the USA where financial support for the purchasing of SAF, for example, is being given."
Huurre points out that based on Finnair's calculations, plans for new SAF production facilities do not currently cover even half of expected demand trends.
"Something needs to happen," she states, citing government action as vital.
Finnair is yet to fully explain how much each segment of sustainability action will contribute to its net-zero journey, but Huurre is clear on what other steps could make a big difference.
"Then of course, in the future [we will have] revolutionary aircraft design," she says. "Then infrastructure development, enabling liquid or battery hydrogen energy recharge. That's a big question."
She suggests that aircraft technology is "moving a bit faster than infrastructure", with the latter needing to catch up before "breakthroughs" are possible.
"Also, efficient air traffic management is part of the actions that we need to take," she states, citing Finnair's membership of Airlines for Europe (A4E), which lobbies for progress towards implementation of the Single European Sky initiative.
Meanwhile, carbon offsetting is a "central tool" in Finnair's plans – but with caveats.
"Offsetting has to be sustainable," Huurre says. "It has to take into account ethics, and social and environmental impacts.
"And of course it's also important to choose reliable, high-quality projects that positively impact the climate and biodiversity, while considering human rights and local communities.
"You have to be able to take account of all these different perspectives – and not only environmental."
COMPETITIVE ANGLE
But with Finnair aiming to stay ahead of many other carriers in its approach to sustainability, does Huurre worry that the airline might face competitive disadvantages?
"We would prefer a global approach," she says.
As an example, Huurre cites the EU's 'Fit for 55' package – under which the bloc hopes to target a net reduction in greenhouse gas emissions of at least 55% by 2030 – as a concern in its current form.
"We have been calculating that if it goes through as it is… of the additional costs by 2030, only 12% goes directly to tackling the environmental issues," she claims.
Huurre cautions, however, that it is "only a draft" at this stage.
"But if it passes as it is, it is a challenge from the competitive perspective," she states.
When asked what is at stake for the airline industry as governments and regulators formulate their responses to the challenge, Huurre is unequivocal about the sector's societal and economic importance.
"Air transport is accepted as a fundamental pillar of our global society and is part of our daily lives," she says. "Somebody once said that aviation brings the world's people and culture together unlike other forms of transport.
"But it also has a significant impact on tourism, trade and economic growth."
These "positive effects" should not be put at risk by a poorly thought-out policy responses to sustainability challenges – or by a lack of action to address the issues – she suggests.
For now, Huurre continues with efforts to keep Finnair at the forefront of thinking and action on sustainability.
And after two years of the industry's biggest crisis – with Finnair being particularly challenged today by the airspace closures resulting from Russia's invasion of Ukraine – her final word is for the airline's staff.
"This has been a very difficult time for the employees," she says. "The reason why Finnair is doing this so well… is about the people in Finnair.
"This sustainable way of working is in their DNA."
The sustainability chiefs leading the airline industry's net-zero charge
1

2

Currently reading

Finnair sustainability chief on why airline's action on climate-change is 'in our DNA'

3

4