As Latin American carriers make a steep climb out of the crisis, the region's pre-pandemic normal is an undesirable summit
The airline industry in Latin America continues to deal with vastly divergent travel rules, vaccination rates and political posturing, slowing the region's widespread recovery from the global pandemic.
From Mexico in the north, which never really shut down even at the height of the crisis, to Argentina in the south, which still caps passenger numbers and maintains high taxes on international travel, the region's rebound could take much longer than the rest of the world's.
"Airlines are returning," says Peter Cerda, IATA's regional vice-president for Latin America. "But we also have to understand Latin America is not Europe, nor is it North America, nor do we have the same resources like those regions do."
Vaccination rates in Latin America have lagged other regions and, unlike elsewhere, its governments have largely not bolstered their airlines with pandemic-related financial aid. As a result, the region's carriers face a steeper climb out of the industry crisis.
Also, simply returning to 2019 levels – a milestone some US carriers neared in the past months – is not enough for many of the airlines operating in the vast Latin American region, IATA says.
"Returning to what we had in 2019 may be okay for North America or Europe or Asia, but it is simply unacceptable for Latin America," Cerda says.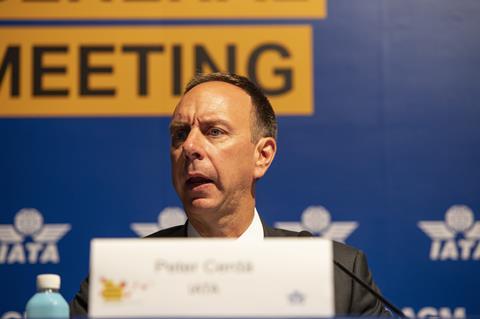 According to IATA figures, in 2019, the region's airline industry posted a loss of $700 million. "We can't go back to a money-losing industry," he states.
In 2020, Latin American airlines lost $11.9 billion. While that number is expected to narrow to $4 billion in 2021, the recovery is proving to be uneven across the region.
Few of the governments had set aside financial aid for the industry aside from some tax relief, so the airlines were, and for the most part remain, on their own.
"Last year, when borders started closing and countries started shutting down in Europe and Asia, the pandemic had not yet reached Latin America," Cerda, says. "And the reopening of borders… happened several months after the rest of Europe and North America. So closures were much more expensive."
But in order to get an accurate picture of the continent's situation, one must take a closer look at its individual countries, and how they have fared in beating the coronavirus-driven slump.
In Mexico, domestic travel has returned to near pre-crisis levels, while international business travel has exceeded those levels, IATA says. North American customers, but also Europeans looking to get away for warm-weather breaks after a year of lockdowns, have stormed the country, where travelling is relatively easy.
HANDS-OFF APPROACH
There have been no quarantines or testing requirements, and many resorts offer Covid-19 tests to guests returning to countries that require negative results for entry. "Mexico took a hands-off approach to the coronavirus," Cerda says. "And that was a good decision."
Aeromexico has once again expanded its international network and reported increasing passenger numbers for both domestic and international travel, narrowing its financial losses.
The carrier reinstated flights to Europe, the Caribbean and Brazil during the second quarter, and was continuing to expand in the third. In August, Aeromexico carried 85.8% of the passengers it did in August 2019, with domestic passengers at 98.5% and international at 65.7%.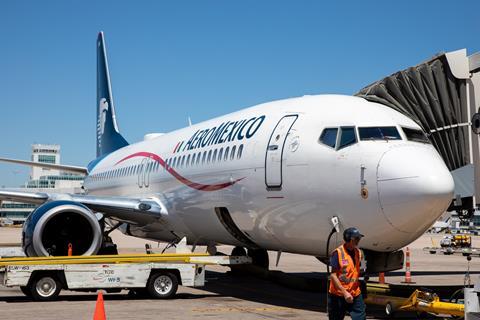 Mexican peers VivaAerobus and Volaris, the country's low-cost carriers, are also profiting from the travel boom.
Volaris' August 2021 demand, as measured in RPKs, was 29.4% higher than in August 2019, with international travel demand 13.9% higher. The airline's August capacity was up 28.5% in the two-year period, with international capacity up 10.5%. During the month, Volaris maintained a load factor of almost 85%.
"In August 2021, Volaris transported 2.3 million passengers, 22% higher than the pre-pandemic levels," the airline said on 7 September.
VivaAerobus echoes that sentiment. The airline said it transported a record 1.4 million passengers in June – 31% more than the same month in pre-pandemic 2019. The airline's load factor during the month was 88%.
Colombia's Avianca is also returning to financial health after declaring bankruptcy – along with peers Aeromexico and LATAM Airlines – last year.
In early August, Avianca submitted a restructuring plan to a US bankruptcy court. The plan outlines its obligations to creditors and a simplified fleet make-up that runs through 2029.
At the other end of the continent the story is different.
"Argentina is our problem child," says Cerda. "Argentina is just a mess."
In October 2019, Argentine voters elected a left-leaning government which put the brakes on economic liberalisation, including in its air transport industry.
As a result, state-owned legacy carrier Aerolineas Argentinas has received preferential treatment over low-cost carriers such as Flybondi and JetSmart, which had made inroads under the previous business-friendly administration.
The Argentine budget operators, and the resulting competition, had put air travel in reach for a larger slice of the population, offering low fares and connections from a secondary airport in Buenos Aires, El Palomar.
When Covid-19 hit the country, all of that business was effectively shut down, ostensibly due to the virus.
ISOLATING MEASURES
"[The government] has implemented measures that are very isolating and that are not based on science," Cerda says. "There has been very little collaboration with the industry."
In early September, Argentina was allowing just 1,700 international passengers per day to arrive at the country's one major international airport, Buenos Aires' Ezeiza. Another 600 passengers each were approved to arrive at Mendoza, Rosario and Cordoba airports. Argentina's borders were still sealed to non-resident foreign nationals, and all arriving passengers must complete a 14-day quarantine, irrespective of vaccination status.
IATA says Argentina is the only country in the region where air travel bookings declined from January to June this year. Whereas in July 2019, 238 unique city pairs connected the country to the rest of the world, just 107 of those connections existed in June 2021, and 89 of them remained in July.
"While the rest of the world is slowly increasing city pair connections, Argentina is going in the opposite direction," Cerda says.
Politics, rather than science, dictates the terms in the country, he adds, making planning impossible. "The messaging is not transparent, it's never confirmed, and then whatever is communicated changes again quickly," Cerda says.
For the smaller carriers in Latin America that have to carefully plan their resources, Argentina will remain a white spot on their route maps until the policies change.
"Why go into Argentina, where it's going to be more costly, more bureaucratic," Cerda says.
IATA expects the country will begin tentatively opening its borders in November, ahead of the southern hemisphere's traditionally busy summer travel season in January and February. That, however, could be too late to salvage the season.
The trade group has repeatedly said it expects international travel to return to 100% of 2019 levels in two to three years, but Cerda says Argentina's recovery "may be way beyond 2024".
Chile also still had significant border restrictions in place in September, but Cerda says the country has been open to a dialogue with the industry. Although the vaccination rate in that country has risen to about 80%, vaccinated Chileans returning to the country in early September still had to quarantine for seven days – down from 10 days previously.
"It's not great, but it's a step in the right direction," Cerda says. "Is Chile where we want it to be? Absolutely not. Chile is a failure when we compare it to Ecuador or Colombia or Mexico, but it is better positioned than we where we are with Argentina."
Chile-based LATAM Airlines Group expects to emerge from US bankruptcy proceedings towards the end of the year. The carrier continues to steadily increase capacity, and it expects ASKs during the third quarter of this year to be "greater than 50%" of what it flew in 2019. That would be the highest level since the beginning of the pandemic, LATAM said in August.
Brazil, another important country for the region, is on yet another path.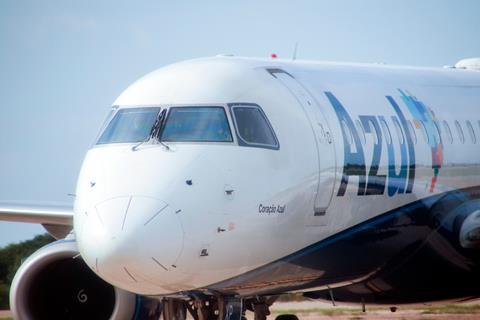 "Brazil never closed, so while they continued to have good connectivity, business was slow because of the high level of cases in Brazil in the beginning and middle of the year. That was a deterrent for foreigners," Cerda says. Travellers from Brazil were still banned from entry into the USA in early September.
OPTIMISTIC OUTLOOK
Executives at both Azul and Gol, the country's two largest carriers, said during their second-quarter results calls in July that they remain optimistic about the coming months. Air travel has picked up markedly since the country's vaccination roll-out gained speed, and corporate travel is set to join the upswing towards the end of the year.
"We need Brazilians to start travelling again," Cerda adds. "Brazil has a lot of intra-regional connectivity with neighbouring countries, so the quicker restrictions are removed on Brazil, the better and the quicker the regional recovery will be."