Analysts say Frontier Airlines' proposed acquisition of Spirit Airlines to create the largest ultra-low-cost carrier (ULCC) in the USA solves a number of potential concerns in the hotly-contested low-price segment, which has been ripe for consolidation.
But the same day the Denver-based airline declared its plan to shake up the US market, its operation was halted under a nationwide ground stop of all aircraft – the result of what Frontier calls "a technology issue".
By 11:00 Pacific time on 7 February, Frontier had cancelled 114 flights, or 22% of its schedule for the day, with another 117 flights, or 22%, delayed.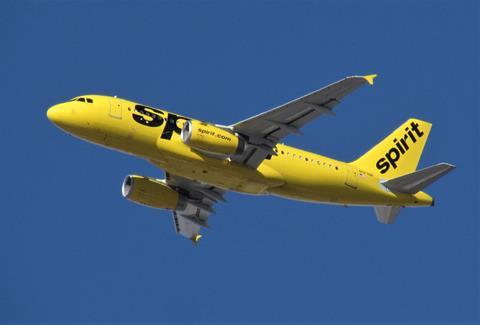 Analysts say the transaction, which is expected to take most of this year to gain regulatory approval, kills a number of birds with one stone.
"This deal makes sense, as it creates a large ultra-low-cost airline with about 7.5% of US industry capacity, solves a pilot crunch for both companies, enables both to continue growing and should not have issues with either the [Department of Transportation] or the [Department of Justice]," writes Cowen's Helane Becker in a note.
The companies are both all-Airbus A320 operators and share a similar business model, charging rock-bottom fares supplemented by ancillary fees for various add-ons like priority boarding, seat selection and extra luggage. That business model has proven particularly successful in the pandemic environment.
With a current combined fleet of 283 aircraft, the two carriers say they will grow to 493 aircraft by 2026.
If completed, the tie up would propel the eighth- and ninth-largest airlines to fifth place in the US market, behind American Airlines, Delta Air Lines, United Airlines and Southwest Airlines. Combined, the carriers will also be much more flexible geographically, analysts note.
"The combined Spirit and Frontier have a fairly complementary network, with both airlines acting as the disruptor against the larger Big-4 airlines across the US in leisure markets," write analysts at Jefferies. "There is some overlap, primarily tied to Orlando and Las Vegas, which are top five airports for each airline."
Frontier's network strength is in the western USA, Mexico and Central America, while Spirit, headquartered in Miramar, Florida, shows strength in the eastern part of the country, the Caribbean, and some cities in northern Latin America.
Together, the carriers say they will have a network encompassing 145 destinations, serving 650 routes with more than 1,000 flights daily.
ULCC COMPETITION
The ULCC segment in the USA has seen an increase in competition with two new carriers launching service last year – Avelo Airlines and Breeze Airways – and another, Airbahn, set to begin operations in 2022.
In addition, Allegiant Airlines and Sun Country Airlines have been expanding to new destinations. That created concerns the carriers could stretch themselves too thin.
"With much of the industry's new capacity (from both incumbents and new entrants) targeting the most price-sensitive customers in domestic discretionary markets, we were concerned that long-term profitability in that segment would be greatly diminished. This transaction will help mitigate that concern," says Deutsche Bank analyst Michael Linenberg.
In addition, analysts add that in combining forces, the carriers will be more successful in heading off concerns that the looming pilot shortage will require some carriers to cut routes, including to secondary cities that have relatively few direct flights to non-hubs.
Spirit and Frontier point out that together they will be able to "deepen service to underserved small and mid-sized cities" and give them the "ability to succeed in cities previously exited".
That contrasts United Airlines, which recently said it eliminated flights to smaller airports and grounded more than 100 regional aircraft due to a lack of cockpit crew.
Regional carrier SkyWest Airlines, which flies shorter routes and smaller aircraft under contract with major carriers, said last week that staffing issues will force it to fly between 10% and 15% fewer block hours in 2022 than in 2021.