Brazilian airlines Azul and Gol are positioning to take advantage of a resurgence in domestic and international travel as some of the last travel restrictions for customers from the vast Latin American country are set to fall.
Before the pandemic, the airlines had been expanding in the vast Latin American country, seeking share of an immensely under-served air travel market.
Now they are picking up where they left off in 2019, though with differing strategies.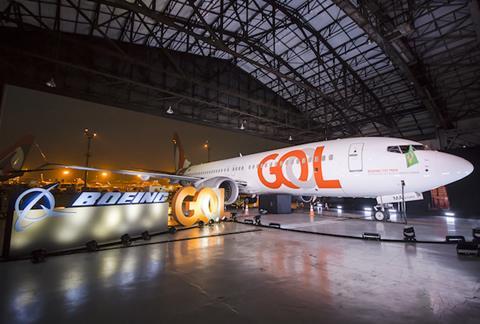 Azul has pushed forward, now serving 130 cities – more than in 2019 – and in September notching 8.7% more revenue passenger kilometres than in the same month two years ago. Gol is taking a more-conservative approach, especially when it comes to resuming international routes.
The two Sao Paulo-based rivals agree, however, that Brazilians want to travel, and that opportunity is theirs for the taking.
"In 2019, [market growth] in the US and Europe and other parts of the world… was stagnant to slightly up, but Brazil was growing tremendously," Azul chief executive John Rodgerson tells FlightGlobal at the ALTA Airline Leaders Forum in Bogota on 25 October.
Pre-pandemic, Brazil had about one-fifth as many flights per-capita as Europe or the USA, and also lagged other Latin American countries.
"Maybe the growth rate has changed, but it's still a growing market," Rodgerson says. "What does Brazil look like in 2023 or 2024? I think it's going to be much bigger than 2019."
DOMESTIC VS INTERNATIONAL
"The third quarter will mark for us the end of what I would call our pandemic management," says Gol chief financial officer Richard Lark on 26 October. "The fourth quarter is going to be a pivot for us in two senses: the large corporate accounts are coming back, and we will be fully into our transition from the [737] NG fleet to the Max."
The airline expects to have 22 Boeing 737 Max by year-end, and 44 at the end of 2022, he says. For the moment, Gol's focus is re-establishing its domestic operation before making great strides overseas.
"We now have to prioritise serving the Brazilian domestic market," Lark says. "We don't have excess capacity right now to focus on international routes."
In addition, Gol is conscious about needing to retain slots at the country's busiest airports in Brazil.
According to Cirium fleets data, 95 of Gol's 127 737s are in service, and Lark aims to have 100 flying by year-end.
Amid the pandemic, Gol nixed international flights and shrunk its operation to a single hub in Sao Paulo. But it aims to return to five hubs as corporate travellers return in greater numbers. Lark says the airline saw a big boost in October, and that business travel should be at about 30% of pre-pandemic levels by year-end.
The airline intends to resume international flights in November with a route to Montevideo, Uruguay. It plans to begin flying to Argentina and Chile in the first quarter of next year, and to restore US routes in the second quarter.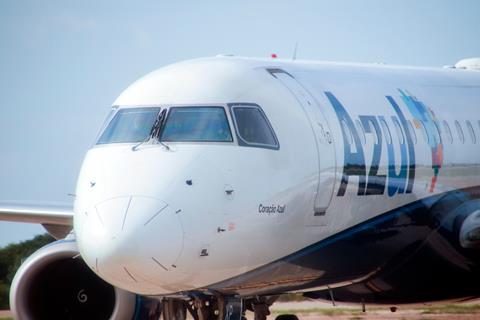 Azul's Rodgerson is also re-imagining his airline's network. With the USA opening on 8 November, Brazilians are ready to go. And Azul is ready to fly them.
"I'm hoping that, over the next year, we'll be able to build [our US network] back for Brazilians," he says. "I joke that Brazilians buy everything from underwear to iPhones in the US. And so once the border opens, there's going to be a huge influx of people going."
LESSONS LEARNED
And as the pandemic wanes, both executives reflect that Covid-19 undeniably and irrevocably changed their airlines and their outlooks.
Rodgerson's most frustating moment came when he realised that Brazil's government would not set aside financial aid for the industry, as some other countries had.
"We're really important to this economy," he says. "We saw what other countries' airlines were getting, and we are actually competing with those US and European carriers."
"I'm so proud that we actually got through it on our own, and we got the airline…flying to pre-Covid levels faster than most other airlines in the world," he adds.
Lark recalls many days he spent in Gol's empty offices, alone – other executives were at home – and confronted with the immensity of Gol's challenges. He had to fight to keep feelings of helplessness at bay.
"I always had to remind my team that we can't solve all the world's problems. We can't solve the pandemic for everyone in one day. But we can solve the little problems. And we can only solve today's problems today. We can't fix tomorrow's problems today."
"It was good to focus on that purpose," he says.