Hawaiian Holdings, the parent company of Hawaiian Airlines, says net adjusted income for the full year 2019 fell 25% to $219 million compared to the same period a year ago as it faced stiff new competition on some of its stronger routes within the Hawaiian Islands, to the US mainland and to Japan.
The airline's executives say on 30 January they expect sustained competitive headwinds and pricing pressure on routes between the US West Coast and within the islands, where it has traditionally been the dominant home-town carrier. Increased capacity from the US mainland in 2019 and into the new year from competitors like Southwest Airlines and Alaska Airlines has shaken up the market for the Honolulu-based carrier.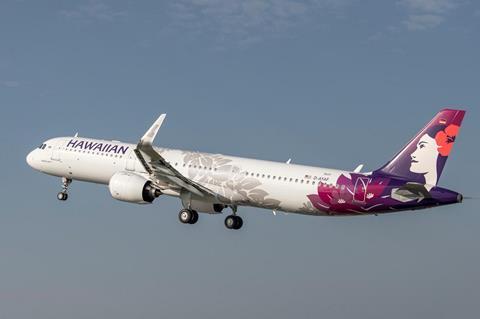 As a result of this higher capacity in early 2020 – expected to grow between 7.5% and 10.5% in the first quarter - chief executive Peter Ingram says that the initial part of 2020 will be the most difficult for the airline, but he remains optimistic that it will not be a bad omen for the year as a whole.
"A challenging quarter does not dim our view that we have a winning formula and we will succeed in the long term," Ingram says on the company's earnings call with analysts.
Southwest Airlines launched service to the Pacific archipelago in March 2019, and now has 30 daily flights between four cities on the US mainland and the Hawaiian islands, as well as 38 daily inter-island flights. The routes were introduced with low promotional fares which put pressure on margins.
Brent Overbeek, vice president of revenue management and network planning, added that the airline expects to grow more in North America in the first quarter than in the rest of the year. That would be a function of several new A321neo aircraft entering the airline's fleet. "The rate will taper off as we get into the second quarter."
Hawaiian recently took delivery of its 17th Airbus A321neo aircraft. The company incorporated six of the aircraft in 2019 and expects the final example to be delivered in a few weeks' time. It is operating these aircraft on several of the flights to nine cities on the US Mainland including San Jose, Oakland and Seattle.
As the last of the 321neos enters the fleet, Ingram says that the airline is gearing up for the delivery of its next major metal purchase, the first of ten Boeing 787 Dreamliner aircraft, scheduled for early 2021. The airline's expanding network in Asia, Australia and longer-haul US routes to Boston and New York will benefit from the new aircraft's efficiencies over the A330s which currently operate those flights. "I suspect we will end up with more than 10 aircraft over time," he adds.
In other recent fleet changes, the airline retired the last of its 767 aircraft in 2019, and says it extended the leases on three A330s and five Boeing 717.
The 717s are the true workhorses of Hawaiian's fleet, cycling up to 16 times every day in the humid tropical climate as they connect the Hawaiian islands to each other in a tight web of daily fights across the state.
"By extending our 717 leases to the middle of the decade, we are indicating that we are not planning to replace this fleet in the next five years," Ingram says. "There is no plane flying today that is better suited for the unique missions we fly in our neighbor island network."
Ingram also says the airline will be bringing a 717 simulator to Honolulu, an additional investment in the airplane, so that the carrier can have all of its training needs located onsite at its Honolulu base. "So we see no need to deploy capital to replace this aircraft," he adds.
JAL JOINT VENTURE
Hawaiian continues to be in limbo on its planned joint venture with Japan Air Lines. Last October, the US Department of Transportation issued a show cause order approving the JV in principle, but denying it antitrust immunity which, the airlines claim, is integral to its success. In November, the two partners submitted a 77-page response, addressing the regulator's concerns about the venture's geographic scope, its public benefit and offering improvements to technology infrastructure to allow metal-neutral pricing and more efficient passenger processing.
"Our submission is currently being evaluated, we expect a response in the next several weeks," says Ingram. Pending a positive decision, Hawaiian expects to launch the joint venture from the end of 2020. "Japan is an integral part of our growth strategy and we look forward to deepening our partnership with JAL."
Late last year, Hawaiian launched a four-times-weekly service to Fukuoka, in southwestern Japan, and Overbeek says the airline has been happy with the route so far.
"We had a great start in Fukuoka, and expect this new service to mature quickly," he adds. "We are open to a lot more connectivity with JAL into Japan. There's some untapped market in there that can grow."
The Fukuoka route, along with new flights into Tokyo's Haneda international airport, anchor the airline's Japan plans ahead of what is projected to be a major year of tourism for Japan with the 2020 Olympics that will begin in July in Tokyo.
Hawaiian is not the only carrier increasing service to Japan. The US Department of Transportation opened a dozen new flight slots for Haneda to US carriers. American Airlines will add two slots to Haneda; United Airlines will add four; five will go to Delta Air Lines. Cirium schedules data shows that Hawaiian's new daytime route will complement its existing nighttime departures from Haneda to Honolulu and Kona, on Hawaii's Big Island.
Altogether, Hawaiian says it transported 11.8 million passengers during 2019, about the same number as 2018 and full year revenue was flat at $2.8 billion.
Operating revenue per available seat mile (RASM) decreased by 2.3% year-on-year to 13.75cents from 14.07cents. Cost per available seat mile (CASM) excluding fuel rose 1.9% to 9.54cents from 9.36cents.
CORONAVIRUS
Hawaiian's executives say they are monitoring the growing global concern over the outbreak of a new coronavirus which has sickened more than a thousand people and killed 170 as of Thursday. In the past 48 hours, numerous major airlines have reduced or cancelled service to the country. Hawaiian does not fly direct to China, having ended its Beijing-Honolulu connection in 2018.
"We don't have a dog in that hunt," Ingram says. "It's difficult to extrapolate where it goes from here and whether the severe medical issues in China end up being exported at scale to other geographies. Then there's another question about whether concerns start to affect travel demand. We have seen little evidence so far, but it's early days."