For almost a quarter-century, Tourism New Zealand has deployed the sharp marketing slogan "100% Pure."
Part of its purpose has always been to emphasise the stunning natural attractions of this antipodean nation of two islands.
But as the climate crisis has intensified, and these wonders have come under threat, New Zealand's slogan has unofficially morphed into a mission statement for its broader commitment to environmental action.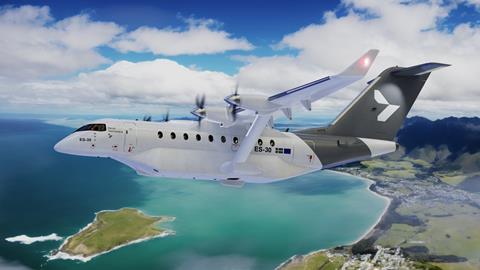 One of the greatest exponents of a 100% pure environmental push is the national airline, Air New Zealand, which was recently recognised as a winner in the Airline Strategy Awards for its Environmental, Social and Governance plan. Notably that includes an innovative multi-stream drive to decarbonise flights through its 'Flight NZ-0' programme.
As a core initiative in its ambition to achieve net zero emissions by 2050, the airline has been progressively re-fleeting, adding Boeing 787-9 (and soon -10) widebodies, and a mix of Airbus A320/321neo narrowbodies.
But it is a growing mix of inventive future fleet and fuel initiatives, impressive global aerospace partnerships, and natural resource advantages at home that are catapulting Air NZ into a position of sustainability prominence.
Because New Zealand is a small nation with limited surface transport options through some seriously undulating territory, regional air transport has always been critical to national economic and social connectivity.
As well, 80% of the country's electricity is renewably generated by hydro, geothermal, and, more recently, wind turbine technologies. By mid-decade, it expects to have 90% green energy, and by 2030, to squeeze that slogan again, 100% pure.
Air New Zealand, together with a growing team of international partners, has tied these elements together as it explores a zero-emission successor to (or powertrain conversion of) its regional fleet of 23 Dash 8-300 turboprops, with a targeted entry into service of 2030.
It is assessing electric, hydrogen, and hybrid technologies, teaming with Airbus to explore hydrogen infrastructure and fleet applications, ATR on hybrid propulsion solutions, Universal Hydrogen on modular energy supply, Heart Aerospace on battery-electric aircraft, and Embraer on multiple propulsion pathways.
Dramatically advancing that exploration, Air NZ has committed to the 2026 launch of a novel propulsion testbed aircraft to trial electric, hydrogen, and/or hybrid power in commercial passenger or freight service on short-range routes.
It is collaborating with four developers of all-new concepts - Eviation with its fully-electric Alice, Beta's battery-electric ALIA eVTOL, VoltAero's hybrid-electric Cassio, and the UK's Cranfield Aerospace Hylander, a green hydrogen-fuelled retrofit of the iconic Britten-Norman Islander.
Next year it will pick its preferred concept, with the first aircraft commencing service in 2026, and potentially a second in 2027, ahead of the Dash 8 phase out or upgrade.
The airline has just sought expressions of interest from airports in New Zealand, as it seeks two ports from its current domestic network to establish a single test route for the novel aircraft, to help accumulate operating experience and flush out infrastructure issues ahead of a full-scale implementation by decade's end.
It has also partnered with green hydrogen producer Hiringa Energy to further explore clean energy options.
And together with the national government (its controlling shareholder), Air NZ has selected US-based renewable fuel companies LanzaJet/LanzaTech and Fulcrum BioEnergy to separately investigate options for local production of sustainable aviation fuel from recycled waste, to support the airline's own scale-up of SAF, drive up industry demand, and help ensure national fuel security.
Collectively, it's a big agenda, subliminally reflected in its flight designator, NZ. Could this be code for 'Net Zero?'
Fortuitously, one of its 787s even carries the registration ZK-NZE, potentially providing an unexploited platform to globally promote its Net Zero Emissions ambitions. Maybe one for the next marketing meeting.