With a little help from new partners and a determination not to dwell on a punishing 18 months for the business, Annick Guerard is plotting a secure future for Air Transat
Montreal winters are painfully, unspeakably cold. Within minutes of exposure, uncovered skin could succumb to frostbite and wet hair freezes into icicles. Canadians know that it is unwise to spend long periods outdoors in such conditions.
But on a ridiculously frigid day back in 2001, a young Annick Guerard found herself on the apron of a Montreal-area airport, shadowing Air Transat maintenance professionals who were about to inspect and repair the wing of an aircraft. The temperature was -35°C (-31°F), and Guerard was bundled up in the warmest clothes she could find.
"I was dressed to go to the North Pole, and the mechanics began to remove their gloves to work," she says. "I couldn't believe it."
She was there as a senior consultant for Deloitte, and Transat was her client. A civil engineer who had earned a degree at Polytechnique Montreal, and who holds a master's degree in business administration from HEC Montreal, Guerard had specialised in logistics management and implementing continuous-improvement programmes in the transportation and manufacturing sectors.
OBVIOUS PASSION
During two weeks embedded in Transat's line maintenance department, she watched in astonishment as mechanics forged on in the sub-zero climate, day after day. And despite the brutal, surreal weather, she felt an immediate connection with the workers and their company. Their passion for the airline was tangible, several even sporting tattoos of the carrier's star logo.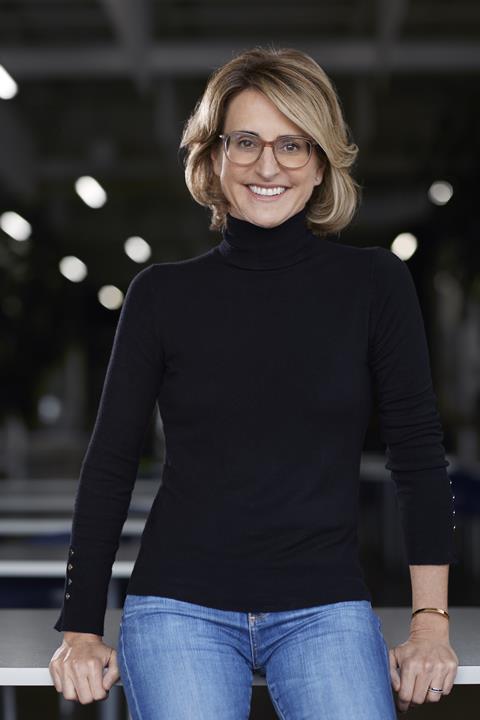 Barely a year later, perhaps in part as a result of her grit on that icy assignment, Air Transat hired her as its senior director for strategy and customer experience. Two decades on, she's now the chief executive.
Guerard laughs at the story of her first encounter with the airline that would propel her to the top of her profession. But it is clear she holds deep respect for the employees who made Air Transat the company it is today.
"I love this company. I love everything about it. I love the people, and I love to come to work every day," she says.
Guerard, now 50 years old, took the controls at the airline in May, as it faced twin crises, either of which could have signalled the end of the 35-year-old brand: a global coronavirus pandemic that seemed to never end, and the termination of a blockbuster deal with cross-town rival Air Canada that had been conceived to rescue the ailing carrier.
"It has been very tough these past few months," she says, reflectively. "Sometimes we didn't know if we would make it to the end of the day."
The worst part, she says, was making the painful decision to shut down temporarily and lay off workers.
From the beginning of the pandemic through to August of this year, Canada had some of the strictest and longest-running pandemic-driven travel restrictions anywhere. Federal entry requirements for passengers arriving from outside Canada – including a required quarantine period in a government-authorised facility at the travellers' cost – and regional regulations made travelling to or within Canada a complex undertaking.
Transat was forced to suspend flight operations twice since the beginning of the global health crisis. It first ceased operations from 1 April until 23 July 2020, joining numerous other airlines that quickly and radically slashed costs, battening down hatches as the still-little-known virus portended disaster for the global aviation industry.
IMPOSSIBLE TASK
"Trying to forecast demand at one point was just impossible. Our teams were redesigning the programme week after week, adapting to the new border restrictions and requirements," she says.
Transat shut down again in February 2021, this time at the government's request, in an attempt to quash any chance of infected passengers entering from abroad.
The de facto cancellation of Canada's all-important spring-break travel season, when many Canadians seek out sunny destinations and warmer weather, hit the holiday specialist particularly hard. And still, the federal government declined to provide the industry with financial relief.
On Guerard's first earnings call as chief executive in June, she reported an entire quarter without revenue.
In addition to dealing with the biggest industry crisis of our time, Transat spent much of the past two years attempting to close a deal with Air Canada that promised to strengthen and stabilise the brand. The timeline of the planned marriage, announced in 2019 and originally expected to close by mid-2020, was thrown off by the pandemic. Covid-19 also forced a radical rework of terms.
The legacy carrier initially offered to buy Transat for C$18 ($14.26) per share, making the deal worth about C$720 million. But following the precipitous decline in air travel demand, Air Canada slashed the price to C$5 per share. Transat's shareholders overwhelmingly approved the new offer in December 2020, seeing it as a last-ditch means to salvage the company.
The Canadian government approved the transaction in early February, subject to conditions including job assurances, a commitment to maintain a significant presence in French-speaking Canada, the launch of new destinations within five years and what the government called "a price-monitoring mechanism".
But two months later, after significant foot-dragging, the European Commission effectively nixed the deal because of competition concerns on European routes, leading the companies to call it off completely.
At the time, both airlines expressed frustration at the drawn-out process and the Commission's conditions, which Air Canada called "onerous", and "beyond commercially reasonable".
A separate offer from an independent investor was also retracted, and negotiations ended shortly thereafter.
Canada's number three airline was left to founder, and figure out how to go it alone.
Guerard does not look back, and does not spare a word for the deal that might have been. The company finally received C$700 million in federal financial aid in April – C$390 million to keep it operational, and C$310 million to reimburse customers whose flights had been cancelled.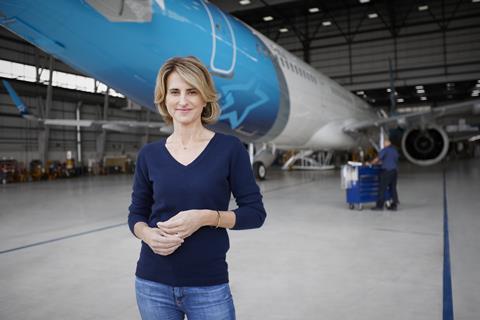 "Honestly, we wish the government had shown more concern for the industry from the beginning of the crisis, like we saw early on in Europe and the USA," she says. "But we are grateful for the financial support that we got in the spring. It gave us the breathing space we needed to move forward."
Transat's speciality is selling package tours and operating flights to popular tourist destinations, particularly those in Mexico, the Caribbean and Europe. Before Covid-19, the company had 5,200 employees. At the height of the crisis it had laid off up to 85% of the workforce, and currently has just 1,300. Guerard says that the airline is targeting to grow back to 4,300 employees by the end of 2023.
The pauses forced the carrier to critically review its processes and structures, and to do more with less. In 2018, Transat had launched a transformation project that saw it begin moving away from its tour operating business and travel agency network, and investing more in its airline. In the past year and a half, the company accelerated the project's key initiatives, which include simplifying the fleet, flattening workforce hierarchies, centralising functions and implementing other cost-saving measures.
Transat, which had been one of the last airlines operating Airbus A310-300s, retired the last of the widebody twinjets in 2020. It also stopped operating Boeing 737NGs, leaving it with just two Airbus types: A321s and A330s.
After restarting flight operations on 30 July and spooling up in August, the airline had nine of its 10 4,000nm (7,410km)-range A321LRs in operation by September. Transat holds orders for seven more of the type, which it expects will enter the fleet in the next two years. The carrier also has seven A321ceos, which it hopes to reactivate by November, helping ensure the airline has enough jets to serve a network expected by winter to encompass 50 destinations
COCKPIT COMMONALITY
In addition, the airline has 12 widebody A330s – all are currently in storage, but Transat anticipates returning them to service in December.
"With this mix, we have attained cockpit commonality which provides several advantages, including that pilots have the ability to be current on more than one aircraft type at a time," Guerard says.
Of course, the return of those aircraft depends on the return of Transat's customers. And customers will come back only when movement becomes easier, and virus mitigation strategies are co-ordinated, especially across national borders.
"Today, it takes a PhD with a speciality in 'travel restrictions' to understand how to travel between countries," she says. "Even if we are all vaccinated, the demand won't come back because it will still be too complicated for people to travel."
And with Canada's federal election coming up in October, the tourism industry is currently not the government's top priority.
In five years, though, Transat hopes to grow to 55 aircraft. Guerard is eyeing the 4,700nm (8,704km)-range A321XLR, which she calls a "superstar single-aisle" that is best suited for the routes Transat operates.
"Fifty-five aircraft is still a small fleet… We don't want to go back to where we were, with a complex and not-well-adapted fleet, which in the past caused us many efficiency and utilisation problems," she says.
So it is natural that in this new post-pandemic, post-failed-merger normalcy, Transat is looking to optimise its resources, to punch above its weight. Guerard alludes to something more ambitious than existing as just another low-cost leisure airline ferrying winter-weary Canadian snowbirds to sun-soaked Caribbean beaches.
"Our network was designed to serve point-to-point traffic, and we have clearly understood the limitations of operating in isolation," she says.
"We want to offer more destinations and options to our clients. So we are looking at partners to do that, and alliances are a key part of our network development strategy," she adds.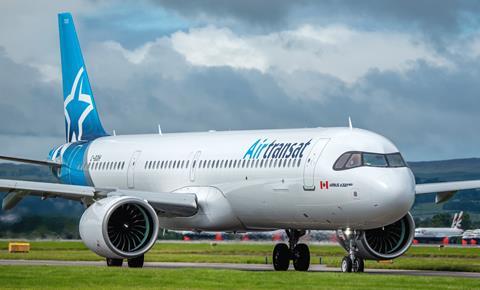 For the moment, she declines to name names. What she does reveal is that both North American and European airlines are in the mix.
"We have a strong asset to offer to potential partners, [and are] looking to increase our footprint between America and Europe and sun destinations. So, our approach right now is to start with simple bilateral agreements, which will give us some quick wins," she says. "And these partnerships may evolve into something more important and strategic in the near future."
Guerard says she was well prepared for her promotion to chief executive after spending more than three years as the company's chief operations officer alongside now-retired former chief and airline co-founder Jean-Marc Eustache. During that time, she got a good look at the top job and spearheaded the fleet modernisation plan, digital and IT upgrades and revenue- and cost-management improvement efforts.
"There were no real surprises," she says of the transition. "And it's always great when the succession comes from within [the company]. It shows that the talent development management has worked well."
STRONG RESOLVE
The past 18 months have steeled her resolve to lead the carrier out of the coronavirus disruption as a stronger, leaner and more-focused airline.
"We have always excelled in adversity. We are fighters, and we have gone to war together," Guerard says of the company. "At the beginning, we felt comfortable to be able to deal with this kind of crisis, but of course we never expected that we would remain in crisis mode for so long.
"Over the past year and a half decisions needed to be co-ordinated very efficiently, whether it was managing cash flow, paying the bills, co-ordinating the layoffs, organising the recall, parking the airplanes or repatriating our clients. Everything had to be executed perfectly and fast."
She says Transat's employees rose to the challenge.
Just like the tattooed mechanics, peeling off their winter gloves on the ice-cold airport tarmac 20 years ago, ready to repair a wing.