Chief executive Oana Petrescu explains how crisis has given the low-cost carrier an unprecedented opportunity at primary airports and to accelerate its fleet renewal plans
Romanian low-cost carrier Blue Air flying out of London Heathrow is one of the unexpected sights to have emerged since the pandemic hit, providing tangible evidence of how the dynamics of the industry have shifted.
Such a move would probably have seemed unlikely to Blue Air itself 18 months ago. But the airline's chief executive Oana Petrescu says that a consequence of the Covid crisis is that one of Europe's smaller low-cost carriers has been able to think bigger.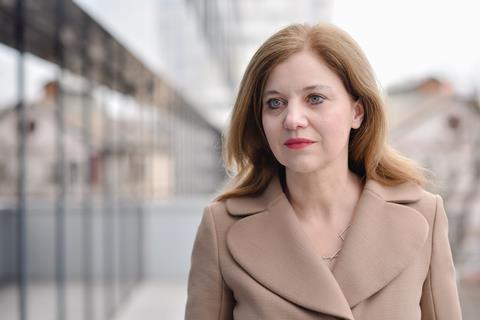 "You know that every crisis creates opportunities, but when you are in survival mode, you don't really understand it – unless you start to have small successes. And that's when we understood this is an incredible opportunity for us, that we could go to airports where we had no chance at before," Petrescu tells FlightGlobal.
Blue Air had been serving London Luton from Bucharest since 2012, but in December switched some of its London flights to the city's biggest gateway airport. That came alongside similar moves to serve other primary hubs including Amsterdam Schiphol, Paris Charles de Gaulle and Frankfurt.
"We had a very good team in place to see what would be our strategy post-Covid because it was clear that the behaviour of our passengers is changing, that we cannot rely on anything we did before for customer demand, and that they want a different product," Petrescu explains.
"They don't want to go to secondary airports any longer because there is just too much unpredictability in the market. So they want to be at a large airport where if anything happens, they can have alternatives and reorganise flights. So that's why we started conversations with the main airports."
That has involved a shift in the mindset of Blue Air, which is a low-cost operation that has steadily been developing its presence in southern Europe since its launch in 2004.
"Passengers want different things, airlines are not quite sure yet how to react," Petrescu says. "We allowed ourselves to think big and that's when we understood that we have the opportunity to have this better way to fly. A company that is green, that is on time, that is affordable, that is convenient – because we fly from principal airports – and that is comfortable. And certainly we are profitable, we need to be profitable."
SURVIVING THE CRISIS
Petrescu, a turnaround specialist, joined Blue Air at the start of 2018 before taking the helm of the carrier in May 2019. The turnaround efforts delivered a return to the black, with the airline posting a net profit of €11.8 million ($14.0 million) for the 12 months ending September 2019. Petrescu credits that profitability as key to securing stakeholder support to ensure the carrier could survive the crisis.
"We did what everyone did, in terms of trying to find different opportunities by doing repatriation and cargo flights, and negotiating with suppliers and discussing with our colleagues on how we can reorganise," she says. "I think what was really important is that from the very beginning we understood the disruption the pandemic would have and went very transparently to all our stakeholders and looked for their support."
That support included entering a preventative insolvency process last summer as well as securing European Commission approval for a government loan guarantee of up to €62 million.
"We went very openly… that we had this liquidity shortage, that we were going to a pre-insolvency process. [It meant] when we resumed flights in July [2020] we already had this comfort that our creditors and suppliers would continue to serve us, even if we have some liquidity shortages.
"We went to the state and explained we would incur significant deficit. The fact that we were profitable one year before helped us a lot. They could see our prospects were very good. So this helped everyone, because we are a solid airline, we make money, we just need support during this time. "
The turnaround at the carrier before the crisis had been necessary after a period of rapid growth between 2014 and 2018. "We grew from five aircraft to almost 30. Everything was very fast," she says.
But she notes by the time Covid hit, "we were stabilised, profitable and had a very good cost base". Indeed the airline was just starting the process of attracting new capital to fuel its next stage of expansion. "[Then] our mind had to shift immediately from expansion to survival," she says.
FLEET RENEWAL PLANS ACCELERATED
It is not just in its network where Blue Air has sought to turn the crisis into an opportunity. The airline, which operated a mix of Boeing 737-700/800 and older-generation narrowbodies when the crisis hit, has fast-tracked a planned fleet renewal.
"Our plan was to have only 737NGs and Max aircraft by 2024. Now our plan is to have it by the end of this year," Petrescu explains. "We have six Classics, but we are just operating two. One is on ACMI in Africa, and by the end of the year we will not operate them any longer. So soon we will have a homogeneous fleet."
Blue Air had originally planned to take six Max aircraft directly from Boeing and lease a further six from Air Lease. This plan was first hit by the grounding of the Max and then by the pandemic. But it revamped the commitment during the crisis, dropping its order with Boeing and increasing its commitment with Air Lease for 10 Max aircraft.
"We got the first one in March, then last month we got the second one. We are still waiting for two more to come by the end of the year, and remaining six next year," says Petrescu. She adds that the airline can increase this commitment, depending on whether it secures the slots it is targeting.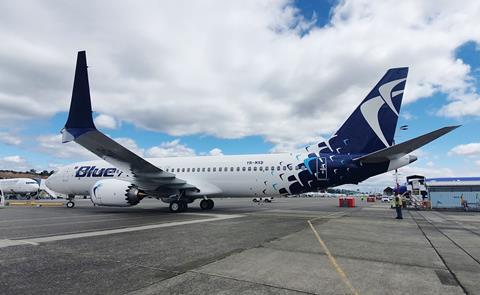 "Now we have a plan that by the time we get to 2025, we will have over 40 aircraft – a mix of 737NG and Max. On the one hand we will fly green and on the other side our cost structure will get even better. This crisis brought us this opportunity to accelerate [the renewal]," she says.
"Going forward we are very confident because we have seen that the market right now is under-served and there are a lot of opportunities this year and we believe next year there will be a lot of opportunities. And we are already in talks with a number of investors to finance this growth."
HOPES FOR SUMMER DEMAND BOOST
While the airline's move into primary markets is eye-catching, it is sticking to its low-cost credentials.
"What is really important is by sticking to this low-cost model, we will be able to take advantage of opportunities that we did not before," Petrescu says, highlights room to boost its ancillary revenues. "We are not yet at the levels of our peers. There is a big opportunity there to grow from 15-20% [share] being ancillary to 30-35%," she notes.
It has also used the crisis to overhaul its IT and operations systems. "Before we didn't dare to change significant systems. But because we had so low [traffic] levels, we could basically revamp everything. So now we have a fully integrated technology stack," Petrescu says.
She notes the airline is helped by its location in Romania, both in terms of its cost base and in the likely speed of recovery.
"The fact we have this core demographic is very important for us because it's stable VFR and leisure traffic. That's why we are very fortunate that we can recover faster than the airline industry as a whole," she says.
While Romania is a core market, Petrescu sees the carrier as operating across southern Europe. It already has an established base at Turin in Italy and has notably more recently stepped up its connections to Greece.
Ongoing travel restrictions have meant demand and load factors in many markets have been low. But the easing of restrictions across parts of Europe offers a glimmer of the opportunities ahead, and Petrescu notes that having kept its operational staff levels at roughly pre-crisis levels, the airline is well placed to capitalise on markets opening up.
"For this summer we are intending to fly at 70-80% of 2019 levels. We are already at about 50%. This just happened in the last one, two weeks, because traffic was really depressed. But once we had this relaxation of measures in Romania, Germany and France, we have been [able to] immediately ramp up."
Load factors too are on the rise. "It's improving from day to day, and the amount of no-shows is decreasing. It's a very rapid ramp-up," she adds.