The consolidation of Tata Group's airline units stands to transform India's airline sector, and ratchet up the pressure on smaller carriers.
Following Tata Group's formally taking the reins of Air India in January 2022, analysts were all but unanimous that it was only a matter of time before it consolidated its airline units: Air India, Air India Express, AirAsia India, and Vistara.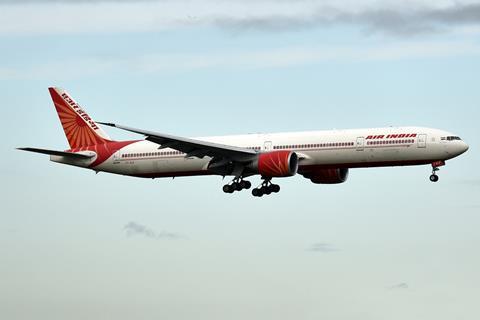 Indeed, throughout 2022 a primary line of media questioning aimed at SIA chief executive Goh Choon Phong related to the fate of its 49% stake in Vistara – the other 51% is owned by Tata.
In October SIA finally confirmed that merger talks were underway. Shortly therafter, Air India said that following a review, Air India Express and AirAsia India will be merged by the end of 2023, creating a unified low-cost effort.
Finally, on 29 November SIA and Tata announced the merger of Air India and Vistara. SIA will inject Rs20.6 billion ($250 million) into Air India and end up with a 25.1% stake. Regulators permitting, Tata and SIA hope to complete the merger by March 2024.
The merger solves a number of challenges for SIA, as it immediately adds crucial scale to its loss-making Vistara venture. As for Tata, it can focus on developing a single Air India airline brand – and in the process recast airline's overall airline sector.
By all accounts, Tata is committed to a massive turnaround of Air India following decades of mismanagement under government ownership. Air India's new chief executive, former SIA executive Campbell Wilson, appears to have a clear mandate to implement a raft of changes under a five-year plan known as Vihaan.AI.
Prior to the news of the Vistara merger, Air India had already committed to having 30% of India's domestic market, up from 8.4% now. Indian government figures suggest that following the merger with Vistara, and the combination of AirAsia India and Air India Express, the combined group will have over 27% of India's domestic passenger share. That is second only to low-cost juggernaut IndiGo, with nearly 57% of the country's domestic market.
The remaining 16% of the market is divided among Spicejet, GoFirst, and Akasa Air. Jet Airways may also rejoin the fray at some point, but a spat between its creditors – a legacy of its 2019 collapse – and new owners is delaying its launch.
SpiceJet appears particularly vulnerable. While second quarter revenues for the three months ended 30 September jumped 45%, its operating loss ballooned to Rs5.6 billion. Yet again, the company's auditor expressed concern about its ability "to continue as a going concern."
GoFirst has roughly the same 7% market share as SpiceJet. It also appears to be equally challenged. In 2021, India's stock market regulator put GoFirst's initial public offering on hold, and Indian media reports indicate that the carrier continues to lose money.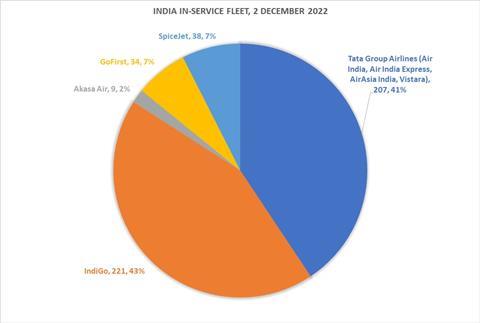 Scaling up to compete in India's price sensitive market is remote proposition for both carriers, particularly when dealing with well capitalised rivals such as the rejuvenated Air India and IndiGo.
Moreover, SpiceJet and GoFirst, having survived the coronavirus pandemic, also face competition from start-up Akasa Air, which aims to have 18 737 Max 8s by the end of March 2023.
As it stands today, Cirium fleets data indicates that Tata's airline units have 207 in-service aircraft, 41% of the country's total fleet, just behind IndiGo with 43%. Moreover, IndiGo's orders for 501 Airbus narrowbodies constitute over half of Indian carrier's overall orderbook. If nothing else, IndiGo is still very much in the business of scale.
As for Tata, Air India's Wilson was recently quoted as saying that his carrier has a "historic" order in the works. Given that Boeing dominates the widebody fleet of Tata's group carriers, and Airbus dominates the narrowbody fleets, it is possible that the order could be divided between the two manufacturers. But irrespective of what Air India does on the order front, it is all but certain to go big.
The 2010s was a chaotic time in India's airline market, with too many carriers in addition to what was viewed as the "irrational" pricing behaviour of government-owned Air India. Only IndiGo, through scale and professional management, consistently cracked the profitability puzzle.
Now, with the advent of a reborn and consolidated Air India, IndiGo will finally have a serious rival. As for India's smaller carriers, their lack of resources and scale could well prove insurmountable.

Greg Waldron is the Asia Managing Editor of FlightGlobal, responsible for the team's airline, aerospace, and defence coverage across the region. He has worked at the company since 2009. In the airline space, Waldron has conducted dozens of interviews with airline leaders in the Asia-Pacific. He also covers areas such as MRO and safety. On the defence beat, Waldron has written extensively about the rise of Chinese airpower, as well as broader airpower developments around the region, such as indigenous fighter programmes, and regional acquisitions of foreign equipment. In addition, Waldron writes about commercial helicopters in the region and business aviation. Waldron worked has a freelance journalist with his work appearing in several business publications.
View full Profile