Etihad Aviation Group chief executive Tony Douglas believes the business's ongoing restructuring programme has given the Gulf carrier the agility to better manage its operation through the coronavirus crisis and to position it for when air travel markets reopen.
The Abu Dhabi carrier on 25 March suspended all passenger services, initially for two weeks, in line with travel restrictions implemented by the UAE authorities as part of measures to counter the spread of the coronavirus pandemic.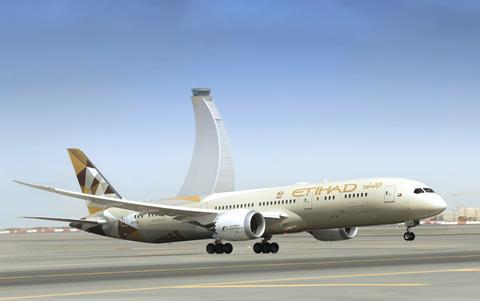 Prior to the grounding, Etihad Airways was operating around 40% of its normal flying as various travel restrictions had already taken a toll on the airline's network.
"We were flying to 76 destinations [before the crisis]," Douglas tells FlightGlobal. "Network planning has been a moving target – it would change sometimes 10 times a day as different restrictions came in – so it's been a constant moving target for us.
"It started off with China – apart from Beijing. Then Nagoya, which was a stop on from Beijing, then the rest of Japan and the rest of the Far East," he states. But, he notes, it has really been during the past three weeks that the network has been hit as travel restrictions heightened.
"One of the things with Etihad – because we are a mid-sized airline and we have different fleet configurations – is we are quite adaptable," Douglas adds.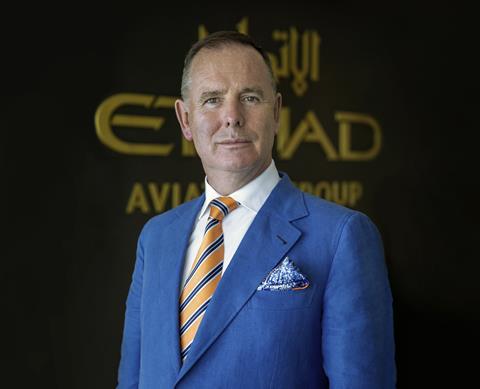 He says that this means the carrier could deploy different-sized aircraft as demand on routes reduced – so on some routes, for example, this has involved moving from an Airbus A380 to a Boeing 777, to a 787-10 down to the smaller 787-8. "We have been very nimble and adaptive, redeploying the fleet and right-sizing [as the market changed]," he says.
How Etihad is reacting to the crisis
As the crisis deepened, Etihad has – in line with other operators across the globe – taken steps to reduce its costs.
"We've taken a wide-reaching series of measures – we cannot afford to leave any stone unturned," says Douglas.
"All management and executive-grade staff are taking 50% salary reductions," he states. All other staff have taken a 25% reduction. He also points to payment holidays arranged with lessors and savings discussions with all of its supply chain.
"I have to say the way that – in the main – our supply chain has reacted has been of the highest order. We are in all in this together. This affects the whole industry," Douglas says.
He also points to efforts to make the most of the unusual period of having its fleet on the ground. "We must use this time," he says, pointing to the opportunity to ensure the airline is in the best shape for when it returns to flights.
"For example, the interiors, when we are flying again, they will be spotless," he says, noting this provides the opportunity to tidy up typical "wear and tear" scuffs and scrapes. Similarly, he says it is an opportunity to carry out non-essential software upgrades or to move C-checks forward slightly. "We will take the opportunity," he says. "We are looking to take full advantage of what is a difficult situation."
Not that all of Etihad's passenger aircraft will remain on the ground. Other action includes the decision to deploy some of its 787-10 aircraft on cargo routes to supplement Etihad Cargo's fleet of Boeing 777 freighters.
The move comes as demand for freighters has spiked given the sharp reduction in belly capacity associated with the reduction of passenger flights, as well as heightened demand from China as the country starts to emerge from its coronavirus shutdown.
"It's a bit of a boom in air freight – albeit a temporary phenomenon," says Douglas. Around three-quarters of Etihad's cargo is bellyhold capacity, so the addition of 787 passenger aircraft – which provide capacity for 12 lower-deck pallets and four containers – will help provide additional capacity during this period. Etihad Cargo will initially deploy the 787s across 10 markets.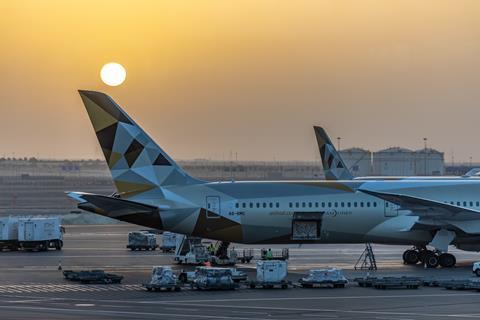 Getting back in the air
The global coronavirus crisis comes as Etihad continues working through major restructuring, after mounting losses both at the core airline and with its high-profile equity-alliance investments.
That has included restructuring the group and cutting back capacity in a bid to improve load factors and yields. While the group remained in the red in 2019, the $870 million loss marked an improvement on the $1.28 billion loss of the previous year.
"We are in the middle of a five-year transformation – we have taken $650 million out of the cost base in 2019," says Douglas, noting the carrier is benefiting as it is already in a process of "going back to basics" and challenging all costs.
He adds that if the carrier was in "the condition we were two years ago" it would not have had the agility to react the way it has to this crisis. "I think it is that agility that has allowed us to pivot more easily," he says.
Douglas also believes adaptability will be key for when markets reopen. "None of us have a crystal ball to know how, when or where the market will present itself back. [We should] embrace the ambiguity of the situation.
"Depending on how long things last for, it's fair to assume quite a few airlines will run out of financial resources and there will be some kind of consolidation within the industry," he says, noting it may be that the industry has to reset itself.
"This wasn't something that anyone would have planned," Douglas adds. "[But] I am an optimist and I see good coming out of this. It will shake up the industry and it will force us to be more conscious on the fine margins."