European governments have stepped in with an unprecedented level of financial support to keep airlines in the region afloat during the pandemic, with the likelihood of further funding required in the year to come.
Airlines in Europe are far from special cases in terms of securing state support during the crisis. IATA in late November estimated that globally governments have provided $173 bilion in aid to keep airlines operating since the pandemic hit.
The US government, for example, provided $58 billion in grants and loans to the airline industry as part of its CARES Act after the pandemic struck, and efforts continue in the US Congress over a package to extend payroll support through to the end of March 2021.
Government financial intervention in Europe was made easier in part by the European Commission in March easing state aid rules in response to the coronavirus outbreak. It introduced temporary regulations enabling a number of measures, including direct loans, tax advantages and loan guarantees, to offset the financial impact of the forced grounding of flights during the pandemic.
This relaxation only applies to companies that entered difficulty this year, to ensure the support is in response to the pandemic. In October the temporary framework was extended to remain in place until 30 June 2021 and recapitalisation measures until the end of September 2021.
But the measures and scope of European government intervention has varied across the region. States have in some cases taken direct measures to support airlines through the crisis, providing large bailouts – often taking equity in the process. In other cases there has been no direct funding, though relief has been provided through wider national job protection schemes and access to credit.
State aid to airlines authorised by European Commission since pandemic
Country
Airline
Amount
Source: Published European Commission state aid approvals to airlines as of 23 December 2020
Austria
Austrian Airlines
€150m
Belgium
Brussels Airlines
€290m
Croatia
Croatia Airlines
€12m
Denmark
SAS
€583m
Estonia
Nordica
€30m
Finland
Finnair
€286m
France
Air France
€7bn
France
Corsair
€137m
Germany
Lufthansa
€9bn
Germany
Condor
€550m
Greece
Aegean Airlines
€120m
Italy
Alitalia
€199m
Latvia
Air Baltic
€250m
Netherlands
KLM
€3.4bn
Poland
LOT Polish Airlines
€650m
Portugal
TAP Portugal
€1.2bn
Portugal
SATA
€133m
Romania
Blue Air
€62m
Sweden
SAS
€486m
Aegean Airlines
The Greek government in November set out plans to provide up to €120 million ($146 million) in state support for Aegean Airlines as part of a wider capital increase. Under the plan, the Greek state would receive warrants for the purchase of shares in the company. The European Commission approved the Greek investment, which is being made via a direct grant, on 23 December.
Air Baltic
The Latvian government's €250 million recapitalisation of Air Baltic was approved by European regulators in July. The move took the Latvian state's holding in the airline from 80% to above 96%. The state will receive an appropriate remuneration for the investment and there are additional mechanisms to incentivise Air Baltic to buy back the state's equity participation obtained as a result of the recapitalisation.
Air Europa
Spain's government in November approved a €475 million state-backed loan for Air Europa. The airline will be the first Spanish company to receive money from a fund set up by the country's government in July to help businesses weather the Covid-19 crisis.
Air Europa will receive a €240 million equity-backed loan and a €235 million regular loan, says the Spanish finance ministry in a 3 November statement. The carrier will have up to six years to repay the loans.
Air France-KLM
High-profile environmental conditions were attached to the bailouts by the French and Dutch governments for Air France and KLM respectively.
In early May, France's plan to provide €7 billion of government-backed loans to help the Franco-Dutch airline group weather the coronavirus crisis was approved by the European Commission under its temporarily relaxed state-aid rules.
The plan included a French state-backed loan of €4 billion from a syndicate of six banks to be distributed to Air France-KLM and Air France, as well as a direct four-year shareholder's loan of €3 billion from the French government to Air France-KLM.
Air France's bailout also came with conditions attached. The French government tied green strings to its contribution, calling on Air France to halve its overall carbon-dioxide emissions per passenger-kilometre by 2030, compared with 2005 levels, with an earlier target of 2024 for emissions from domestic flights. The government also asked Air France to renew its fleet with more efficient aircraft, and to commit to sourcing 2% of its fuel requirements from sustainable sources by 2025.
Reports in the French media in December suggested France was preparing a further €4-5 billion investment into the carrier, through which it would roughly double its 14% stake in Air France-KLM.
Separately, the Dutch government is providing a €3.4 billion state-support package to KLM. It comprises a 90% state-guaranteed five-year revolving credit facility of €2.4 billion, granted by 11 banks, and a direct state loan of €1 billion. One of the conditions of the aid was that all KLM employees agree to adjust certain employment conditions for the duration of the loan, which is set to last until 2025.
Similarly, also attached to the government loan conditions was a requirement that KLM become a more sustainable operator. KLM chief executive Pieter Elbers told FlightGlobal in a wide-ranging interview in November that renewed government financial interest in airlines means that reducing the industry's environmental footprint has become a shared endeavour.
"Now that governments have stepped forward so massively to support airlines, there's also a momentum whereby things such as the availability of sustainable aviation fuels… whereby cutting down some of the bureaucracy or even [implementing] the Single European Sky, which [we have been] waiting for the last two decades, maybe now finally we have the momentum of pushing forward," he says.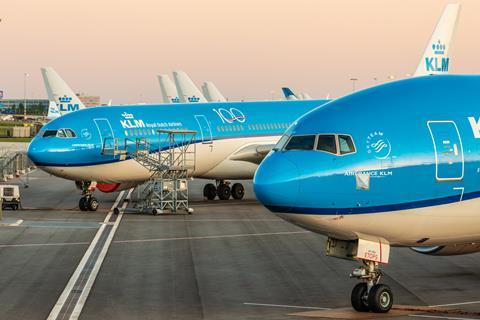 Alitalia
In September European regulators backed an Italian support package to Alitalia in the form of a €199.45 million direct grant, which corresponds to the estimated damage directly caused to the airline between March and mid-June.
Ironically, prior to the temporary easing in state aid rules in March, the European Commission had in February opened a state aid probe into whether Italy's granting of a new loan of €400 million to Alitalia to facilitate the streamlining of the company in order to attempt to sell its assets complied with European state aid rules
Blue Air
The European Commission in August backed a €62 million loan from the Romanian government to Blue Air. It comprises a €28 million public guarantee to compensate the carrier for the grounding, as well as a further €34 million in rescue aid via a public guarantee on a loan intended to partly cover Blue Air's acute liquidity needs.
Corsair
The European Commission in December approved two French measures in favour of Corsair. This comprises €106.7 million of restructuring aid for the company and a further €30.2 million compensation for damage suffered due to emergency measures put in place by governments during the coronavirus outbreak.
Condor
European Commission regulators in April approved a €550 million loan from the German state to help struggling leisure carrier Condor through the coronavirus crisis. The package, granted under the federal government's Corona-Schutzschild (corona shield) programme, secured its flight operations after Polish group PGL withdrew from its planned purchase of the carrier after the crisis.
Condor was cleared to receive a loan of €294 million as coronavirus aid as well as €256 million to fully refinance the bridging loan that the leisure airline received for last winter following the insolvency of Thomas Cook.
Croatia Airlines
In December European regulators approved a Croatian grant of €11.7 million to state-owned Croatia Airlines, compensating losses caused during the closure of borders between 19 March and the end of June.
Finnair
The Finnish Government in June participated in a share offering generating net proceeds of around €501 million for Finnair. The Finnish state holds a 55.8% stake, meaning its share of support in new issue was €286 million.
IAG
IAG's Spanish carriers Iberia and Vueling in May secured financing of €750 million and €260 million respectively under a syndicated agreement with banks, guaranteed by Spanish state-owned Instituto de Credito Oficial.
British Airways issued commercial paper worth £298 million ($399 million) under the UK's Coronavirus Corporate Finance Facility (CCFF).
LOT Polish Airlines
Poland's government on 22 December secured European Commission backing for around PLN2.9 billion ($787 million) in support measures for national carrier LOT. The aid comprises PLN1.1 billion is to be allocated to increasing the company's share capital, while a further PLN1.8 billion will be allocated from the Polish Development Fund for a liquidity loan.
"With these measures, Poland will contribute approximately €650 million to help the airline weather the current coronavirus crisis," European competition commissioner Margrethe Vestage says. "The decision ensures that the state is sufficiently remunerated for the risk taxpayers assume, and that the support comes with strings attached, including a dividend ban as well as further measures to limit distortions of competition"
Lufthansa Group
Pan-European airline group Lufthansa secured support from several governments for its carriers, though it was agreeing aid from Germany that was to prove the most protracted.
Germany contributed €6 billion to a recapitalisation of Lufthansa, through the country's economic stabilisation fund (WSF), as well as a providing a state guarantee for a €3 billion loan.
Approval of the package though had been in doubt after key shareholder Heinz-Hermann Thiele initially said he may vote against the plan. Thiele had criticised "a lack of transparency" in the deal, under which the WSF took a 20% stake in the group.
Elsewhere in the group Austria provided a €150 million subordinated loan that will be converted into a grant only after Austrian Airlines' financial results for 2020 confirm that the aid does not exceed the amount of damage suffered during the grounding period.
Belgium provided a €290 million aid package for Brussels Airlines. That predominantly comprised a six-year loan of up to €287.1 million with subsidised interest, not convertible into equity, as well as a recapitalisation of €2.9 million.
Switzerland's government proposed providing 85% guarantees for loans totalling Swfr1.5 billion ($1.52 billion) to Lufthansa subsidiaries Swiss and Edelweiss in May.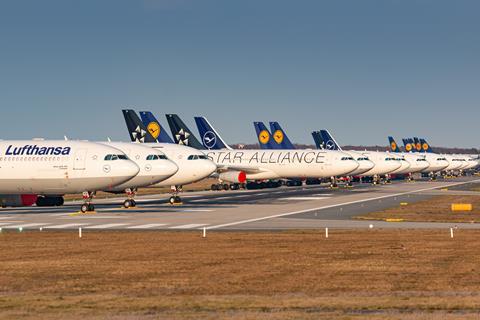 Nordica
Estonian operator Nordica in August secured approval for a €30 million financial support package comprising a share capital increase and a loan with subsidised interest.
Norwegian
While cash-strapped Norwegian has benefited from some state financial support, it was neither as much as the airline was seeking nor enough to prevent the airline later filing for formal restructuring.
Norwegian in June entered into a NKr2.99 billion ($344 million) state supported term facility agreement arranged by DNB Bank. It came after shareholders backed a debt-for-equity financial restructuring required to ensure its equity ratio met the criteria to unlock the state aid.
The airline though warned it would require further funding to survive the winter, but the government in November ruled out further financial support.
"Norwegian has asked for financial support in the billions, and the government has considered that in this situation there is no sound use of community funds," said Norwegian trade and industry minister Iselin Nybo. "Such support could also distort competition. The players in Norwegian aviation can also benefit from many of the other general schemes we have presented."
Norwegian cited the rejection of this support as a factor when it subsequently filed for formal protection under Irish bankruptcy law.
Russia
In May, Russia's government allocated Rb23.4 billion ($317 million) to the country's carriers to provide financial support as the coronavirus crisis begins to affect their operations substantially. Reuters in September reported national carrier Aeroflot could access a third of this funding, with the remainder allocated across other Russian operators.
SAS
In August the European Commission approved moves from Denmark and Sweden – the two state shareholders in SAS – to support an SKr11 billion (€1 billion) recapitalisation of the Scandinavian carrier. It comprises SKr2 billion equity participation through the subscription of new shares and a further SKr3 billion in a rights issue — both shared equally between Denmark and Sweden. Demark will provided a further SKr3.5 bilion and Sweden €2.5 billion in newly issued state hybrid notes.
The recapitalisation replaced revolving credit facilities – 90% underwritten by Denmark and Swdened – initiated in April.
As a result of the recapitalisation, the Danish and Swedish governments each increased their stakes in SAS to 21.8%
SATA
European regulators in August backed a Portuguese €133 million support package to help Azores carrier SATA Air Acores through the coronavirus crisis, but judged an earlier capital increase required repaying.
Because SATA was already facing financial difficulties prior to the pandemic, the airline was not eligible for support under the Commission's temporary relaxation of its state aide framework.
Instead, it considered the package under its existing state aid rules. It judged that a public guarantee of up to €133 million on a temporary loan strictly relates to urgent liquidity linked to the provision of essential services by SATA and was necessary to allow the company to continue operations.
But regulators opened an investigation into earlier public-support measures for the carrier – relating to a move in 2017 by the Autonomous Region of Azores, which wholly owns SATA, to approve three capital increases to partly address the company's capital shortfalls.
The Portuguese archipelago's secretary for finance, Joaquim Bastos e Silva, in December disclosed during a legislative assembly that nearly €73 million in support – put in place during 2017-20 – breached European Union rules, because prior approval was not obtained.
TAP Air Portugal
Portugal's government completed its acquisition of an additional 22.5% stake in TAP, clearing the way for the airline to access the rest of a state loan of €946 million. The government now holds 72.5% of TAP's share capital after acquiring the stake from David Neeleman's Atlantic Gateway consortium.
An extra €254 million may later be added to the loan, but the government is not obligated to make the additional funds available. That relates to the €1.2 bilion rescue aid that European regulators approved in June.
As TAP was already facing financial challenges before the pandemic, the rescue aid was granted under existing rules. This required TAP to repay the aid within six months or submit a restructuring plan.
In December the government submitted plans for a restructuring of TAP that would involve a reduction of fleet capacity and the cutting of 2,000 personnel. These plans envisage the airline requiring state support of €970 million in 2021 and further financing over the course of the plan.
UK
The UK Government has stopped short providing direct airline bailouts, though did initiate general business support measures as the crisis developed through its CCFF facility and furlough schemes.
Alongside British Airways, several other carriers - including EasyJet, Ryanair and Wizz AIr - have raised liqudity through the CCFF programme.
EasyJet, which accessed €600 million under the CCFF scheme, in November said it was planning to extend its borrowing under the programme. "Implementing the proposed extension will lead to a staggered repayment profile with £300 million repaid in March 2021 and £300 million in November 2021," the airline said.
Ryanair in April raised £600 million in unsecured debt under the programme, while Wizz Air borrowed £300 million under the programme Leisure carrier Jet2 is also eligible for £300 million liquidity under the scheme, but as of an interim financial year update in November this facility was undrawn.
Reporting by David Kaminski-Morrow, Graham Dunn and Lewis Harper.
Additional reporting by Cirium
Article updated on 23 December 2020 to reflect EC approval of Aegean Airlines state aid