In any other circumstances the airline financial performance in 2021 would have been a cause of alarm.
FlightGlobal analysis of leading groups shows they posted a collective operating loss of just over $11 billion in 2021. That is based on data covering 43 of the 50 biggest airline groups by revenue for whom profit figures are available.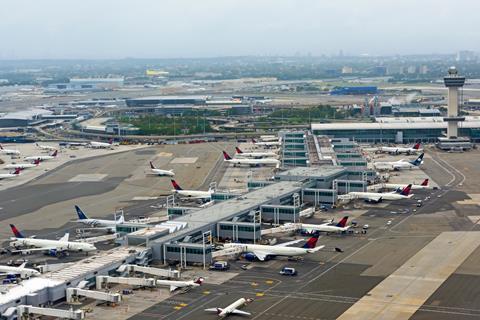 That, however, is a marked improvement on the $100 billion the same groups lost in 2020, when the Covid outbreak resulted in the abrupt closure of borders and airlines were left with the same costs but a severe drop in revenue.
The ability to adjust, through a combination of cutting costs and developing fresh revenues, meant airlines were able to mitigate losses last year. Indeed, a majority of airlines were at least able to cut their losses in 2021, and such was the scale of red ink seen in 2020, that many of those reductions were by a billion dollars-plus.
Getting on for half – 18 out of 43 – of the airline groups to report an operating result posted a profit for 2021. Just eight of the same groups did so in 2020.
To a certain extent, the improved bottom line performance does reflect some recovery in revenue.
Revenue among the 50 biggest airline groups climbed 37% to $433 billion last year from $316 billion in 2020, FlightGlobal analysis shows. That, though, was still 36% short of the pre-Covid high of $677 billion the same groups generated in 2020.
HOW DO RESULTS COMPARE TO PRE-COVID PEAK?
Only three of the 50 largest airline groups reported a drop in revenues last year compared with 2020 – and that includes TUI and EasyJet which both have financial years which ended in September and so were comparing to a year with around six months of pre-Covid 'normal' operations.
However, such was the dire state of the market in 2020 that comparison with that year offers little insight beyond showing that 2021 was less bad.
Comparing revenue with 2019 shows that only seven of the same airline groups generated revenue above pre-Covid levels – four of which are dedicated cargo operators.
Biggest airline groups in 2021 by revenue (US$)
Rank 2021
Airline/Group
State/territory
2021 ($m)
change v 2020
change v 2019
Source: FlightGlobal from company results announcements/statements
1
FedEx Express
USA
45,814
9%
29%
2
Delta Air Lines
USA
29,899
80%
-36%
3
American Airlines Group
USA
29,882
72%
-35%
4
United Airlines Holdings
USA
24,634
60%
-43%
5
Lufthansa Group
Germany
21,791
22%
-50%
6
Emirates Group
UAE
18,051
86%
-36%
7
Air France-KLM Group
France
16,841
33%
-45%
8
China Southern Airlines
China
15,759
17%
-29%
9
Southwest Airlines
USA
15,790
75%
-30%
10
Qatar Airways Group
Qatar
14,370
78%
2%
Indeed, last year's strongest performers illustrate the continued prominence of air cargo since the pandemic hit. Most network carriers pivoted, at least to some extent, to increased air freight activity. In some cases, particularly among Asia-Pacific operators where international passengers markets were all but shut for most of 2021, air cargo was the mainstay of operations.
Likewise, dedicated cargo carriers and freight forwarders recorded another strong year, with most recording record revenues and profit levels. Notably FedEx Express, for a second year running, was the largest operator by revenue in 2021.
While the boom in air freight activity is in some part tapering off as belly space on passenger aircraft returns to the market, most operators view the sharp growth in e-commerce which emerged during the pandemic as a structural change. Notably, airlines and airframers alike have continued to roll out dedicated freighter commitments across the year.
Analysis tracking how revenues have evolved among the top 20 airline groups before the crisis in 2019 shows the big US groups – Delta Air Lines, American Airlines and United Airlines – regaining strength. They had been the three largest groups by revenue in 2019 and strong growth means they reached almost two-thirds of pre-Covid levels in 2021.
Notably, while all three US majors have increased cargo turnover, the mainstay of their revenue remains from the passenger sector – as is the case for the next biggest US operator, Southwest Airlines.
By contrast, the other network carriers to feature among the 20 biggest before Covid have all turned to the freight sector to bolster revenues.
That is most pronounced among Asia-Pacific carriers. Cargo was already a relatively strong part of their business compared with other regions, and the region's carriers doubled-down on air freight last year as international passenger markets remained largely off limits.
It is most starkly evident at Hong Kong's Cathay Pacific, where freight accounted for $4.6 billion out of nearly $5.9 billion in total revenues. That was enough to keep Cathay within sight of the 20 biggest carriers in 2021; it ranked 23rd largest by revenue, despite the almost total collapse of passenger revenues.
Chinese carriers, which ranked relatively highly in 2020 as their large domestic travel market was the first to rebound after the initial Covid wave, grew more modestly last year as tight travel restrictions persisted.
Qatar Airways was the only network carrier among the 20 biggest in 2019 to report revenues above pre-Covid levels last year, reflecting both a swift return of passenger capacity as well as increased cargo activites. It means the carrier features among the 10 biggest airline groups by revenue for the first time in 2021.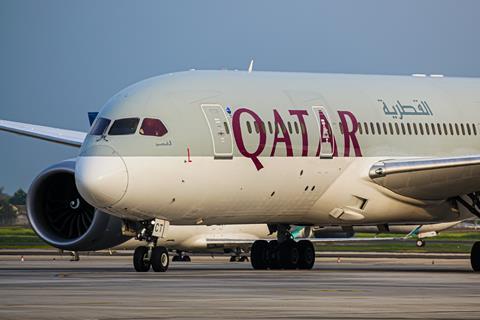 WHICH AIRLINES FOUND PROFIT DURING CRISIS?
Qatar Airways also posted an operating profit of just under $3 billion for 2021 – the highest reported by any carrier for the period. Around half its revenues were generated from cargo operations.
Most profitable airlines/groups by operating profit 2021

| Airline/Group | 2021 ($m) | 2020 ($m) | 2019 ($m) |
| --- | --- | --- | --- |
| Qatar Airways Group | 2,976 | - 288 | - 310 |
| FedEx Express | 2,922 | 2,810 | 996 |
| Delta Air Lines | 1,886 | - 12,469 | 6,618 |
| Turkish Airlines | 1,689 | - 163 | 891 |
| Southwest Airlines | 1,721 | - 3,816 | 2,957 |
| Cargolux | 1,718 | 991 | 114 |
| Korean Air | 1,280 | 201 | 246 |
| Atlas Air Worldwide Holdings | 711 | 495 | - 461 |
| Alaska Air Group | 685 | - 1,753 | 1,063 |
| Hainan Airlines Holdings | 543 | - 10,387 | 115 |
That was just ahead of FedEx Express, which alongside Cargolux and Atlas Air, are among three cargo groups to feature among the 10 most profitable groups at an operating level in 2021.
Notably, other passenger operators among the 10 most profitable include Turkish Airlines and Korean Air, both of whom expanded their cargo operations. Freight accounted for about 40% of Turkish Airlines revenues in 2021, compared to less than 10% in 2019, while cargo represented around three-quarters of Korean's revenues last year.
The most profitable region going into the crisis, North America also led the recovery out of the crisis. Aided by the strong US domestic market, even if many international markets did not reopen until November, carriers in the region saw a strong pick-up in passenger demand.
Regional split of revenue among 50 leading airline groups (2021)
Region
2021 revenue
Change v 2020
Change v 2019
Source: FlightGlobal analysis of leading 50 airline groups
North America
$184.6bn
43.7%
-25.5%
Asia-Pacific
$105.6bn
25.7%
-41.3%
Europe
$86.9bn
25.2%
-49.0%
Middle East
$39.6bn
69.2%
-27.6%
Latin America
$11.6bn
38.1%
-43.1%
Africa
$5.0bn
78.6%
-28.2%
Total
$433.3bn
37.3%
-36.0%
Revenues among leading carriers in the region moved to within 25% of 2019 levels – the closest of any of the regions to returning to pre-Covid levels. That was even more pronounced for carriers with less exposure to international markets. For example, Allegiant Air's revenue was just 7% short of 2019 levels last year.
Leading North American carriers were in the black at an operating level last year. Analysis of 13 leading airlines and groups in the region shows a collective operating profit of $3.4 billion – compared with a loss of over $36 billion in 2020. That profit stands at nearly $6 billion for just US airlines.
However, North American carriers remained in the red at a net level, posting a loss of $5 billion.
By contrast, revenues among Europe's leading carriers in 2021 were still less at around half 2019 levels, and were 41% down among Asia-Pacific operators.
Leading carriers in these two regions made strong inroads into cutting losses, but collectively remained in the red at both operating and net levels.
Given that short-haul markets tended to be the ones from which international travel restrictions were eased first, and that leisure and VFR travel was prioritised by consumers, it is no surprise that low-cost carriers reported a strong bounce-back in revenues.
For example, Ryanair's revenues trebled for the year ending March 2022 – though the scale of jump in part reflects that the corresponding period did not include any pre-Covid quarters, unlike those reporting a calendar financial year.
Biggest low-cost carriers by revenue (US$) in 2021
Airline
Revenue 2021 ($m)
Change v 2020
Change v 2019
Source: FlightGlobal from airlines to disclose results
Southwest Airlines
15,790
75%
-30%
JetBlue Airways
6,037
104%
-25%
Ryanair
5,714
199%
-39%
IndiGo
3,581
69%
-32%
Spirit Airlines
3,230
78%
-16%
Volaris
2,189
106%
-21%
Frontier Airlines
2,060
65%
-18%
Wizz Air
2,004
132%
-35%
EasyJet
1,997
48%
-75%
Azul
1,841
67%
-37%
HOW 2022 IS SHAPING UP FOR AIRLINES
Recovery momentum has stepped up in almost all markets during 2022, despite the stuttering start to the year caused by the spread of the Omicron variant of Covid-19. Travel restrictions have eased and the much heralded 'pent-up demand' has held firm, even amid an intensifying cost-of-living crisis.
While surging fuel costs and high-profile operational headaches have limited airlines' ability to capitalise on the strong demand, the second quarter was almost universally the brightest since the crisis hit. Profits returned and activity levels reached or surpassed pre-Covid levels for many, while air cargo demand has continued to boost the bottom line.
It means the prognosis for 2022 for most carriers remains improved, even with the higher fuels costs, inflationary and recessionary fears, and the lingering threat of further Covid waves. However, the uncertainties are such that airlines might yet be forced on to the back foot over the second half of the year and into 2023.
Regional differences are also pronounced. While many countries in Asia-Pacific are finally reopening their borders, notably tight Covid restrictions remain in place in China. That, together with domestic lockdowns in line with zero-Covid policies, means Chinese carriers endured a tough first half of the year as losses deepened and revenues slipped on traffic below even 2020 levels.
Likewise, Russian carriers have been hit by the isolation which followed the country's invasion of Ukraine, bringing an abrupt end to the majority of international operations.
Editor's Note: Data for the 2021 financial year was sourced by FlightGlobal from company and regulatory documents; data for 2019 was sourced by Cirium from 2020 World Airline Rankings, unless figures have since been restated or a different source/metric has been used for 2021 data for comparison purposes. Estimates for revenue have been used for indicative purposes where financial data is unavailable. Revenues/profit figures reported in local currency are converted to US dollars, but currency fluctuations mean change figures may vary from local currency figures.
Supporting documents
Click link to download and view these files