Airlines in Asia-Pacific paradoxically, are both among the hardest hit yet also the most profitable since the crisis hit.
No region's international passenger business has been harder by the pandemic than Asia-Pacific's airlines, as international borders have remained all but shut and only started reopening in the last quarter of 2021.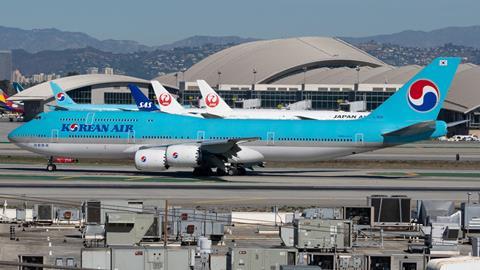 However large domestic markets and strong activity in the cargo business has not just taken the edge off the crisis for many operators, but in some cases has enabled them to remain profitable.
Cathay Pacific
Hong Kong's 'Zero-Covid' strategy, which it embraced to keep in step with the Chinese mainland, has dampened recovery prospects for its flag carrier Cathay Pacific. Once a force to be reckoned with among Asia-Pacific carriers, a loss-making Cathay is a shadow of its former self: it slashed thousands of jobs in late-2020, shuttered its regional sub-brand Cathay Dragon, and cut its fleet.
Furthermore, and unlike its regional rivals, Cathay entered the pandemic beset by weakened demand from political unrest in Hong Kong in 2019.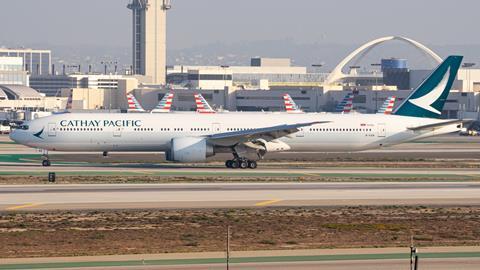 Fleet
As at October 2021, Cathay had a fleet of 236 aircraft, of which 68 are parked. This is a slight improvement from the 89 aircraft that were parked at the mid-year point. It has though taken delivery of eight new aircraft, including its first Airbus A321neo – an aircraft originally destined for the now-shuttered Cathay Dragon.
Outlook
In an analysts' briefing in early December, Cathay says its liquidity continues to be "elevated" to the end of the year, after a number of fund-raising efforts, as well as strict cost-cutting. It also estimates monthly cash burn to come down, edging closer to breakeven, towards the year-end.
However, the carrier has acknowledged that it is still far from its pre-pandemic hey-day: it is forecasting a loss in the second half of 2021, albeit a "considerable improvement" from the first half of the year.
That in part is helped by strong cargo activity. Still, Cathay's passenger capacity remains heavily hit, compounded by the Omicron variant. The airline will operate only 12% of pre-pandemic capacity to the end of the year, far below its regional competitors. Beyond that, the airline has not offered any forecast on 2022.
Compared to the battering it took in 2020 at the start of the coronavirus pandemic, Singapore Airlines finds itself in a better position – in large part thanks to the city-state's efforts to reopen borders.
Indeed, Singapore's Vaccinated Travel Lanes – where fully-vaccinated travellers need not serve quarantine upon arrival – have gone some way in providing an uplift to SIA's monthly traffic figures. In November, the airline carried more than 300,000 passengers, nearly 60% higher than in October.
While cargo has performed strongly for the group, it has not prevented losses in the first two quarters of its financial year ending March 2022.
Fleet
While SIA has simplified its fleet structure to fewer aircraft types, it remains one of the few operators in the region to continue flying the Airbus A380, even when other airlines have disposed of the type.
The airline also reintroduced the Boeing 737 Max to its operations in late November, after Singapore lifted the aircraft's operational ban. The 737 Max was to have operated for SilkAir, the former regional unit that has since merged into mainline operations.
The airline now has a fleet of 144 aircraft, comprising 787-10s, 777-300ERs, 737 Max 8s, as well as A380s and A350s.
SIA will also be the first airline in the world to operate the A350 freighter from 2025, after the airline on 15 December placed an order for seven of the type. It will replace the existing fleet of Boeing 747 freighters, marking the end of an era for the carrier.
Outlook
While the emergence of the Omicron variant of the coronavirus has halted Singapore's border reopening plans, SIA has been quick to cash in on pent-up demand for the existing VTLs.
It expects to roll out more flights across countries already under the VTL scheme, such as to Houston in the USA, as well as Adelaide, Perth and Brisbane in Australia.
The airline states that year-end capacity will reach around 45% of pre-pandemic levels, higher than initial estimates of 43%.
If slow and steady was the narrative for most airlines through the pandemic, then Qantas bucked the trend. The Oneworld carrier enjoyed a period of strong domestic travel demand, even as Australia's international borders remained shut for most of 2021.
Unfortunately this recovery was cut short when the Delta variant of the coronavirus hit Australian shores. Domestic flying activity hit rock bottom, as travel restrictions swung into force. Qantas, calling it one of the "worst" periods in the pandemic, operated at just 30% pre-pandemic capacity.
As Australia reopened its international borders and eased domestic restrictions, Qantas again enjoyed a quick rebound in travel demand. On 16 December, the airline forecast domestic capacity to surpass pre-pandemic levels – again – by the first quarter of 2022.

Fleet
Cirium fleets data show Qantas' mainline operation still had 18 out of 128 aircraft parked, including all 12 of its Airbus A380. But the carrier has moved forward the doubledecker type's return to service, the first two of which are now set to be deployed on Sydney-Los Angeles flights from next April.
Qantas in December picked the A320neo family and A220 jets as its preferred options to replace its current narrowbody fleet. The airline is also expected to firm up its commitments for the A350, which it will operate for its ultra-long-haul Project Sunrise flights between Australia and the UK, as well as the USA east coast.
Outlook
The tough first half of its financial year - which covers the six months ending December 2021 - means Qantas is flagging an underlying loss in excess of A$1.1 billion ($787 million),
While Qantas acknowledges that the news of the Omicron strain has led to "a significant drop in booking momentum" — especially for international flights — the airline states that booking activity has started to pick up again, and "current loads have held".
At the same time, the airline has paused some of its international restart plans, including launching flights to New Zealand, Japan and China.
The SkyTeam carrier was able to to confound the crisis by making an operating profit in 2020 – one of the few passenger carriers to remain in the black last year, albeit that this was driven by its strong air freight activities. That positive performance has continued, as an operating profit of W439 billion ($372 million) for the three months ending September 2021 marked its best performance for five years. That included its highest ever quarterly cargo revenues.
The airline meanwhile continues to tick-off regulatory approvals in the region for its planned acquisition of rival Korean operator Asiana Airlines, first announced in November 2020.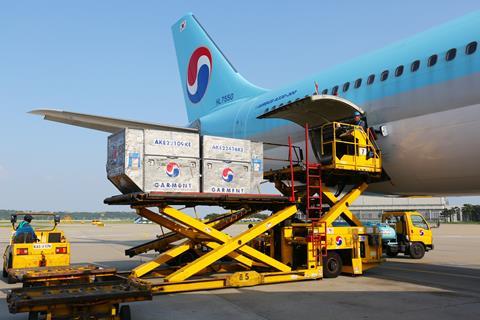 Fleet
Cirium fleets data shows around a quarter of Korean Air's fleet remains in storage - including all but one of its 10 Airbus A380s, seven of its Boeing 747-8s and all 12 of its Boeing 777-200s. In August, airline chief executive Walter Cho told FlightGlobal that the A380s would exit the fleet within five years and the 747-8s within 10 years.
Korean, as of the end of September, still had 16 passenger widebodies temporarily configured for freight operations.
Outlook
With supply chain and shipping challenges to remain in 2022, Korean Air will continue to focus on its strong cargo arm to drive profitability. At the same time, South Korea's gradual opening to international travel will see international passenger revenue start to increase - although a key market, China, will remain firmly shut. On the domestic front, Korean has a strong position on the Seoul-Jeju route, although over capacity on this route has been tough on yields.
China Southern Airlines
The fortunes of China Southern Airlines, as with the other big two Chinese operators Air China and China Eastern Airlines, have been directly linked with the evolution of the pandemic in a country which has pursued a zero-Covid strategy. While international traffic has been curtailed ever since the crisis hit, Chinese carriers have benefited from the large domestic market. However this has gone from highs to lows amid efforts to keep the pandemic under control.
China Southern was able to record a profit at an operating and net level in the second quarter, and recorded the lowest loss of the big three operators when demand took a nosedive in the third quarter amid a fresh spike of Covid cases.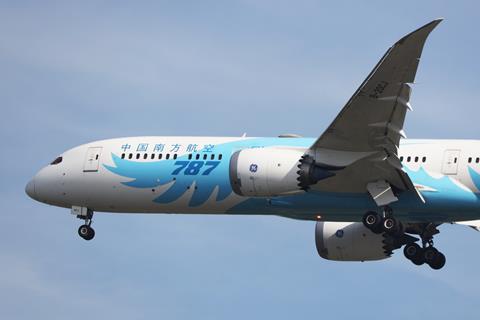 Fleet
Cirium fleets data shows China Southern has just over 600 aircraft in service, with another 37 aircraft grounded. That includes 24 Boeing 737 Max, which remains grounded in China a year after the first countries cleared the type to return to service. Chinese regulators though expect the Max to be given the all-clear to return to service in the country around the turn of the year.
Outlook
Even before the emergence of the Omicron variant, Chinese carriers were set for a tough winter. China Southern's traffic figures were 43% down on November 2020. That was set against a 52% fall in November traffic for Chinese carriers as whole.
China Southern and other Chinese airlines will find some comfort in China's domestic market in 2022, but the transmissibility of Omicron coupled with Beijing's willingness to shut entire cities if just one Covid-19 case is detected means many speed bumps ahead.
Moreover, Beijing is in no rush to open its international borders, with the 20th National Congress of the Chinese Communist Party due in the second half of the year. The event, which will see leader Xi Jinping declared president for life, will see China place a premium on domestic stability, which likely means a doubling down on the zero-Covid strategy.
AirAsia
Southeast Asia's leading low-cost carrier had an awful 2021. International travel was all but non-existent during the year, and Malaysia's domestic market was hammered by the country's imposition of 'Movement Control Orders', which greatly restricted travel.
Indeed, a major focus for group chief executive Tony Fernandes during 2021 was not aviation, but the group's digital ventures, including the AirAsia 'Super App' that offers a range of services on the ground, including food delivery.
Still, the digital business is nowhere close to offsetting aviation losses in key markets such as Malaysia, Indonesia, and Thailand. In the third quarter to 30 September, AirAsia Aviation, the holding company for the group's airline businesses, saw revenue dive 70% year on year to MYR118 ($27.9 million).
Despite the fall in revenue, a focus on cost reductions allowed AirAsia Aviation's EBITDA loss to narrow to MYR150 million in the quarter, compared with MYR451 a year earlier.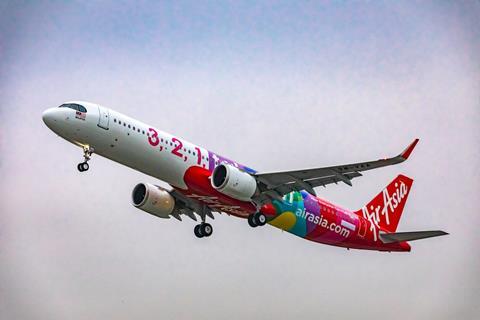 Fleet
Cirium fleets data suggests that Malaysia's AirAsia Berhad, Thai AirAsia, and Indonesia AirAsia have 77 in-service Airbus narrowbodies, with 108 in storage.
Following the orders bonanza of the 2010s - in which Fernandes featured prominently - AirAsia has 362 firm orders for Airbus narrowbodies. In October, the AirAsia Group converted all remaining orders for A320neos to the larger A321neo, setting the stage for a future fleet comprised exclusively of A321neos.
Three months earlier, in July, the ever-optimistic Fernandes said that discussions with Airbus about this vast orderbook had gone well, and that in the long-term he was optimistic about taking all of these aircraft.
Outlook
As Southeast Asia reopens, AirAsia's no frills model is likely to do well domestically with Malaysia opening up in earnest at the end of 2021.
As the region continues to open up for vaccinated travellers, AirAsia is also serving key regional destinations such as Singapore and Thailand.
Still, much uncertainty remains. The Omicron variant could well pause or even turn back both domestic and international travel – it all depends on how Southeast Asia's skittish governments react.
Moreover, AirAsia – and Thai AirAsia in particular – were significant players in the previously booming Chinese air travel market. Until China reopens – and this could take some years – there will be a hole in the network of the AirAsia Group, as well as other regional airlines.
Additional reporting Graham Dunn and Greg Waldron