Airline association IATA succeeded in making sustainability a big talking point at its AGM in Boston, as all members committed to reaching net-zero CO2 emissions by 2050 through a resolution adopted at the event.
For some airlines, that target was nothing new. But for everyone with a stake in the industry, the important task is working out how to get there – and then implementing that plan.
"Aviation has a history of realising what was thought to be impossible – and doing so quickly," said IATA director general Willie Walsh on 4 October. "We are launching a transition that is challenging. But in 30 years it is also within reach of human ingenuity, provided governments and the whole industry work together and hold each other accountable for delivery."
Compounding the challenge, the industry expects to grow above and beyond it's pre-pandemic passenger traffic levels at the same time as reaching net-zero emissions.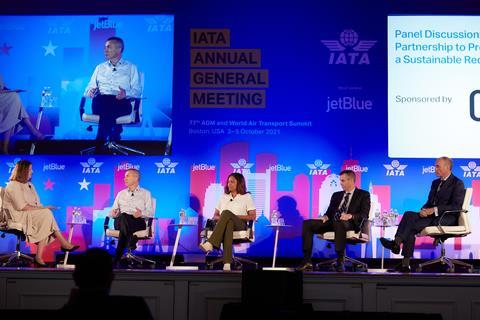 "To be able to serve the needs of the 10 billion people expected to fly in 2050, at least 1.8 gigatons of carbon must be abated in that year," IATA said in a briefing on the resolution. "Moreover, the net-zero commitment implies that a cumulative total of 21.2 gigatons of carbon will be abated between now and 2050."
The journey to that point will involve lots of moving parts, IATA suggests.
An important "immediate enabler", it says, is ICAO's Carbon Offsetting and Reduction Scheme for International Aviation (CORSIA).
"This will stabilize international emissions at 2019 levels in the short-to-medium term," it states of the scheme, which commits airlines to offsetting all emissions growth from international travel beyond those seen during that year.
But CORSIA's role in commercial aviation's sustainability story was already well-established. What complements and augments that effort is far more important – not least because it needs to bring a genuine reduction in emissions, not just offsetting-based solutions.
"The path from stabilising emissions to emissions reductions will require a collective effort," IATA states. "All industry stakeholders… must work together to ultimately break aviation's dependence on fossil fuels."
IATA's suggested strategy is to "abate as much CO2 as possible from in-sector solutions such as sustainable aviation fuels [SAF], new aircraft technology, more efficient operations and infrastructure, and the development of new zero-emissions energy sources such as electric and hydrogen power".
Emissions that cannot be eliminated "at source" will be taken out "through out-of-sector options such as carbon capture and storage and credible offsetting schemes".
Walsh outlines a scenario that suggests the size of the contribution made by each of those developments.
"A potential scenario is that 65% of [emissions in 2050] will be abated through sustainable aviation fuels," he explains. "We would expect new propulsion technology, such as hydrogen, to take care of another 13%. And efficiency improvements will account for a further 3%. The remainder could be dealt with through carbon capture and storage, at 11%, and offsets, at 8%.
"The actual split, and the trajectory to get there, will depend on what solutions are the most cost-effective at any particular time."
IATA's 'base-case scenario' net-zero timeline
2025: With appropriate government policy support, SAF production is expected to reach 7.9 billion litres, or 2% of the industry's total fuel requirement.
2030: SAF production is 23 billion litres, or 5.2% of the total fuel requirement. ANSPs have fully implemented the ICAO Aviation System Block Upgrades and regional programmes such as the Single European Sky.
2035: SAF production is 91 billion litres, or 17% of the total fuel requirement. Electric and/or hydrogen aircraft for the regional market (50-100 seats, 30-90min flights) become available.
2040: SAF production is 229 billion litres, or 39% of the total fuel requirement. Hydrogen aircraft for the short-haul market (100-150 seats, 45-120min flights) become available.
2045: SAF production is 346 billion litres, or 54% of the total fuel requirement.
2050: SAF production hits 449 billion litres, or 65% of the total fuel requirement.
As Walsh and IATA keep repeating, industry stakeholders have a crucial role to play in ensuring that trajectory is the right one.
"The resolution demands that all industry stakeholders commit to addressing the environmental impact of their policies, products, and activities with concrete actions and clear timelines," IATA states.
Fuel-producing companies are asked by IATA to bring "large scale, cost-competitive sustainable aviation fuels (SAF) to the market".
Governments and ANSPs are called on to eliminate "inefficiencies in air traffic management and airspace infrastructure".
Aircraft and engine manufacturers are asked to produce "radically more efficient airframe and propulsion technologies".
And airport operators are told to provide "the needed infrastructure to supply SAF, at cost, and in a cost-effective manner".
At the same time, IATA's resolution calls on governments to agree a "long-term goal equivalent to the industry's net-zero by 2050 commitment" through ICAO.
Many of those stakeholders have previously said that airline spending commitments will be a crucial factor in making such changes viable.
Ultimately, all stakeholders are well aware that the journey to 2050 will be a complicated and expensive one.
But Walsh's belief is that with the "entire value chain" on board and "supportive" government policies, "aviation will achieve net-zero emissions by 2050".