A mobile phone application for airline passengers to securely store and share Covid-19 vaccination and test results is set to be rolled out as a fully functional system over the next few weeks.
IATA told reporters during a 23 February media briefing that it hoped its Travel Pass would give both the flying public and governments confidence that tests and vaccinations undergone by passengers were valid.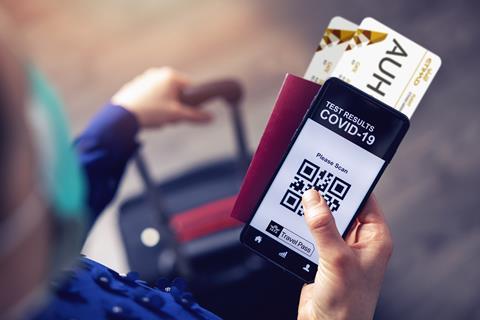 Paper test and vaccination certificates are open to fraud, IATA suggests, pointing to media reports on the subject as evidence.
"If you look at the paper certificates that are being used today, it's almost impossible to tell if it's fake or not without going through a lengthy and almost impossible verification process," says IATA regional director of airports and external relations Vinoop Goel. "That is one of the issues we are trying to resolve with this."
Singapore Airlines, Etihad Airways, Emirates, Qatar Airways, Copa Airlines and Air New Zealand are among the carriers that have agreed to trial the pass in their operations. Panama, the Latin American nation of 4.25 million people whose flag Copa carries, is so far the only country to explicitly state its support of the Travel Pass publicly, although IATA is confident it will be widely accepted as governments come to understand its benefits.
On 23 December, Singapore Airlines announced that it had started trials on a new digital health verification process, based on the IATA Travel Pass framework, on flights from Kuala Lumpur and Jakarta. Passengers who took their Covid-19 tests at selected clinics in the Malaysian and Indonesian capitals were given either digital or paper health certificates with a QR code.
The airline said this was a "faster and more secure way to validate a passenger's health credentials than the existing protocols, speeding up both the airport check-in process and the immigration entry process into Singapore".
It plans to integrate "the entire process" into its SingaporeAir mobile app from around mid-2021, using the Travel Pass framework, in order to "support the drive towards a secure and convenient industry standard for the verification of Covid-19 and vaccinations".
The SIA trial was the first of its kind for the IATA Travel Pass.
"As you can expect, this is new technology and we are sort of building the car while trying to drive it," said Goel on 23 February, when asked how the trial had gone.
"I can't go into all the details, but one of the key learnings that came out of it was the need for standardisation and cross-border efforts to ensure that what is accepted in Singapore is also accepted in other countries."
CONVINCING GOVERNMENTS
Unlike airlines, which must actively adopt the Travel Pass and possibly, like SIA, integrate it into their own in-house apps, governments do not have a very active role, says Goel.
"What we want is that governments should make sure that their regulations are essentially not inhibiting the rollout of the Travel Pass, and we want governments to support it, but the governments don't have an active role to get on it, per se."
IATA is, however, "actively" working with governments to ensure they "support and enable" the IATA Travel Pass, he says, adding that the association wants to avoid governments mandating the use of paper certificates only. South Korea is requiring paper certificates, according to Goel, so IATA has been talking with the government there to ensure digital certificates will be accepted.
"As we go through the process, we will try and identify all such roadblocks and work with the government to remove such regulations," he says.
Since they are at different stages of handling Covid-19 domestically, countries will only start paying attention to reopening borders once they are "comfortable with the downward trajectory of the virus in their home markets", Goel expects.
"We do hope it will become the global framework and standard, but the adoption rate will vary across the world and will probably be in line with the recovery of aviation in different markets," he says.
HOW THE APP WORKS
IATA's app, which will be available on the Apple iOS and Android systems, consists of four "open sourced and interoperable modules".
The first enables a passenger to create a "digital passport or identity" and add on any test or vaccination certificates. That passenger can then choose to share these certificates with airlines or governments to facilitate travel.
The second module helps passengers to find information on travel, testing and vaccine requirements for their journey. IATA Timatic, a tool already in use by airlines and travel agents to verify passenger travel document requirements for their destination and any transit points, will provide the back-end information for this.
"The passengers need accurate information on what are the testing requirements for the countries they are going to, because every country has different testing and now vaccination requirements," says Goel.
The third module is a registry of testing and vaccination centres passengers can access and find out which of these centres can issue digital certificates that are compatible with the Travel Pass.
That ties in to the last module, which is an app that laboratories and vaccination centres will use to authenticate a person's identity and issue digital credentials. A passenger must create his/her own digital credentials – which can be done using an e-passport – and after adding flight details take the phone to the laboratory or testing centre, which can issue test certificates.
Goel says a "secure link" will be established with the passenger's phone to upload the certificate. He adds that the lab app could be a standalone app or "something that its functionality can be integrated within the lab's own systems".
Once the passenger has that information, the passenger takes it with them on their trip and shares it with the airline or border-control authorities as required.
Goel stresses that the passenger is in control of his/her own information and that the app offers a "high level of data privacy and security". The passenger's identity and all testing and vaccination certificates are stored on his/her phone within the app, rather than being held remotely by IATA.
"It's the passenger who is in control of the data and chooses who he or she wants to share it with, whether it's an airline or a government. The passenger is the sole owner and can delete the data anytime. There is no passenger identity information that is shared even between the different modules," says Goel.
"We have designed it in a way that it complies with the different privacy regulations across the world, especially with the EU GDPR [European Union General Data Protection Regulation] in mind."
COMPETITION WITH OTHER APPS
IATA recognises that its app is not the only solution on the market and says that the way its app has been designed means that the four individual modules can work with similar modules of other systems.
"So… essentially there is one global ecosystem for these digital health credentials to work," Goel notes.
Competitors include CommonPass, launched by Switzerland-based Commons Project Foundation and the World Economic Forum. JetBlue Airways, Lufthansa, Swiss, United Airlines and Virgin Atlantic will be among the first airlines to roll out the pass, the Commons Project Foundation said in November.
Technology giant IBM also has a solution called Digital Health Pass, although this is aimed not only at airlines but also sports stadia, amusement parks and concert venues. It is also intended to help employers verify that employees "meet site requirements before entering".
In addition, US-based biometric verification platform CLEAR, owned by Alclear, is also developing a CLEAR Health Pass, which like IBM's solution will also extend beyond aviation.
"I'm confident that governments in the region will adopt a mechanism to ensure the verification of people's Covid health… As to whether that will be the IATA solution, it's not certain yet," says Conrad Clifford, IATA's regional vice-president for Asia-Pacific.
"But obviously we are trying to create a global standard here, so we hope that having created Travel Pass, any other framework providers will use the same logic, the same framework, so we don't have many different versions of the same tool."
WHO PAYS FOR IT?
IATA does not view the Travel Pass as a big revenue generator, but is rather trying to keep costs to a minimum and "just barely" cover its development costs for the tool, Goel says. The priority is to "make sure the airline industry, especially international air travel, gets back on its feet".
Airlines will need to pay to use the app.
"For the passengers, we don't expect there to be any cost, because this is basically going to be offered by airlines, but again it's part of the airline offering of service to their passengers," says Goel.
GOING PHONELESS
Passengers who do not have a compatible smartphone, or who cannot use the Travel Pass for whatever reason, will still have a paper alternative, albeit one that is less convenient.
Goel compares it to the current situation with online check-in, which can streamline the process for passengers but is not mandatory.
"Many of the passengers use these tools, but then there are also others that do prefer, and require, face-to-face check-in at a counter. It could be by their own choice, or it could be because they have special needs, or requirements that… require intervention by the airline staff," he says.
While he hopes digital certificates will work for the majority of people, for those who may not own a phone or be able to undergo vaccination or testing "for whatever reason" there will be "exceptional processes to ensure these people are handled appropriately and allowed to travel based on the government regulations or requirements".
IATA previously said it was looking into a solution for family-group travellers where family members do not have a smartphone each.
"We have an initial release estimated in March but then we will enhance the product as we go to ensure we can use it for different travel groups and with different conditions," says Goel.
"As you know, there [are] the standard traveller requirements, but then there are always these other requirements which may take more time to be added on. It's a work in progress."
POST-COVID PROSPECTS
Even if the Covid-19 pandemic is brought under control, IATA expects Travel Pass will still be useful, although meeting the challenges of travelling amid the pandemic is the priority.
Goel believes the app could help speed up the adoption of digital identities and contactless travel.
"We also look at the IATA Travel Pass as being sustainable in the sense that the whole process is essentially based on digital identities and biometrics and enables contactless travel processing," he says.
"The industry has been talking about using biometrics for a long time, and, yes, we have seen different solutions in different parts of the world take off, including T4 at [Singapore] Changi [airport]. But what we feel is that this IATA Travel Pass can get digital identities and contactless travel going in a big way that can benefit the industry in the long term for years to come."
There is also the potential for it to be used for other infectious diseases, such as yellow fever. Clifford, IATA's regional VP for APAC, says many governments have understood the Travel Pass to be a digital version of the Yellow Card, the WHO-created International Certificate of Vaccination or Prophylaxis (ICVP) which is often used to prove vaccination against yellow fever.
"That's very well received and very quickly understood, and it's also understood that digital versions are more secure than paper versions, so this is certainly the way that all vaccination testing will go in the future," Clifford says.
"But of course it has to be realistic in terms of do people have access to the internet, do they have iPhones? The system needs to be robust to be able to handle both physical and digital forms."
For now, though, the focus remains firmly on Covid-19 and on getting people back into the skies again after a historically unprecedented travel downturn.
Says Goel: "If the Travel Pass enables one more passenger to travel, it is a success in a way."
Analysis by Michael Allen of Cirium