Tens of thousand of jobs have either been cut or are under threat as the world's largest airlines grapple with the effects of the coronavirus pandemic.
Differing timescales and the various types of measures being adopted – from the failure to keep on temporary and contract staff, through to early retirements, pay cuts, furloughs and outright redundancies – make it impossible to put a meaningful absolute figure on jobs lost.
What is clear, however, is that of the large airlines to have made announcements so far, most have implemented job cuts affecting significant proportions of their workforces.
At the same time, some carriers appear to have avoided steps to reduce their employee numbers – particularly in the Asia region – thanks in many cases to government support.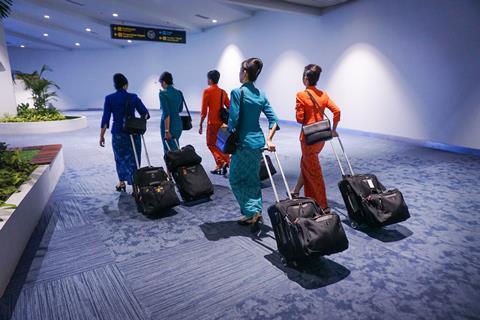 But with two or three years to go before the industry reaches 2019 levels of demand again, based on most forecasts, and an uncertain near-term outlook as coronavirus cases continue to rise across the world, it is difficult to see how drastic action on staff costs won't eventually be critical in all regions.
Middle East hub carriers cut back
Among the most recent jobs-related developments, Emirates Airline president Tim Clark told BBC World News on 11 July that "probably up to 15%" of the carrier's workforce would be cut as a result of the coronavirus crisis.
That equates to around 9,000 jobs out of the 60,000 Emirates had going into the pandemic, and marks an increase from the 6,000 positions that the carrier had already revealed it planned to cut.
Back in May, fellow Middle Eastern operator Qatar Airways also announced job cuts affecting up to 9,000 positions – or around a fifth of its workforce of around 45,000 employees – while Etihad has laid off "hundreds" of staff, according to reports.
Why thousands of airline job cuts are looming in North America
But it is in North America that the most stark examples of job-cutting are emerging.
United Airlines warned in early July that 36,000 employees, or 45% of its total staff, are in danger of losing their jobs as the carrier prepares to downsize operations.
Other carriers in the USA have so far been less explicit about their plans for job cuts, but most have suggested that the worst is yet to come.
Tens of thousands of staff at Alaska Airlines, American Airlines, Delta Air Lines, JetBlue Airways and Southwest Airlines have taken unpaid leave in recent months, or have participated in other schemes aimed at cost-reduction.
But rising cases of coronavirus in the country and the October expiration of the federal CARES Act – which gave payroll support to the industry while mandating that employees should be kept on – mean those positions and more are at risk going into the fourth quarter.
In Canada, WestJet announced on 24 June that another 3,000 jobs are being cut, which will leave the operator with around 5,000 empoyees out of a pre-coronavirus workforce of 14,000.
Air Canada has already cut around 20,000 positions, or 60% of its pre-virus workforce, on a temporary basis.

In the Latin America region, carriers are among the hardest hit globally, as governments have largely refused to bail out operators. As a result, thousands of jobs are at risk as airlines quickly run out of cash. Among the many consequences of that dire situation, Aeromexico, Avianca and LATAM Airlines have all filed for Chapter 11 bankruptcy protection in the USA.
European airlines cut jobs amid bailouts and expiring support schemes
In Europe, a patchwork of jobs announcements has been made in recent weeks, reflecting conditions imposed for government bailouts of carriers in some cases, and the impending end to support schemes, such as the furlough package offered by the UK government.
Air France said on 4 July that its mainline carrier will need to eliminate 6,560 jobs by the end of 2022 from its existing level of 41,000 staff, with 7,600 positions going when regional unit Hop is added to the equation.
That came as the French flag carrier and group stablemate KLM accepted billions of euros in government bailouts. That support was tied to a 15% reduction in costs, though the Dutch operator is yet to formally announce any job cuts.
Elsewhere in Europe, Lufthansa Group reiterated on 7 July that it still has a "personnel surplus of at least 22,000 full-time positions" and called on unions and other bodies representing employees to agree on "crisis-related measures" to avoid layoffs "wherever possible".
The Germany-based group had more than 135,000 employees going into the crisis. It has also accepted significant government financial support to survive the downturn.
British Airways, meanwhile, is consulting on cuts of up to 12,000 jobs and to downgrade the terms and conditions of approximately 35,000 employees.
The UK flag carrier had around 45,000 employees going into the crisis.
Rival operator Virgin Atlantic announced that its was cutting 3,500 positions – about a third of its workforce - in early May.
In late April, Scandinavian airline SAS said that 5,000 of its staff, or nearly half of its 11,000-strong pre-virus workforce, were being made permanently redundant.
In late March, TAP Air Portugal "temporarily" laid off 90% of its workforce, which numbered around 14,000 employees.
And as early as mid-March, Norwegian suspended the majority of its services and laid off 7,300 employees – around 90% of its workforce – with the business eventually entering a period of "hibernation" as air travel demand recovers.
Elsewhere, Turkish Airlines has so far announced no significant job cuts. And in Russia, a government support package aimed at protecting jobs means carriers including Aeroflot are yet to announce permanent job losses.
Among Europe's biggest low-cost operators, Ryanair is aiming to avoid cutting 3,000 jobs from its workforce of around 19,000 employees by renegotiating contracts with pilots and crew, while EasyJet said in late may that it plans to cut around 30% of its workforce, or around 4,500 jobs.
Wizz Air said in April that it would cut around a fifth of its workforce – some 1,000 positions.
Thousands of jobs go at Australasian carriers
Of the biggest Australasian operators, Australian flag carrier Qantas announced in late June that the group's restructuring will involve 6,000 roles across the company being made redundant.
Qantas would also continue to "stand down" another 15,000 staff, most of whom are associated with international operations, until flying resumes.
The group had just over 30,000 employees going into the crisis.
Air New Zealand, meanwhile, had reduced its workforce by some 4,000 employees by early June from around 12,500 pre-crisis. It expects further job cuts, but not necessarily through forced redundancies.
It is currently unclear whether the sale of Virgin Australia to Bain Capital will result in more job losses at the struggling group, which entered voluntary administration in April.

Why Asian airlines have announced fewer job cuts – so far
At Asian carriers, there have been fewer job-cut announcements, with major players including Singapore Airlines and Cathay Pacific saying that they aim to avoid compulsory redundancies for now by adopting other cost-saving measures, such as unpaid leave and temporary pay reductions.
In those cases and others, the region's carriers have been helped by governments providing support to airlines.
Indeed, other major carriers in the region, including ANA, China Airlines, Garuda Indonesia, Japan Airlines, Korean Air and Malaysia Airlines, have also introduced measures to cut job-related costs, but have not announced the elimination of jobs seen elsewhere.
There is a similar story in India, where carriers including Air India, IndiGo and SpiceJet have so far opted for measures including pay cuts and unpaid leave, rather than letting go of staff.
And it remains to be seen whether the "business rehabilitation" being undertaken by Thai Airways will lead to job cuts.
In mainland China, big operators including Air China, China Eastern, China Southern and HNA Group have not made public any reductions in headcount.
Privately owned AirAsia Group, however, faces serious challenges as it seeks to survive the crisis, and has cut around 7.5% of its 23,000 employees.
Finally, Africa's largest carrier Ethiopian Airlines said in early April that reports it was to lay off permanent employees were "#fakenews", while long-suffering South African Airways is set to restructure with a workforce of just 1,000 employees – down from nearly 5,000 in March. The latter's financial troubles were entrenched long before coronavirus hit, however.