Tens of thousands of jobs have been lost in Europe's airline sector since the crisis began, as carriers seek to reduce cash burn and 'right-size' for the eventual recovery in demand.
In many cases, the desire to emerge from the crisis as smaller businesses means cuts have affected all job functions – not just pilots and cabin crew.
Even among employees who have survived cuts so far, as many – if not more – remain subject to conditions including lower pay, forced part-time working, unpaid leave and furloughs.
The coming year could bring further losses as government support schemes come to an end. The potential for new Covid-19 variants to delay the recovery is also a factor that could lead to more cuts.
Aside from the carriers that have ceased operations this year, here is a rundown of the cuts at a selection of the region's main operators and groups.
Aegean Airlines
The Greek carrier has received some state support this year as a result of financial difficulties created by the crisis. It has not, however, outlined the scale of any job losses.
Aeroflot
The Russian carrier said in August that state-guaranteed loans meant it had the liquidity necessary to preserve jobs, aided by continued operations in the country's large domestic market.
Reports around the same time quoted then-Aeroflot chief executive Vitaly Saveliev as saying the airline had "no plans to cut jobs" in the near future.
Air Baltic
The Latvia-based carrier cut around 40%, or 700 employees, of its 1,700-strong workforce in the early weeks of the crisis, saying it would rehire people as demand returns.
Air Europa
No cuts have been confirmed, with the airline able to use the Spanish government's furlough scheme at least into early 2021. Reports suggest a restructuring of the business is imminent, however, whether or not IAG completes its purchase of the carrier.
Air France-KLM
Air France announced in July that it would cut around 7,600 jobs as part of a government bailout.
Some 6,560 jobs will go at the mainline operation by the end of 2022 from its existing level of 41,000 staff. Air France's Hop subsidiary will see staffing almost halved over the next three years from 2,420 currently, with 1,020 jobs to go.
Dutch flag carrier KLM said in July that it was planning to cut up to 5,000 jobs or around 15% of its workforce, reducing its staffing level from 33,000 full-time-equivalent jobs to 28,000.
In an early October update, as it submitted an eventually approved restructuring plan to the Dutch government, the carrier said it expected to employ around 4,500 fewer people than pre-pandemic levels by the end of 2020.
If further staffing cutbacks are required beyond those already announced, it hopes to achieve them through voluntary redundancies.
Alitalia
Early in the crisis, Italy's government announced plans to renationalise and relaunch Alitalia. In December, reports suggested the new carrier – Italia Trasporto Aereo – would begin operations in 2021 with just over 5,000 employees. That would be around half of the workforce of the pre-pandemic Alitalia.
Condor
The German carrier said in June that up to 1,000 jobs would be cut – up to 25% of its pre-pandemic workforce.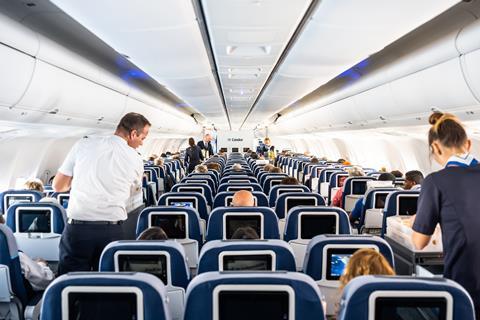 EasyJet
In late May, EasyJet began consultations on proposals to cut up to 30% of its 15,000 employees across Europe amid plans to reduce its fleet size and close several bases.
Of the 4,500 proposed job cuts, around 730 were pilot roles and 1,200 cabin crew positions.
EasyJet has since stated that measures including part-time working, unpaid leave and enhanced voluntary redundancy packages are likely to reduce the need for compulsory job cuts.
Indeed, at the end of September, the airline said there would be no compulsory pilot redundancies, after 1,500 crewmembers opted to cut the number of hours they work.
Finnair
Finnair reached an agreement in October to cut 700 jobs – more than 10% of its workforce, with a large proportion of the retained staff remaining on furlough.
Some 600 of the cuts are Finland-based employees, while 100 are overseas staff.
IAG
At British Airways, then-chief executive Alex Cruz confirmed in mid-September that 10,000 positions would be cut across the business, rather than the 13,000 previously suggested, thanks to workforce concessions. The UK flag carrier entered the crisis with around 45,000 employees, meaning around a fifth of roles have been affected.
Aer Lingus said in June that it was expecting to cut up to 500 jobs, citing the "catastrophic effect" of the crisis. The Irish carrier had around 4,500 employees going into the pandemic.
The Spanish government's furlough scheme has been utilised by Iberia and Vueling for their respective workforces, which numbered around 14,000 and 4,000 pre-pandemic.
Iberia confirmed to FlightGlobal on 23 December that it had made no permanent job cuts during the crisis so far.
Icelandair
The carrier said in late April that 2,000 staff would be let go as part of a reorganisation to survive the crisis. Icelandair had around 4,700 employees in 2019 at a group level.
Jet2
Reports in June said the leisure operator was seeking to make 102 pilots and 380 cabin crew positions redundant. There have been no details on cuts affecting other roles in the wider business, which had around 10,000 employees pre-pandemic.
LOT Polish Airlines
The Polish flag carrier has received some state support this year as a result of financial difficulties created by the crisis. It has not, however, outlined the scale of any job losses.
Lufthansa Group
The pan-European group announced in June that it planned to cut 22,000 full-time equivalent positions from its 138,000-strong workforce, covering staff across its various business units, airlines and job functions.
Half of them were to be in Germany, with some 5,000 of those affecting employees at Lufthansa's mainline carrier.
Proposals to cut around 1,000 staff each were made by Austrian Airlines, Brussels Airlines and Swiss, with Eurowings also planning hundreds of redundancies.
Since making its June announcement, talks with unions have focused on the avoidance of forced redundancies, however, through revised terms and temporary pay agreements for employees. Some deals have been reached that mean layoffs have been avoided – for now, at least.
In early December, reports emerged suggesting the group was now hoping to have cut 30,000 full-time equivalent roles by the end of 2020, with another 10,000 going in 2021, which would suggest an eventual workforce reduction of nearly 30% from the pre-pandemic level.
Around 7,500 of those positions would be accounted for by the sale of the European arm of catering unit LSG.
Norwegian
The 'hibernating' low-cost carrier said in November that it would continue to operate with a skeleton staff of just 600 employees, compared with 10,000 prior to the crisis, as it continued a fight for survival that later saw it file for bankruptcy protection in Ireland and its home country.
Ryanair
The budget operator has reached agreements with unions in many of its markets to avoid large-scale job cuts. Group chief executive Michael O'Leary stated on 10 December, however, that Ryanair had "gone ahead with the job cuts" where agreement was not possible.
"But in 90% of the cases they have worked with us to agree pay cuts in the short term so we can avoid job losses," he says.
Ryanair had more than 17,000 employees across the group going into the pandemic.
SAS
The Scandinavian carrier said in early December that it had finalised its workforce reduction at around 5,000 redundancies from a pre-crisis workforce of just over 10,000.
Smartwings
The Czech carrier said in late June that up to 600 positions could be made redundant across the business by February 2021. The carrier had around 2,400 employees going into the crisis.
TAP Air Portugal
A restructuring plan agreed by Portugal's government in December involves the cutting of 2,000 personnel plus the non-renewal of 1,600 temporary contracts from a pre-crisis workforce of around 10,000 employees.
TUI Group
The leisure giant revealed plans to cut up to 8,000 jobs across the business earlier this year, with up to 900 under threat at German unit TUIfly as part of an effort to "right-size" its airlines. At the end of 2019, around 71,000 people worked for TUI Group.
Turkish Airlines
The carrier has so far avoided significant layoffs from its workforce of more than 35,000, instead agreeing swingeing pay cuts with staff that will be reviewed as demand recovers.
Wizz Air
The low-cost carrier said in April that it would cut around a fifth of its workforce – some 1,000 positions.
Virgin Atlantic
The UK-based carrier said in early September that it was to cut a further 1,150 jobs after formally securing court approvals for a restructuring plan.
The carrier had already announced plans to cut 3,100 jobs in May, meaning the measures have affected nearly half of its pre-pandemic workforce.
Volotea
The Spain-based carrier confirmed to FlightGlobal on 23 December that it had made no permanent job cuts during the crisis so far.