Spearheaded by the Airbus A220 and a hybrid strategy unseen elsewhere in the region, Air Baltic under Martin Gauss is a rare example of a small, state-owned airline thriving in Europe
Walk into Air Baltic's boardroom at its Riga International airport headquarters, and your eyes are immediately drawn to a table featuring dozens of tiny Airbus A220-300 models adorned with the carrier's distinctive green livery.
On the day Airline Business visited the Latvian carrier, the models are split into two groups: the first cluster reflects Air Baltic's in-service fleet of 21 A220s and the larger one represents the 58 jets in its order backlog – including 30 on option.
A single model is positioned between the groups: Air Baltic's 22nd A220, which was due for delivery days later.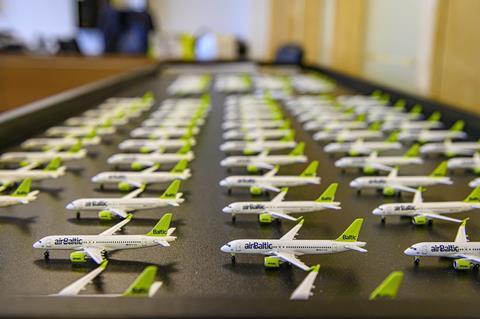 The display is a point of pride for Air Baltic chief executive Martin Gauss, representing a strategic decision that has become the linchpin of the carrier's strategy as it cements its status as "the airline of the Baltics".
"There are lots of things that we can be proud of, but I would say that the business plan and the strategic decision to go for A220-300 homogeneous fleet is probably the most important one," the German national states.
With a clear strategy in place and Gauss at the helm, Air Baltic has been finding success in a European airline market that has been an inhospitable place for smaller carriers in recent years – particularly state-owned operators with a remit strongly tied to boosting its home country's fortunes.
Gauss's secret, alongside a focus on the A220, has been creating a unique product offering for Air Baltic's passengers, who numbered more than five million for the first time in 2019.
"We do not fit into any category you have in Europe because we are very clear on having a full-service business class," Gauss states. "While we have, behind the curtain, an ultra-low-cost environment. And there's no airline in Europe that does it to this extreme."
He describes this approach as a "classic hybrid model", with most passengers flying in the low-cost portion of the aircraft. Unlike most low-cost operators, however, "we are flying a hub and spoke system, so that is also very unusual", Gauss says.
Also unusual is the fact that majority-state-owned Air Baltic has found a path to success under its own steam.
A new partnership or owner is never off the table, but Gauss insists Air Baltic "doesn't need the support from a bigger carrier – we can manage on our own as long as we continue as we have been".
This confidence in Air Baltic's ability to thrive on its own terms looked unimaginable in 2011 when Gauss, the former chief executive of since-defunct Hungarian flag carrier Malev, stepped in to lead the carrier.
Established in 1995 as a joint venture between Scandinavian operator SAS and the Latvian government, Air Baltic began adopting a hub-and-spoke model at its Riga hub in the 2000s.
Such a model was arguably more suited to the Latvian capital, which has a declining population of below 700,000 people in a country of fewer than two million inhabitants, putting a ceiling on origin-and-destination traffic.
Strong traffic expansion was achieved during the 2000s as Latvia's GDP growth excelled among its European Union peers, but yields lagged that trend. This mismatch was exacerbated when Air Baltic's home country was hit hard by the global economic crisis.
As the new decade began, ownership wrangling at Air Baltic dominated the headlines – SAS having sold its 47% stake in 2009 to a company wholly owned by Air Baltic's chief executive Bertolt Flick.
Ultimately, the ailing Air Baltic was rescued by a deal that saw the Latvian government take full control in 2011.
Gauss was appointed chief executive in October of that year. At the time, the carrier's fleet featured 14 Boeing 737s, two 757s, eight then-Bombardier Dash 8s, and nine Fokker 50s, Cirium fleets data shows.
EU state aid rules meant the government's loans to save Air Baltic came with draconian restrictions, and the carrier was forced to cut jobs, around 40% of its fleet, several routes, and give up some of its slots – a process Gauss describes as "shrinking the airline by half".
"We started with a bankrupt company and we stabilised the company," he adds of his early months at the carrier.
Gauss – a 737 captain and managing director of German carrier Deutsche BA (DBA) before he went on to lead Malev – implemented a business plan named "Reshape", which included an aim to achieve profitability by 2014.
Air Baltic was profitable a year ahead of schedule, and has pushed on from there.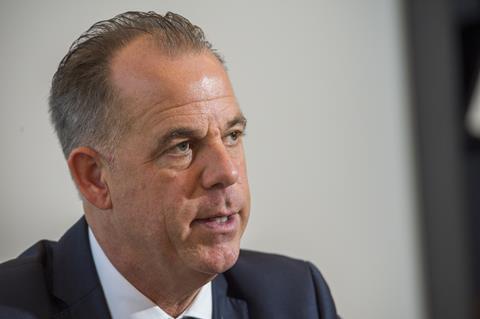 Within months of taking over at the airline, Gauss had made a decision that would come to define Air Baltic's future: at the Farnborough air show in 2012, the carrier announced a letter of intent to acquire up to 20 Pratt & Whitney PW1500G-powered Bombardier CS300 twinjets.
In late November 2016, as launch operator of the variant, it received its first example of what would become the Airbus A220-300.
Today, Air Baltic is well along the way to becoming an A220-300-only operation – an ambition unveiled in 2018 under its Destination 2025 programme, which included plans to accelerate the airline's growth.
"We understood our growth plan was not ambitious enough, so we created a new plan, and with that new plan – Destination 2025 – we have taken the decision to go for a single fleet. I think this was the breakthrough."
The rationale behind that single-type fleet is simple: the Baltic market's size makes it ideal for an aircraft that can be economical on thin routes with variable load factors.
"It was a strategic decision that was not obvious for an operator like us, where you fly very short routes, where you see the turboprops, and we [also] have very long routes," Gauss states.
As of February 2020, the carrier operates 38 aircraft, Cirium fleets data shows: 22 A220s, 12 Dash 8s and four 737-300s.
Air Baltic fleet, 1 February 2020
Aircraft
In service
On order
Option/LOI
A220-300
22
28
15/15
737-300
4
0
0
Dash 8
12
0
0
Total
38
28
30
Source: Cirium fleets data
Air Baltic had been aiming to retire its 737s in the 2019-20 winter season, but delays to A220 deliveries mean the Boeing narrowbody will endure in the fleet for slightly longer than expected.
"When we get another four aircraft in, that's it for the Boeing," Gauss states. Lease contracts mean Air Baltic's turboprops will not be replaced until 2022-2023, he adds.
Air Baltic still has a decision to make on taking the 30 A220s it has on option – a choice that is particularly significant.
"We see a limit of 50 aircraft in the Baltics for the year 2025, so this is our plan," he says, while acknowledging that those plans could change. "We have options to go for 80 aircraft… execute the options and then place the aircraft outside the Baltics."
Gauss says he has previously been "misquoted" on the 30 surplus A220s potentially going into a new airline, stating: "It would be just Air Baltic putting an aircraft overnight at another airport – that's it. No other airlines."
He does not reveal where those new bases might be.
For now, Air Baltic is enjoying impressive fuel savings as more of the Airbus narrowbodies enter its fleet.
Gauss cites the example of the carrier's Riga-London Gatwick route.
"If I fly with the 737-300 and the A220 – it's 145 seats in both aircraft – and we have a flight plan for the same day, same weight, the difference in fuel cost is $1,200 on one sector," he explains. "On top of it come different savings on the CO2, charges and so on."
He also believes the type will deliver significant savings on maintenance costs.
These and other factors are why "we would love to have more of them", Gauss says of the A220. "Our schedule, when we ordered them, had to be cautious. Knowing what we know today, we would have changed the schedule to get them in faster."
Having been such an early mover on the CSeries, Air Baltic has witnessed, first-hand, the programme's transition from Bombardier to Airbus – a deal that closed in mid-2018.
"It took a while, but Airbus has definitely given [the A220] a brand-recognition. Of course, the sales power of Airbus having so many global customers is a big advantage for the aircraft programme."
Sales switch
For Air Baltic itself, the transition has not brought about many significant changes, aside from the sales team now being in Toulouse.
"We still pick the aircraft up in Montreal, where it is being built, and it's the same people, just that they give you an Airbus business card now," Gauss explains.
He does note, however, that "the residual value of the aircraft has gone up, at least in the forecast".
Meanwhile, the carrier received its first A220 simulator towards the end of 2019 as it ramps up the training of pilots.
And as an early mover on the A220, Air Baltic has also been able to capitalise on the opportunity to become a maintenance provider for the twinjet.
The carrier completed its first in-house C-check in November 2019.
"We are the only airline in the world at the moment who have got permission to do C-check or heavy maintenance on A220," Gauss explains, adding that the airline will also be offering its services to third parties.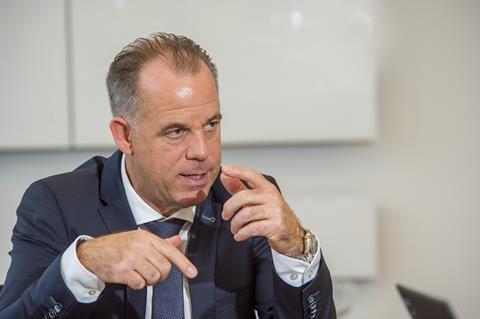 Another by-product of Air Baltic's young fleet is that the carrier is flying relatively fuel-efficient jets, just as scrutiny of the industry's environmental footprints has been reaching historically high levels.
"This discussion has arrived," Gauss states. "For the last six months it's intensifying. It's everywhere… I don't know where it stops."
Air Baltic has not seen any impact on its financial figures from, for example, the "flight-shame" movement cited in Scandinavia, or the threat of higher taxes on airlines. "But if it continues like this… we will as airlines see the effect of it because then it will become much more expensive [to operate]."
Gauss laments the fact that while airlines are investing "billions" in new aircraft, the threat of higher taxation still exists.
In terms of the industry's response to this increased scrutiny, Gauss believes "it will take a while for the associations – IATA, ICAO, A4E – to act".
Gauss notes that A4E – Airlines for Europe, an industry body that represents the region's airlines – is working hard on the sustainability agenda, "but it takes a while because to go against Facebook headlines is very difficult".
He adds: "We are not good enough, but that's not our fault, at convincing the public that flying is something you shouldn't be ashamed of. You should be proud that we have that system."
Air Baltic's place in that system is a network serving major cities across Europe, central Asia, and into the Middle East from the Baltic capitals.
"We do not fly to secondary airports," Gauss explains. "So we fly to business centres and capitals, and we connect these places via Riga with each other."
Top Air Baltic destinations by ASKs, March 2020
Airport
Flights
ASKs
Riga (RIX)
2,009
221,549,819
Tallinn (TLL)
401
35,806,234
Amsterdam (AMS)
123
24,726,283
Vilnius (VNO)
273
20,300,269
Paris (CDG)
76
18,852,741
London (LGW)
61
14,968,855
Brussels (BRU)
68
14,587,480
Moscow (SVO)
116
13,967,690
Source: Cirium schedules data Note: Data for one direction
Aside from its hub-and-spoke network from Riga – where there is a 50:50 split between transfer and direct passengers – the operator has point-to-point bases at the respective Estonian and Lithuanian capitals of Tallinn and Vilnius.
"We serve more than 70 destinations from Riga, we serve now 14 from Tallin and soon 11 from Vilnius," Gauss states, noting that Air Baltic's strongest markets include Amsterdam and Moscow, while "Germany is the strongest country market".
Gauss insists he has "no worries" about competition from the likes of Ryanair, Wizz Air and Norwegian, particularly given Air Baltic's unique business model means its services are not necessarily compatible with those of other carriers.
Top operators to and from Riga International airport by ASKs, March 2020
March 2020
Change versus March 2019
Airline
Flights
Seats
ASKs
Flights
Seats
ASKs
Air Baltic
4,041
439,876
454,282,013
3.9%
5.6%
8.2%
Ryanair
520
98,280
154,449,420
6.1%
6.1%
4.2%
Wizz Air
300
54,156
83,524,780
6.4%
6.4%
0.6%
Lufthansa
124
21,193
27,183,142
0.0%
(0.4%)
(0.4%)
Norwegian
184
34,176
25,098,756
27.2%
27.0%
24.1%
Aeroflot
248
22,062
18,320,759
5.1%
(32.1%)
(32.1%)
Turkish Airlines
64
10,048
17,933,294
3.2%
6.3%
6.3%
Pobeda
62
11,718
9,749,738
n/a
n/a
n/a
LOT Polish Airlines
172
15,004
8,644,482
7.5%
8.6%
8.6%
Uzbekistan Airways
16
2,344
8,551,809
(11.1%)
(10.5%)
(10.5%)
Lauda
36
6,480
7,206,127
n/a
n/a
n/a
FlexFlight
15
2,265
7,156,915
n/a
n/a
n/a
Utair
62
7,192
5,983,966
0.0%
0.0%
0.0%
Finnair
186
12,956
4,816,503
12.0%
12.3%
12.3%
Source: Cirium schedules data Notes: Data for marketed flights. Data for both directions
In terms of long-haul connections, Air Baltic's capabilities with the A220-300 top out at around 7.5h, meaning some markets are out of reach. The carrier's longest sector is currently to Abu Dhabi.
Flying further
"We will not be doing it for the foreseeable future," Gauss states of ambitions to fly further. "We could do it now – there will be an aircraft available in 2023-24 – the Airbus A321XLR… but that doesn't mean that we will do it."
Transatlantic connections from Riga, for example, are therefore more likely to come from other carriers.
"The whole of the Baltics, all three states, have zero long-haul connection to the North Atlantic," Gauss notes, adding that airlines such as Norwegian and now-defunct Primera Air both considered launching such services in the past.
"It might be a JetBlue, Delta, somebody might start from the US," he continues. "Whoever touches down here is going to have a very, very strong feeder network."
Amid this growth potential, Air Baltic has stayed resolutely outside the traditional airline alliances.
"We have 22 codeshare partners, we are still in GDSs, so we are linked, full-blown, into the codeshare world, and that is very successful," Gauss states, citing codeshare partners such as Etihad Airways, Iberia, KLM and TAP Air Portugal.
Air Baltic has connectivity to more than 300 destinations via a single stop in Riga, Gauss states, noting the positive impact this has on Latvia's economy.
"In 2018, the impact of Air Baltic to the Latvian gross domestic product was 2.5%," he explains. "You do not have a lot of cities of this size in Europe, if there are any, with that kind of connectivity."
As Air Baltic expands, questions are inevitably raised about the future of the airline's shareholding structure.
The state still owns 80% of the operator, with Danish entrepreneur Lars Thuesen having acquired 20% of the business in 2017.
Gauss notes that the state is open to reducing its holding, but only to a suitor who would continue offering the existing level of connectivity to and from Air Baltic's three bases.
"I believe in consolidation in Europe… But at the moment, I think nobody is interested in ensuring the connectivity to and from Latvia as much as we are."
Despite his belief in consolidation, Gauss does not necessarily see Europe adopting a similar structure to that in the US market, where a few powerful groups leave little room for smaller operators. That is partly because there are more national interests to serve in Europe.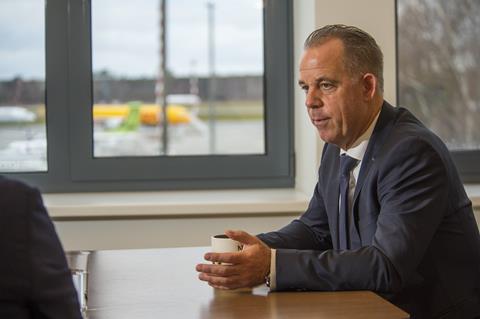 He also highlights the fact that Air Baltic has "stepped in" to become a key player in the consolidation among the Baltic states, as operators such as Air Lituanica, Estonian Air and Nordica have collapsed or exited the market in recent years.
A long-rumoured IPO is "something we discuss", Gauss states, but "today we believe we can develop on our own and see what comes", and he is ultimately happy to continue working with the state as the airline's main shareholder.
"I worked in a British Airways subsidiary [DBA] most of my life, I then had two years of experience with a double-state-owned airline – because there was a Russian influence and a Hungarian influence in Malev – and here I have an airline that is majority state-owned, which is the perfect model of how to do it," he says.
"The state as a shareholder provides the shareholding functions, while the airline is controlled by the supervisory board… and we have a corporate governance."
This approach – "like a private airline" – means Gauss has not felt too many shockwaves from the potential uncertainty and upheaval created by inevitable changes in government over the years.
There are downsides to this ownership structure, however, particularly when it comes to restrictions on how much money can be put into the airline by the state.
The consequences of this were felt recently, as Air Baltic issued a €200 million ($223 million) unsecured bond.
"We had to take an expensive bond," Gauss explains. "A private shareholder maybe would have said, 'OK, I'm going to put in the money'."
That said, Gauss notes he is "very proud of the Eurobond – it was the biggest of any Latvian company in history… it was a milestone to be able to fund the growth, because we have to pre-pay the aircraft."
With the bond secured, Air Baltic is taking a breather in terms of planned capacity growth in 2020, following years of double-digit increases.
That relative pause – growth of 11-13% in 2020 – was built into the business plan, and is reflected in the fact that Air Baltic is due to add only four A220s this year.
Business pressure
The upheaval created by adding aircraft at higher rates puts pressure on many parts of the business, Gauss explains, including pilot and crew training, ground-handling requirements and so on.
"We grew the last three years at around 20%," Gauss says. "So we are taking a pause to then grow again in 2021… It's a smaller airline and you cannot continuously grow [at 20%]."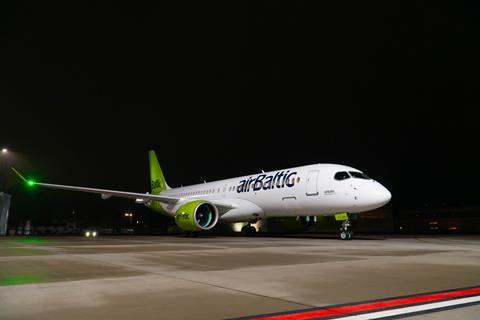 Amid these growth plans and Air Baltic's success against the odds, Gauss is experiencing strong job satisfaction.
"I love the job," he states. "I love this company. I have never had such satisfaction doing a job. I get excited driving to work – can you imagine?
"I landed last night, as I commute from Munich… and I get a warm feeling after the touchdown, because I know I'm back where people like me and where I like people. It has a lot do with the recognition this airline gets for what it has achieved."
Made in Britain
Martin Gauss's airline career started in 1992 when began training as a pilot. Selected by British Airways subsidiary Deutsche BA (DBA), Gauss completed his Boeing 737 type rating at London Gatwick airport.
While working as a pilot, he was part of BA's management training programme and rose through the ranks, eventually becoming director of flight operations at DBA in 2002.
Then, when BA announced it was selling DBA to a private investor in 2003, a new opportunity emerged. "I wrote a turnaround plan for that airline at the time, which was accepted by the majority shareholder," Gauss recalls. "And he said, 'if you want to have that plan [implemented] then [take some of] the risk, buy shares, become a managing director', which I did."
After "a very successful turnaround", DBA was sold to Air Berlin in 2006. "And then Air Berlin did something with it," Gauss recalls with a laugh. "And now it's Lufthansa. But we were very successful at that time. My career started with everything in British Airways."
Gauss went on to lead German regional operator Cirrus Group, before taking over as chief executive of Hungarian flag carrier Malev in 2009. He moved to Air Baltic in 2011.
Gauss now plans to complete type-rating for the Airbus A220. "I'm type-rated on the 737; I have around 8,000 hours on it," he states. But he has not flown on an Air Baltic scheduled service for at last three years.
"As the last Boeings leave, then of course I will also be flying the A220, once I pass all the relevant type-rating checks, but I will be flying again.
"We have a full-flight [A220] simulator, so I can just walk across the street and do it."
Leader in gender diversity
Of Martin Gauss's achievements while leading Air Baltic, he cites the airline's "world leading" gender diversity within its management team as an important one – even though progress has come naturally.
"I have taken natural decisions to select the best available people, and maybe I was lucky and had very qualified females, because I selected more females than males for management positions," he states. "But that was because of qualification."
Air Baltic recently signed up for IATA's "25by2025", a voluntary campaign for member airlines to improve female representation in the industry up to a minimum of 25% of employees.
But the Latvian carrier was already way ahead of that target. "I would say we are a world leader in this… we are at 50% in all levels," Gauss states. "So we have already achieved a 50:50 naturally. We did not need initiatives."
He explains that "50% of the management is female. Exactly by the number, of 56 managers, half are female".
He also highlights that fact that some 60% of people promoted within the business in the past year were women. In the top leadership team, women take 45% of the roles.
Gauss says that if he were to be replaced by a woman, female incumbents would outnumber male holders of roles in that top team. Such a high level of female representation across the business makes Air Baltic an exception to wider trends in the industry.
Airline Business's most recent survey of women in the C-suite showed it could be the mid-2050s before there is an equal split between men and women in senior executive positions at airlines, based on current trends.
Martin Gauss will be among the C-suite speakers at this year's A4E Aviation Summit, in association with FlightGlobal, which takes place on 3 March 2020 in Brussels: a4eaviationsummit.eu