Despite having had little time to settle at SunExpress before Covid-19 arrived, Max Kownatzki has ensured the Turkish leisure carrier is raring to go as the crisis abates
In an airline industry with few positive stories to tell about international travel in 2021, SunExpress chief executive Max Kownatzki is delighted that he can buck the trend.
"We actually had a stellar 2021," he tells FlightGlobal during a mid-December interview.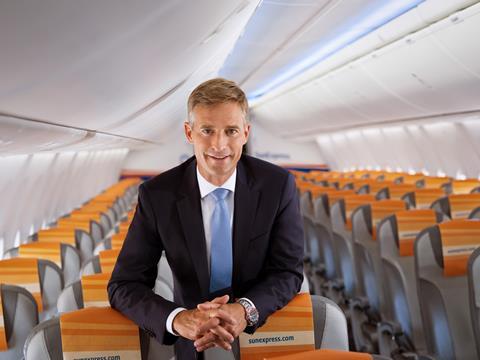 As another tough 12 months for the wider industry came to a close, the Antalya-based leisure carrier – a joint venture between Lufthansa Group and Turkish Airlines – was on track to report strong full-year financial results, as it benefited from a focus on market sectors that have tended to come back more quickly as travel restrictions subside.
Summer 2021 was "just through the roof", Kownatzki explains, with a load factor of 85% and an August that saw SunExpress's best-ever day for passenger numbers in its 31-year history. For the whole year, capacity came in at 70% of 2019 levels, driven by the tourism and visiting friends and relatives (VFR) traffic between SunExpress strongholds in Turkey – Antalya, Bodrum, Dalaman and Izmir – and Europe, Turkish domestic flights, and a wet-leasing business.
"SunExpress generating a solid profit in a crisis year such as 2021 is definitely something we are very proud of," he says.
And that momentum is expected to continue into 2022, Kownatzki states.
"We're planning for a 101% ASK level" in the coming year, he says, as capacity is boosted by the arrival of SunExpress's first Boeing 737 Max 8 jets.
In December, it was too early to say what the impact of the Omicron variant of Covid-19 would be on that projection, but Kownatzki was optimistic, noting that SunExpress was monitoring the situation closely but had not seen a reduction in bookings at that point.
TOUGH CHOICES
The airline's emergence from the pandemic on the front foot, however, was by no means guaranteed.
Under Kownatzki's guidance, tough choices were made, perhaps most notably including the liquidation of the airline's German division.
Such decisions were being implemented by a chief executive who was seconded by Lufthansa Group – where he was senior vice-president of network and partnership management for hub airlines – to SunExpress on the eve of the industry's biggest-ever crisis in January 2020.
With his feet barely under the table, Kownatzki recalls having to quickly rethink his plans for the airline.
"I remember sitting in the chairman's office in March [2020], just at the beginning of the crisis, and I had a reprioritised project list," he states. "I said that out of the 50 projects on the list, we're only going to do 20."
But then the meeting threw up another surprise, reflecting rapidly rising concern about the spread of Covid-19.
"At the end of this meeting, the chairman said 'Max, [Turkey will] probably have a travel warning as of tomorrow', and I'm like 'oh my goodness'."
It had become clear to the former Jetstar and Eurowings executive that his mission to grow SunExpress to a 100-aircraft operation would be on the backburner for some time. Business survival had become the priority.
Recalling that period, he characterises the operator's journey using a metaphor.
"I always talk about three phases when I talk to my team," he says. "The first phase is the firefighter, the second one is the patient or the doctor, and the third is the tennis pro.
"When I first started in this role, 20 months ago, it was pretty much from day one firefighting, firefighting, firefighting," Kownatzki states. "Thankfully, we passed that point. We also have survived the surgery and the hospital treatment and we've just left the building.
"We're probably still a little bit on chicken broth, but we're on our way to the tennis court," he says.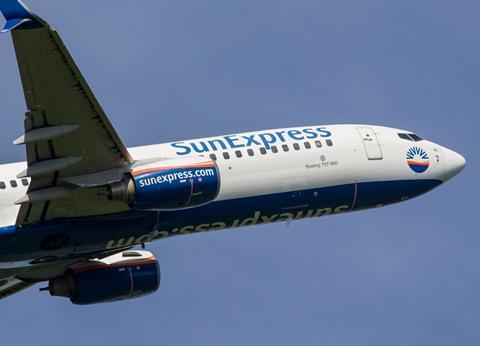 Behind SunExpress's emergence from the worst of the pandemic is a big effort to shore up the business.
"In the peak of the crisis, everybody was focused on liquidity and cash," Kownatzki says. In SunExpress's case, there was an effort to achieve "very stable refinancing" deals that were "put into longer-term bank loans".
"We have not received any kind of government funding or any kind of money injection from our shareholders," he states. "So this was all done by ourselves, and banks have actually very much rewarded that."
Kownatzki expects SunExpress to return to "good net debt to equity ratios" in a maximum of six years. That compares with a recent McKinsey & Company study that suggested an average airline would take 10-12 years to get back to pre-pandemic debt levels, he notes.
But SunExpress is only able to take advantage of that position thanks to its "homework during the crisis", which has seen "no stone unturned", Kownatzki says.
The decision to close SunExpress Germany in June 2020 was perhaps the most significant development.
"The SunExpress Germany liquidation was a harsh experience," he recalls. "In my first few weeks, that was a tough time."
The decision did not reflect "dysfunctionalities that pushed it over the edge", Kownatzki says of the unit, which was founded in 2011 and connected Germany with holiday destinations in the region.
Rather, the cost structure of the German unit was an important consideration, Kownatzki states. And when it came to the crew compensation model, the flexibility introduced in SunExpress's larger Turkish unit was not necessarily repeatable in Germany as the pandemic wiped out revenues.
Therefore, to guide SunExpress out of the crisis, "we wanted to focus on the real core of our business, which was the Turkish-German, -Austria, -Swiss market", Kownatzki explains.
Essentially, he recalls, the carrier said: "Okay, this is our key market, this is what we do well, this is where we're unbeatable in terms of cost efficiency, and then start growing from there again."
While the liquidation of SunExpress Germany affected around 1,200 jobs, with the unit accounting for 20 of 69 aircraft in the SunExpress family at the time, "we were able to keep the SunExpress Turkey folks all on board and we still were able to really take costs out", he says.
MAINTAINING ROUTES
Despite its geographic retrenchment, SunExpress has been able to maintain some of the German routes through its Turkish operation, while Lufthansa stablemate Eurowings has picked up other services. Partnerships elsewhere are also helping to fill the gap.
In one such tie-up – which SunExpress describes as a "unique model" – the carrier is responsible for the entire commercial handling of Air Cairo flights between Germany, Austria, Switzerland and the Egyptian resort of Hurghada. Those tasks cover flight planning, sales, revenue management and marketing, while Air Cairo operates the services with its own crew, aircraft and flight numbers.
"I would love to expand on that model with Air Cairo to other destinations, or other origins for that matter," says Kownatzki. "And I would also like to use that Air Cairo model with other carriers and expand it that way."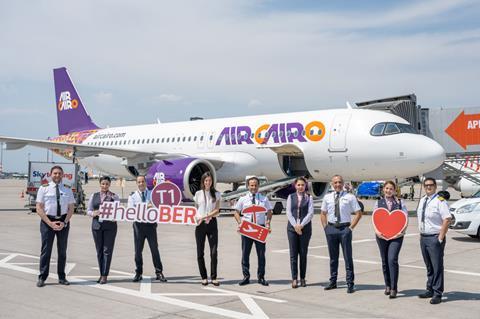 With such tie-ups in place, "the necessity to have another AOC [in Germany] from a traffic rights point of view is maybe not that [strong]", he states.
Focusing on the Turkish market for its own flying has been a key factor in the operator's ability to navigate Covid-19, Kownatzki says.
"I feel that the Turkish market, in- and outbound, is big enough to be an attractive market", he states. "Obviously it's regulated, you need flight rights to get in there, but the key competitors are growing at similar levels as we are.
"And on our home turf we have a very solid footing. Plus, from a cost point of view, we're in good shape to withstand any competition we're encountering."
Crucially, as part of its crisis response, the carrier changed its Turkish crew compensation model from "91% fixed, 9% variable, to 50% fixed, 50% variable", meaning "employment salaries flex up and down depending on the market".
Kownatzki is keen to stress that it was not the case that "operational crew paid the price and management grew fat bellies". He explains: "Literally every single person and every single department chipped in and contributed."
Citing the "spirit of solidarity" in the SunExpress workforce, Kownatzki says he has "never experienced anything like it", with individual staff members offering cost-saving suggestions that would hit their own in pockets.
He describes one example where a crew member on his weekly commute from Germany to Antalya suggested he might want to consider cutting the per diems and overtime fees received by employees on night flights.
With the business culture on SunExpress's side when it came to cost-saving, "we had realised over €400 million" after 12 weeks of the carrier's transformation programme, Kownatzki states, aided by the renegotiation of all of its contracts with suppliers.
HONEST APPROACH
Kownatzki's approach to leading the carrier through those difficult months was to promise he would be "honest and transparent" – telling employees and stakeholders the good news as well as the bad.
"And that has worked well," he says, adding: "Sometimes I stood in front of the troops saying 'guys I have bad news'."
Focusing solely on Turkey does, however, expose the airline to local economic challenges that were already evident pre-Covid. Notably, the Turkish lira's weakness has been well-documented.
But with just 7% of SunExpress's revenue booked in lira, and 6.5% of its costs, "we are naturally hedged on that", Kownatzki says, explaining that "90% of our revenue is in euro".
That dominance of euro revenue reflects the mix of passenger segments that drive the carrier's income streams – a mix that has changed amid fluctuating travel restrictions in key markets.
SunExpress went into the crisis with tourism and VFR traffic accounting for around 45% of passengers each, with Turkish domestic services at 10%. That changed to the first two categories accounting for 40% of traffic each, with domestic boosted to 20%.
"Diversification of risk has led us to never really feeling a big dip in bookings, because ethnic travel is very inelastic," Kownatzki says. "You visit your grandparents, you go to a wedding, you visit your brother's and sister's birthday party. So these are fairly stable."
Kownatzki continues: "So even with Turkey classed as a high-risk area from most European countries [at times during the crisis], we've been doing pretty well."
The diversification has also impacted the airline's mix of revenues. Going into Covid-19, around 60% came from tour operators, with 40% being seat-only business. Those proportions flipped amid the "volatility on the touristic side", albeit with a continued pipeline of passengers from that sector.
Yields have held up well in VFR and domestic markets, Kownatzki states, but "volatile demand" in leisure-focused markets have led to declines in that sector, with improvement expected in 2022.
And as demand comes back this year, SunExpress's fleet is key to meeting it.
In mid-December, the carrier's aircraft roster featured 51 jets – all from the Boeing 737 family – with 39 operated at "own risk" and 12 aircraft flying wet lease for Turkish Airlines unit Anadolu Jet.
"That is the baseload that helps us in securing a year-round minimum supply," says Kownatzki.
A big change as 2022 begins is the rapid injection of 737 Max 8s into the carrier's fleet from December 2021, some two years after they were initially meant to arrive.
Kownatzki was expecting SunExpress to take delivery of nine Max jets in December 2021, with perhaps one or two "slipping into January", out of a total order for 42 of the aircraft.
The carrier was originally due to take its first Max jets in late 2019, but the programme's well-publicised problems put an end to that. Nevertheless, "we never touched the scope of the orders", Kownatzki says, with 42 aircraft always the intention.
Rather than being for replacement, "they are actually additional growth aircraft", he explains. "You can pretty much assume as of 2023, you'll have five new deliveries per year."
He highlights the importance of the type's lower fuel burn and consequent sustainability benefits, describing the 10-20% fuel cost reduction with Max operations as "a huge deal".
Regarding the type's safety issues, Kownatzki recounts his own reassuring experience with Boeing in Seattle.
"I had a two-hour session with one of their technical engineers and their chief pilot who walked me through the whole MCAS rectifications that were made because I really wanted to fully understand all of the detail," he states.
GROWTH PLANS
When it comes to network strategy, those new aircraft will allow the airline to boost frequencies on existing routes, and expand operations into some new markets.
"The key focus we've had is increasing existing frequencies," he says, citing SunExpress's "home turf" of Antalya, Bodrum, Dalaman and Izmir.
"We're [also] trying to boost the UK market and we're trying to look into Scandinavia again," he adds.
And wherever SunExpress sends its aircraft, it certainly works them hard.
"We've got aircraft utilisations of 16-plus hours – just shy of 17 hours," Kownatzki states.
That utilisation is driven by the lack of night curfews in Turkey, which allows an aircraft to fly "W patterns" during a 24-hour period, involving a mixture of Turkish domestic flights and international services.
"It does come with a 2am, 3am departure, which in Western Europe is not as conducive to high demand," Kownatzki observes.
Strengthening SunExpress's position as it emerges from the Covid-19 crisis is an effort to counter the effects of seasonality by introducing a degree of fleet flexibility.
"Seasonality is a huge driver in our business," says Kownatzki.
Looking ahead to future periods of seasonally lower demand, SunExpress has applied for permission to wet lease its aircraft in the USA and Canada with an eye on swapping capacity.
"We have a counter-cyclical indicator for every airline out there and we've approached five or six already," he says. "We're looking maybe into a mutually beneficial deal of swapping one-way or two-way capacity."
That would mean SunExpress jets heading to North American in the winter and perhaps outside capacity boosting the operator's options during the European peak season.
"I'm pretty sure something will materialise on this," Kownatzki says of a tie-up being formalised.
As SunExpress seeks to position itself for the recovery, Kownatzki is confident that demand fundamentals have not been changed by the pandemic – once travel restrictions are relaxed.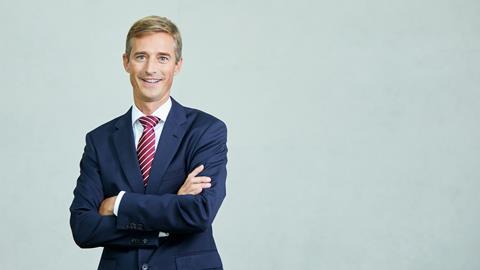 "It's like water," he explains. "The moment you open the floodgates, it's on its way. Literally the moment the restriction falls, the demand comes back.
"Interestingly, it doesn't only come back to old levels, it overshoots from time to time, so there's a lot of [pent-up] demand… there's a huge eagerness to get back out there and spend a couple of days at the beach."
Such realities are reassuring to SunExpress shareholders Lufthansa and Turkish Airlines, Kownatzki says, who are "both very committed to us".
He states: "The two carriers may be competing at the mainline level to a certain degree, but that doesn't really affect us as SunExpress all that much. When I talk to the shareholders, this is a relationship on SunExpress specifically that has been grown over 31 years… there's a very solid foundation of working together.
"I feel supported. I don't feel it's a holdback on anything. I run SunExpress as I would a company that only has one shareholder."
With strategic considerations 'normalising' somewhat after nearly two years of upheaval, Kownatzki considers lessons learned during the pandemic, saying it is important to have "both feet firm on the ground". He also cites "something in the Turkish culture" that might stem from Turkish citizens having to deal with the country's economic difficulties.
"You have to be dynamic," he says of doing business in the country. "And that flexibility, that mental agility while staying modest, I think that is a great lesson learned from this."
Kownatzki returns to his earlier metaphor when describing his next steps.
"I'm hoping that as of 2022, when we're back on the tennis court, I can pick back up what I was planning to do when I started in 2020," he states.
Describing the growth ambitions at pre-crisis SunExpress as "amazing", Kownatzki says his task is to grow the fleet to 100 aircraft "as fast as possible".
"Right now, we're cleaning up the aftereffects of the crisis and debt is one of them, but we're on good track," he states. "Then I really want to be the tourist carrier of Turkey."
FLYING START
As a qualified commercial pilot, Max Kownatzki has long had a passion for aviation.
"I started as a private pilot in Long Beach, California, then I did my instrument in Florida, and my commercial and multi-engine ratings licences in New York, where I lived for 13 years before moving over to Europe in 2015," he says.
"Once or twice I've fancied being a management pilot but it would always take out too much time from my schedule."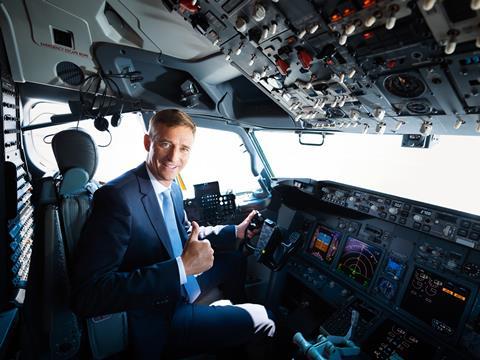 Flying aircraft has therefore always been "purely a passion" in Kownatzki's life, rather than a part of his career.
His work history began in 2002, at strategy consultancy Oliver Wyman in New York and Munich.
In 2013 he was named as chief strategy officer at Australia's Jetstar Group, a subsidiary of Qantas. In 2015 Kownatzki joined Lufthansa Group as chief commercial officer at Eurowings Europe, before being put in charge of business development at the low-cost carrier as senior vice-president.
Then, in 2017, he was made accountable for the network planning and strategic alliances of the hub airlines Lufthansa, Swiss and Austrian, before taking the helm at SunExpress in early 2020 after Jens Bischof's departure to become chief executive of Eurowings.
Kownatzki, who holds German and US citizenship, describes being pleasantly surprised by the business culture in Turkey versus his experiences elsewhere.
"Openness in good and bad has been reciprocated, and that is a wonderful experience," he states. "I've worked around the globe and I've hardly experienced anything like that. I didn't expect that."