European low-cost giant Ryanair has never been backward in targeting rivals in its marketing and PR offensives.
The raft of government bail-outs to help European flag carriers through the coronavirus crisis has prompted Ryanair to dust down its familiar refrain against state-aid benefactors – or "junkies" as chief executive Michael O'Leary recently termed them.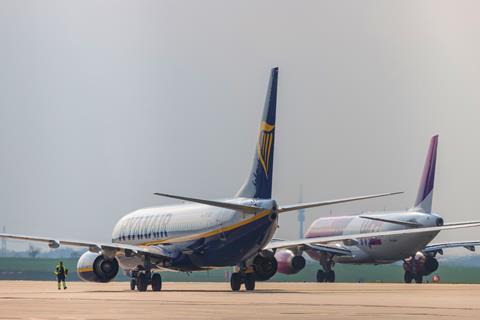 But while most of Ryanair's fire is aimed in the direction of highlighting potential competition concerns resulting from the state bailouts, a nagging battle with central European budget carrier Wizz Air has been developing.
Wizz has been the most bullish of European carriers since the initial peak of the pandemic subsided in the region. It was among the earliest to flag the return of services and caught the eye with a string of new base announcements.
While the central European carrier has been flagging its new operations, Ryanair has not left it a clear run. For example, on 22 June Ryanair issued a press release to launch what it dubbed "rescue fares" for customers on the London Southend-Vilnius route it said Wizz was dropping.
Horns have been further locked over Buzz, Ryanair's Polish based leisure operation. The Buzz brand was originally acquired by Ryanair when it took over the KLM UK budget airline operating under this name in April 2003.
The Irish carrier last year resurrected the Buzz airline brand for leisure charter subsidiary Ryanair Sun, which began operations in early 2018. Last October Ryanair outlined plans to transfer its base operations in the Hungarian capital Budapest to subsidiary Buzz from the start of December 2019.
Wizz and Ryanair have been involved in a legal case in Hungary over the use of the brand, which the former claims is too similar to its own name. At the end of June Ryanair announced it planned to appeal an interim injunction from Wizz to block Ryanair from using the Buzz name in Hungary.
"We look forward to overturning this silly injunction on appeal, and we will continue to focus on Buzz's expansion in Hungary," said Ryanair's O'Leary, before aiming a dig at Wizz for reducing capacity at Budapest.
Is there much network overlap?
On the one hand there is some direct network competition between the two carriers.
Cirium's schedules data for January 2020 shows that before the crisis Ryanair operated 48 routes and Wizz 57 from Budapest airport. Of these, the two carriers were in direct competition on 18 routes – though there were a handful where the same city was served via competing airports.
Ryanair and Wizz overlapping routes Budapest (Jan 2020)
Destination
Ryanair flights (monthly)
Wizz flights (monthly)
Athens
23
17
Barcelona
28
32
Bari
9
23
Berlin Schonefeld
40
27
Bordeaux
8
8
Brussels
40
31
Catania
8
9
Edinburgh
32
13
Eilat
9
13
Gothenburg
8
14
Lisbon
13
14
Madrid
20
23
Malaga
8
1
Malta
8
9
Naples
15
13
Porto
8
8
Tel Aviv
18
61
Thessaloniki
9
9
Source: Cirium schedules data Jan 2020
At Bucharest in Romania the two carriers were directly competing on nine routes, January data shows.
In Poland, where both carriers have a large presence, the biggest crossover of routes lies in Gdansk, Katowice and Krakow. Ryanair and Wizz competed directly on six routes from both Gdansk and Katowice out of 56 and 48 routes respectively, while both served eight of the same routes out of 83 from Krakow – Ryanair's largest Polish operation.
Key Polish battlegrounds - Ryanair v Wizz
Total routes
Ryanair routes
Wizz Air routes
Overlapping routes
Gdansk
56
22
34
6
Katowice
48
19
29
6
Krakow
83
65
18
8
Source: Cirum schedules data Jan 2020, covering bases at which both operate at least 18 routes
One of the bases at which Wizz has announced plans to open is Milan Malpensa, at which Ryanair already operates a base. Cirium schedules data for August shows Wizz plans to operate 30 routes from the Italian airport and will compete directly with Ryanair on five of them.
Ryanair meanwhile has just announced a further expansion in Ukraine - launching 16 new connections to Italy. Ukraine is a key market for Wizz, from which August schedules data from Cirium shows it is the biggest carrier in terms of flight and seat capacity.
But direct competition is only part of the story, particularly at a time where European carriers are chasing whatever demand can be conjured during the curtailed northern hemisphere holiday season.
Notably, both Ryanair and Wizz position themselves as low-cost and low-fare leaders, putting them in the same market for stimulating travel through price. While the Irish carrier has softened its hardcore budget carrier stance on customer service in recent years – and Wizz has more overtly stuck to its low-cost heritage – Ryanair would seem reluctant to cede ground to a budget rival on cost.
First mover advantage
Wizz though has been on the front foot in terms of the narrative of restoring traffic following the coronavirus grounding. Wizz carried more passengers in June than larger rival Ryanair, though both carriers slashed capacity and saw passenger traffic plummet compared with the same month in 2019.
Wizz's passenger numbers fell 86% year-on-year in June to just over 500,000. Ryanair, which ostensibly only started to rebuild its network in July, reported a steeper 97% drop to 400,000 passengers.
Ryanair operated just over 2,800 flights last month, down from the more than 79,000 flights it had expected to operate.
Wizz restarted operations sooner than Ryanair and, with the exception of its UK unit, is less affected by quarantine restrictions in the UK and Ireland. Ryanair began reinstating 40% of its normal capacity across 90% of its network on 1 July.
Wizz chief executive Jozsef Varadi said in May that it would use the coronavirus crisis to expand its market share, noting that the airline had enough cash on hand to endure two years without operating any flights. It has made a series of new base announcements Bacau, Dortmund, Larnaca, Lviv, St Petersburg and Tirana, in addition to Malpensa.
Wizz in guidance earlier this year said it expected to grow the number of seats by around 9% for the year end ending 31 March 2021. That is in line with the growth of the fleet to 131 aircraft by that point. That, though, is seven fewer aircraft than the 138 outlined in its pre-crisis strategy, disclosed at the end of January during a third-quarter results briefing. Wizz carried 40 million passengers in the 12 months ending March 2020.
Ryanair, which carried almost 150 million passengers last year, said in its financial outlook that it expects to operate less than 1% of its first-quarter schedule and to carry no more than half its targeted passenger levels in the three months between July and September. As a result, the carrier expects to carry less than 100 million passengers for its full financial year – more than 35% down on its original target of 154 million.
Showing their green credentials
In further evidence of the tit-for-tat between the carriers, Ryanair and Wizz have both claimed to be the "greenest" airline in Europe in recent times.
Notably, in early June 2019, Ryanair put out a press release claiming it had the "lowest greenhouse gas emissions per passenger of any European airline". Little more than a week later, Wizz did exactly the same thing.
Both carriers have repeated those claims, or versions of them, multiple times since.
Additional reporting by Cirium