Tewolde GebreMariam has stepped down as chief executive of Ethiopian Airlines following a long period of success in a region that is not always so kind to its leaders' legacies.
Most impressively, 37-year company veteran GebreMariam's leadership – both in terms of implementing strategic visions and crisis-management – ensured Ethiopian is now synonymous with proving Africa's huge commercial aviation potential can be realised, after the airline matured rapidly under his charge and overtook its peers.
Indeed, Ethiopian quadrupled in size between GebreMariam taking charge in 2011 and the last full pre-pandemic year in 2019, growing from a fleet of 33 aircraft carrying three million passengers to one with a fleet of 130 aircraft carrying 13 million passengers.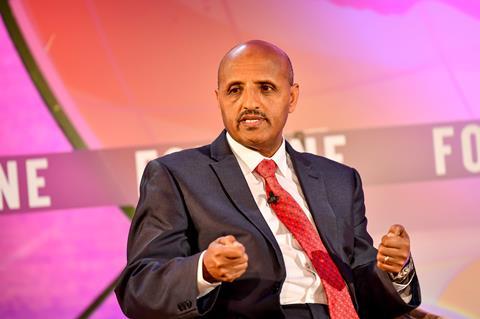 With that expansion came a burgeoning reputation on the global stage for both the carrier and GebreMariam himself.
Ethiopian also became a pan-African business on GebraMarium's watch, as it grew its Addis Ababa hub and made investments in smaller operators in countries such as Chad, Cote d'Ivoire, Guinea, Malawi, Mozambique and Zambia.
"The joint ventures are part of a bigger strategy under [15-year development plan] Vision 2025," explained GebreMariam in September 2013. "So far we've been serving the continent from one hub in Addis Ababa. But going forward – when you have very strong competition coming from the Gulf, Turkey and Europe – we need to position the carrier as a pan-continental business."
In that regard, as in many others, Ethiopian under GebreMariam achieved strategic advancements that have consistently eluded other carriers in the region – all from a relatively small home market.
Ethiopian also became a leading cargo operator, having doubled-down on its growth in the sector during the Covid-19 pandemic.
AGAINST THE ODDS
But GebreMariam's success at the carrier was far from guaranteed.
Among the challenges faced by all airline leaders in region, Africa is notoriously difficult to operate in, not least due to a lack of liberalised markets and a tendency for governments to unhelpfully interfere in the running of national carriers. Furthermore, on international services, the Gulf carriers in particular have been keen to expand their presence on the continent.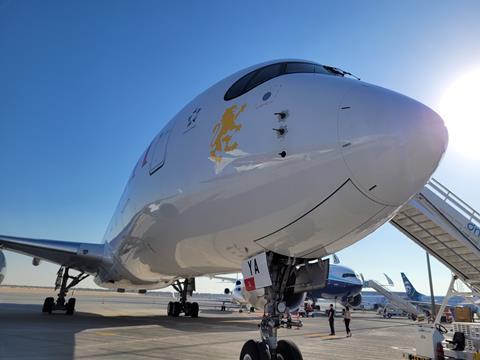 Amid those considerations, GebreMariam quickly learnt that life as an airline chief executive would not be not a quiet one.
"We say in the industry that airline chief executives sleep like a baby. A baby wakes up three or four times in the night," he joked to FlightGlobal back in 2014. "It's four hours, then you wake up, then another four, and you wake up because there are continuous concerns running through your mind that keep you awake."
In guiding Ethiopian through its growth journey, GebreMariam also tackled numerous shocks, in recent years including the high-profile loss of a Boeing 737 Max in 2019, the Covid-19 crisis, and civil war in his home country.
STRONG FOUNDATIONS
Helpfully, back in 2011, he took control of an airline that was already in growth mode following the successful completion of a five-year strategic plan that saw the carrier triple its revenues. It was also the year that Ethiopian joined the Star Alliance.
Still, Ethiopian was behind South African Airways, EgyptAir and Kenya Airways in many measures of airline size at that point, and GebreMariam was acutely aware that the next stage of growth would be involve longer-term commitments.
That is why the airline's five-year Vision 2010 programme was followed by a 15-year Vision 2025 plan, with a focus on fleet expansion and growing the business to include many of the functions associated with mature aviation companies.
"Our thinking is that a five-year plan is not enough," GebreMariam said in late 2010, just before becoming chief executive. "We need to think about longer-term planning because fleet renewal is a long-term planning exercise."
Underpinning that long-term strategy was a positive relationship between the airline and its government owner.
While the Vision 2025 programme still has some time to run, GebreMariam achieved many of its objectives before stepping down, by most accounts including the main aim of Ethiopian becoming "the most competitive and leading aviation group in Africa".
Notably, by 2019 Ethiopian's fleet was already bigger than the 119 aircraft envisaged at the outset of the plan, the carrier having become the second Boeing 787 operator globally in 2012 and the first Airbus A350 operator in Africa in 2016.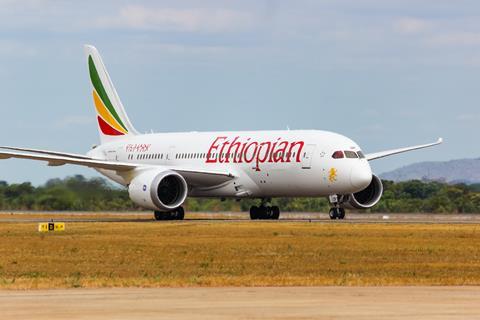 Its high performance extended to other areas, as GebreMariam explained in 2017: "In Vision 2025 we had goals for every year… and we have exceeded what we planned for after seven years," he said. "For instance, the number of international destinations planned for 2025 was 90, but right now we have passed 100. Same with cargo, with passenger. So I think it has been very robust growth, and profitable growth."
Ethiopian has also become the aviation group envisaged under the programme, featuring units covering disciplines such as MRO and pilot and technician training.
All the while, the peers it was seeking to overtake in 2010 have faced various challenges in attempting to grow – and survive – while Ethiopian has powered ahead.
"If I speak for my airline, we are doing very well, we have been very well, and we will continue to do very well," GebreMariam said back in 2016, with justified confidence.
By 2018, Addis Ababa had overtaken Dubai as the biggest transfer hub for long-haul travel to Africa, as Ethiopian's network focus on the trade lanes between China, Africa and Brazil paid off.
The airline realised that growth while frequently profitable.
But as if the challenge of achieving so much on the African continent was not enough, three significant developments marked the last years of GebreMarium's time in charge at Ethiopian.
GLOBAL RAMIFICATIONS
First, the fatal crash of an Ethiopian 737 Max in March 2019 prompted the global grounding of the type.
GebreMariam vowed Ethiopian would be one of the last carriers to bring the type back into service – a point it reached earlier this year, as it slowly began to reintroduce its four examples of the jet.
Then, a year after the Max crash came the Covid-19 pandemic.
"The aviation industry in Africa was not in a good shape, even before Covid," GebreMariam said in February 2021. "This is an industry that has been losing money… for six, seven years in a row."
Amid that environment, Ethiopian continued to buck the trend, becoming a standout example of a carrier that moved early to protect its business as the scale of the pandemic became clear.
It reconfigured around 25 passenger aircraft of various types into freighters, in addition to operating its 10 Boeing 777-200Fs and three 737-800SFs, as GebreMariam rapidly expanded the carrier's cargo operations.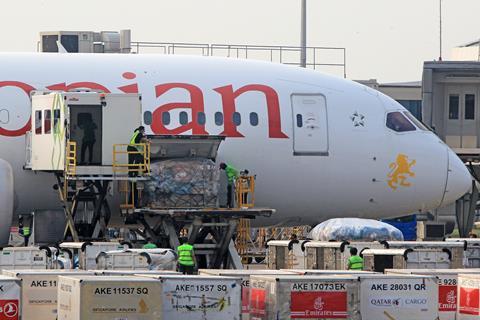 "We've shown agility, speed of decision-making and resilience, and that has helped us," GebreMariam said in February last year.
He later noted that the carrier was "cash-positive and profitable" coming out of Covid-19, having "not taken any bailout money".
A war between Ethiopian forces and those from the Tigray region of the country continues to complicate Ethiopian's fortunes, and has prompted the carrier to issue denials regarding alleged use of its aircraft to transport weapons relating to the conflict. The carrier has also denied any employee has been suspended or had their employment terminated because of their ethnic background – a delicate issue for GebreMariam, who is widely reported to be an ethnic Tigrayan.
But while challenges inevitably remain, GebreMariam's successor Mesfin Tasew Bekele inherits a strong airline that often attracts envious glances from within Africa and beyond.
Tasew will hope to continue GebreMariam's success in the remaining years of the Vision 2025 programme, particularly as a new – much larger – hub for Ethiopian's Addis Ababa operations is developed.