Airlines and regulators are having to adjust to a fast-changing landscape as they consider merger and acquisition plans, both those put in play before the coronavirus crisis hit and those that might emerge in its aftermath.
Two major outstanding airline acquisitions are expected to reach their conclusion shortly.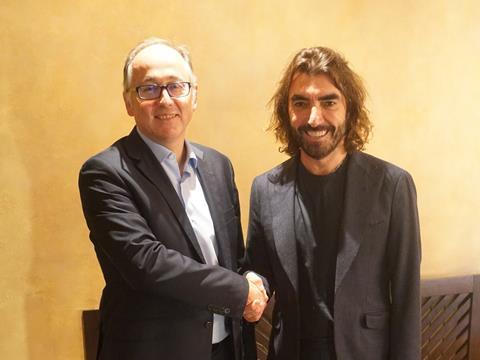 IAG, the parent of Spanish carriers Iberia and Vueling, in early November outlined its plan to acquire Air Europa for €1 billion ($1.1 billion), in a deal it expected to close in the first half of this year. The move was driven by a desire to strengthen Iberia's presence at Madrid, while also helping to offset the loss of long-term partner LATAM Airlines in the Europe-Latin America market.
In March, IAG struck a provisional agreement with Volotea aimed at allaying competition concerns under which the Barcelona-headquartered airline would open up to four bases in Spain in order to pick up routes through slots transferred from either Iberia or Air Europa.
But the coronavirus crisis has brought a new dimension to planned mergers and acquisitions in the airline sector, notably around value and resources.
IAG is now reported in the Spanish media to be renegotiating the price for Air Europa. IAG is not commenting on these reports.
The other major airline acquisition currently in play took a hit at the end of March when Canada's competition regulator stepped in to flag concerns over the planned takeover of leisure group Transat by Air Canada. It argued the tie-up could be detrimental to Canadian travellers going to sun destinations as well as to Europe.
Transport Canada is due to complete its public interest assessment by 2 May, and make a recommendation to the country's transport ministry on whether or not the transaction should be completed.
But while the Canadian merger remains in the hands of the regulators, two other acquisitions have been taken out of play as a result of the crisis.
Early in April, PGL, the parent of LOT Polish Airlines, withdrew from its planned acquisition of German leisure carrier Condor. While it did not disclose a reason for the decision, the impact of the coronavirus crisis is the most obvious change to the market in the three months since the deal was announced.
Meanwhile, plans for a merger between European regional carriers Air Nostrum and CityJet - first struck in the summer of 2018 - are now in limbo. While CityJet had reported progress in completing the merger, that now has been put on hold by the crisis.
The Irish wet-lease carrier has entered a formal restructuring process to ride out the crisis, though its chief executive Pat Byrne is quoted in the Irish media as hoping to revive the merger post crisis.
How does crisis impact acquisition thinking?
Further consolidation, especially amid tough economic conditions in which airlines look likely to struggle, seems inevitable. But it remains to be seen to what extent airlines will have the appetite, bandwidth or capital for acquisitions, or whether consolidation will occur largely through airline failures.
"The reality is that the market has fundamentally changed and previous strategies have been torn up where the only real focus now is on survival and getting access to enough liquidity to support an irreducible minimum of activity whilst retaining the ability to recover, albeit slowly," says CTAIRA analyst Chris Tarry.
He says the reasons why airlines consider acquisitions are typically around strengthening or protecting a market position, gaining access to additional capacity - which is clearly not needed now - or to acquire a lower-cost operation or a management team.
"The issue then is over value and price. And now value is even more uncertain, if any is perceived to be there," says Tarry. While he notes there may be some "bargain-basement opportunities", airlines need to have the managerial capacity to take on the project - something which is limited at the best of times, let alone now.
"The focus is now on survival and access to what I call survival capital and then onto how it might recover and then to slightly longer-term issues," he adds.
Tarry points to several potential constraints to acquisitions, ranging from mismatches between buyers and sellers on price, mangagement's ability to focus beyond the business, and the time horizon they are able to work to.
"[There is also] the risk of importing even more issues to resolve," he adds, noting there is "no point in acquiring a weak business" at a time where most airlines are now financially weak and the outlook is uncertain. "Airlines might be able to pick up the bits they want when businesses fail, subject to ownership, control and related issues," he adds.
Tarry also flags, noting as has happened in other sectors, that some state-backed airlines with a longer view and supported by their governments may take larger stakes in quoted airlines, given the depressed prices.