Airline industry association IATA is calling on Latin American governments to harmonise plans to eventually restart air service and reopen borders, saying an uncoordinated effort will hinder the sector's recovery.
IATA, which represents 290 airlines or about 82% of total air traffic worldwide, says it has reached out to governments across the continent, appealing for support and for synchronised measures for reopening widespread air travel in the coming months.
"We are working with the governments to ensure that the restarts are well-coordinated, and aligned, and that the communications are clear," says Peter Cerda, IATA's regional vice-president for the Americas on 16 April. "This will be fundamental if we are to encourage consumers to come back to flying, which will be a challenge at the beginning."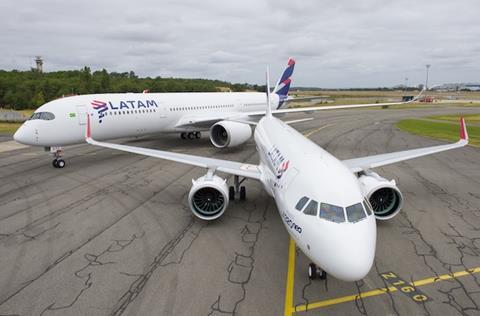 Aviation has basically come to a standstill, he adds, saying about 80% of air traffic has come to a stop in a region where, due to vast distances between population centers and the dearth of ground-based infrastructure networks, the industry is an essential part of everyday life and the economic well-being of the countries.
"The industry has a huge direct and indirect impact on many walks of life. It's not about the financial bailout of airlines, it's about helping the industry – airlines, airports, agents, anyone within the supply chain," he says. "The implications are enormous in this region."
The aviation sector employs about 7.2 million people in Latin America and adds about $167 billion to the continent's annual gross domestic product, IATA says.
Argentina, Peru, Panama and Mexico are four of the most-important Latin American aviation markets where IATA is awaiting responses to requests for information as to how those governments intend to restart the aviation industries there.
IATA estimates the negative financial impact of the coronavirus on Latin American passenger airlines' revenue will exceed $18 billion, equalling a revenue decline of 49% from 2019.
"This will have varying impact per country, and short-term liquidity is becoming the biggest challenge for the industry," Cerda says. Recovery, he adds, will be "U-shaped", rather than "V-shaped", meaning it will take longer than initially hoped, and longer than after the SARS or H1N1 pandemics in the past two decades. But Cerda says each country implementing its own health standards would "create havoc" across the region.
The region's largest airline, Santiago, Chile-based LATAM, slashed about 95% of all of its flights in early April, citing border closures and less demand. Government restrictions will continue to force LATAM to suspend operations of affiliates in Peru, Argentina, Colombia and Ecuador.
Argentina has largely stopped flying across the country and internationally, while Brazil has set up a plan to maintain essential air services that guarantees all 27 state capitals and 19 other large cities remain accessible by air during the crisis.
What challenges are airlines facing through coronavirus grounding by region
1

2

3

4

5

6

Currently reading

IATA appeals to Latin American governments for coordination

7

8