Airlines have been at the sharp end of coronavirus crisis as air travel markets locked down, but the bigger challenge is in how quickly and effectively they reopen. IATA chief executive Alexandre de Juniac believes implementing common standards will be key in global efforts to restore confidence in safe air travel.
By the middle of March the sheer scale of the crisis facing the airline industry from the coronavirus pandemic had become clear to all.
Any hopes the disease could be contained to markets where the virus had already spread, as to a large extent had been the case with the SARS and MERS outbreaks, vanished.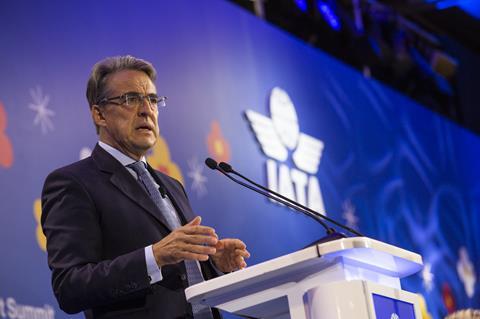 "In February, we started to understand that it could be something very tough, when we saw that China was closing its border, that airlines were cancelling their flights to and from China," IATA director general Alexandre de Juniac tells FlightGlobal. "We came to a better understanding of the order of magnitude in the first half of March."
That magnitude is a three-month virtual grounding of scheduled international passenger travel, the wiping out of profits and reserves built up during the industry's most profitable decade, huge government financial interventions and the prospect of a long climb over the next three years to simply get back to pre-crisis levels of activity.
IATA, and de Juniac, have been at the centre of the advocacy and communication efforts for an industry not only in desperate need of support to survive the crisis, but for clarity around how air travel services can safely resume.
"The impact on the airline business has been immediate and obvious. So when we advocated in favour of government support….we faced a very open attitude very quickly," says de Juniac of the period as states began locking down.
"The advocacy part has been tough – because the number of governments we approached has been more than 100 – but the result has been pretty satisfactory and quick. It's not finished. We still need financial support to bridge the gap, to cope with the consequences of the crisis, but I cannot complain about the reactivity of the states."
That has included urging governments and regulators to step in to ease the financial burden on cash-strapped carriers, either through direct financial aid or by easing the requirements on operators by, for example, alleviating 'use it or lose it' slots rules.
During the crisis airlines have continued to operate repatriation flights, and increasingly, cargo operations. "It was not difficult to convince the governments to facilitate the cargo [operations] because the importance of cargo appeared immediately, firstly in the fight against Covid-19, by transporting medical equipment, and [in] avoiding disrupting the supply chain for industry has also been absolutely obvious."
But even as airlines were adapting to the challenges of grounding of the vast majority of passenger services, attention was quickly focusing on the work ahead in restoring networks.
"I find the second part [of the crisis] more difficult than the first one," says de Juniac "The first part was huge, in terms of workload, but we had a very open attitude from government. To restart, it's more difficult."
That in part is because the crisis remains a moving target. One major factor is the uncertainties that still remain in understanding the virus, its spread and measures for its migration. Likewise the different pace of the outbreak and its containment around the world is another complication. "The discrepancy between the world regions is a difficulty," says De Juniac.
He also flags the need for co-ordination in the lifting of borders and travel restrictions. "What can be done unilaterally when you close cannot be done unilaterally when you open. It needs co-ordination and that is not always easy," he says.
"We need to restore passenger and government confidence [in safe travel] . When you take into account the uncertainties – and the psychology – it's clear the combination of all these elements is an additional difficulty. It's not only hard facts or pure science – you still have areas of uncertainties."
Guidelines key to restoring confidence
De Juniac sees the guidelines drawn up under the auspices of ICAO as crucial to securing that confidence in the safe resumption of air travel.
At the end of April ICAO established an aviation recovery task force (CART) featuring input from air transport, government and health organisations. By the start of June it had delivered wide-ranging recommendations aimed at supporting the safe re-introduction of air travel.
"We made a detailed proposal in CART –and were a member of CART – we were drafting part of the documents on behalf of the CART members, so we have been very, very active, we have not been a passive observer," explains de Juniac.
"We are not the only ones, some governments have been very active, our colleagues from the airports [sector] ACI have been very active, but we have been a dynamic engine in this group. And the outcome of this group is pretty close to the what we originally proposed, so we fully support.
He says IATA's 'day-to-day job' is now to push for governments, airlines and airports to implement the measures.
"It's going well. We had a long journey. In May when governments and airlines started to implement some ideas to secure safe travel, we saw a lot of different approaches, not always converging to something that we thought was realistic and safe. But now I see an alignment from governments – not always, we still have some difficulties – but I'm pretty optimistic."
Some of the highest-profile challenges have been in quarantine measures that various governments have implemented, such as those in the UK, Spain and several countries in Asia.
"The quarantine measures are for us something that is a major obstacle for the restart of air travel. If you want to stop air travel, you implement quarantines," he says.
"We are trying to convince them [the states] they should give up these measures, provided they implement the CART system. We understand we have a way to go, because some states are not totally convinced to do that, that's the reason why we are pushing to have something around the testing."
IATA in mid-June outlined its view on the key criteria required for testing to be an be an effective part of the travel process.
"We think testing could be a good solution to avoid the quarantine," de Juniac says. "We don't have a testing system that is fast enough, reliable enough, scaleable, comfortable to be used massively yet. But as soon as we have it, and it's probably a matter of weeks or months, that could be implemented in the states that would like to cancel the quarantine measures, but would like to adopt something as an additional precaution."
Even where restrictions are lifted, states will remain wary of the risk of importing cases into the country. "They want to be sure they do not re-import the virus," says de Juniac, this quickly became evident in China - one of the first countries to re-open after the pandemic.
"Already in April, they had no more cases except imported cases, that were coming partly through air travel – through repatriation of their nationals. So they very quickly took some limitation measures that were pretty strict to avoid the importing of the virus.
"So we had this signal very early, and it convinced us that one of the keys to unlock the restart of air travel was to reach an agreement among the states about the sanitary check and health control protocols."
When will passenger demand return?
While government support to reopen markets is a pre-requisite for restoring air travel, reviving the motivation and desire from passengers to travel is also key. Crucial to this is tackling passenger perception of the risk of air travel.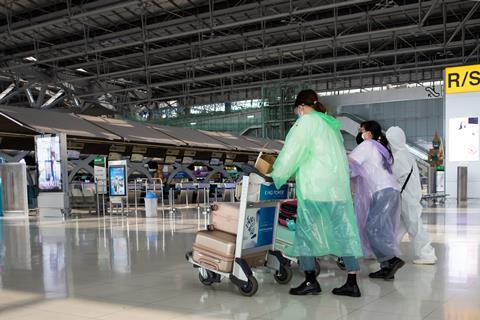 IATA's own analysis carried out in June showed a more cautious approach from the public to returning to travel than had been the case two months earlier. Only 45% of travellers surveyed intend to return to the skies within a few months of the pandemic subsiding - compared with 61% that in April had said that they would.
One of the most high-profile concepts in early stages of talk of the restoration of airline services was of leaving middle seats free. Whilst debatable whether this would meet social distancing requirements anyway, it more crucially illustrated the psychological hurdle to overcome in passengers being comfortable boarding full flights.
Airlines had quickly dismissed the practicalities of such a policy, which would move most flights below breakeven load factors at a stroke, and the CART guidelines ruled out such a requirement – though advising carriers to allow for separated seating arrangements when occupancy allows.
"It has been very visible," acknowledges de Juniac of the idea. But he adds: "I think we have convinced a lot of people – starting with governments, civil aviation, health authorities - that if we implement the multi-layer approach that has been developed under CART, it was not mandatory to neutralise the seat, and I think it's pretty convincing. But we have to implement strictly the protocol that has been designed in CART."
Radical changes in work practices adopted during lockdown also seem certain to temper demand, particularly for business travel.
"You have the perception that perhaps travel could be less 'necessary' in some areas, particularly business travel," says de Juniac. "People have discovered it was easy to work from home or telework – so the need for having physical meetings, and consequently travel, is perhaps slightly less present.
"You have also the big events that you would participate in have been cancelled and people are pretty uncomfortable when they have to participate in these types of event. So some motivations for travel have changed, They will come back, but it will at least take time."
"I think for VFR, leisure and tourist destinations, there is still a strong appetite to fly. The business part is the slightly more uncertain. Many companies have cut their travel budgets, it could have an impact on the business travel."
Air travel demand will take years to recover
But the combination of the work to be done to make air travel safe and attractive again, combined with the economic fallout of the crisis, has left little doubt of how much ground the industry has to make up.
Passenger traffic this year is expected to be almost 50% down on 2019 and the industry's record profit run will come crashing to an end; IATA is forecasting net losses of more than $100 billion over this next and year.
"We should catch up with the historical trends by 2022 or 2023, so still a long way to go. It's two and a half years, only to go back to the previous situation. And I have seen a lot of comments about that, that we were pretty optimistic - [though] I think we are realistic."
De Juniac says the main risk to is a second wave of the pandemic - something IATA has not specifically factored into its outlook - and "the wrong policy to fight against this kind of disaster".
Given the bulk of airlines make their money during the northern summer season, this leaves airlines facing a potentially very challenging winter ahead and IATA continues to call on governments to provide relief measures.
"It's a bit difficult to say," de Juniac states about how bad the winter could be for airlines. "If there is no second wave, if demand comes back, if passengers are confident – we will see the traffic picking up. The point is we will be below the 2019 figures significantly, that's the reason we have asked to extend the waiver on slots, so as not to put too many constraints on airlines that this winter - even if the situation improves - will still be very far down."
And uncertainty seems sure to continue, with the evolution of Covid-19 still unknown. De Juniac notes, as happened with SARS and MERS, the virus could fade away. "You also have the opposite, a second or third wave, that is the most worrisome hypothesis.
"Then you have the possibility, that is also very credible, that we will have to live with a virus that is more or less active in some parts of the world. Then the more precautions we take, the more accurate the checks we implement, the better it will be for the travel industry and air travel in general.
"If there is a vaccine, then the question is behind us. If there is no vaccine, I think we will have to implement probably a border-testing system, but it supposes that the testing system is ready – otherwise it's not realistic."
The industry will be hoping for more certainty – and a positive outlook – by the time IATA holds its rescheduled 2020 AGM. That was originally due to take place this month in Amsterdam, but IATA rescheduled it for November – notably signalling its intent to hold it as a physical meeting.
"We are an industry of travel. If our AGM is not a physical meeting based on gathering people from around the world, it would be a bit strange considering what we are working for," says de Juniac. "We hope that in November the situation will be safe enough and clear enough to have a successful AGM. It sends a message, an optimistic message."

Based in London, Graham has been with FlightGlobal for over 20 years predominantly working across its online news platforms and Airline Business. With a focus on developments across the airline industry as a whole, and within Europe in particular, Graham has also edited FlightGlobal daily papers from events such as the IATA AGM, moderates industry panels and co-presents the Airline Business podcast.
View full Profile