Brian Pearce's final IATA media briefing as the association's chief economist saw him provide a relatively positive industry outlook, after a year in which he had become accustomed to delivering unimaginably bleak news about airline fortunes amid the Covid-19 pandemic.
Indeed, as recently as 21 April, Pearce outlined an IATA forecast that the industry would lose $47.7 billion this year, and that estimated airline losses during 2020 had risen from $118 billion to $126 billion.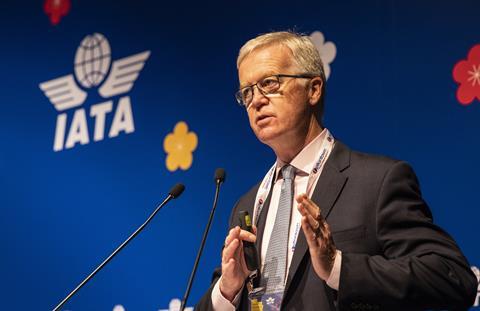 Those figures and many of the related challenges still loom large, but during his final presentation to the media with IATA, Pearce explained why the recovery – when it happens – might surprise on the upside, albeit from a crisis that is still "obviously exceptional in its depth and possibly its duration".
As someone who has been poring over the global industry's economic fortunes since he joined IATA in 2004, Pearce's words carry much authority and will be missed by many airline stakeholders when he retires from the association in July – particularly when they are as reassuring as his comments on 26 May.
"I'm actually going to present a relatively optimistic view of the future," Pearce says. "The lessons from the past, when we've had a demand-side shock, for instance from SARS, from the [1991] global recession, the [2001] terrorist attacks or the [2009] Great Recession, they have eventually seen a full recovery, within 18 months."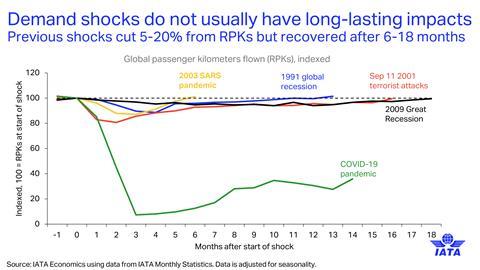 IATA's optimistic take is that the recovery from the current crisis might not differ greatly from that seen with others: V-shaped and speedy, when it finally kicks in.
"It is the travel restrictions that are really, in our view, the only thing in the way of a substantial, fairly quick, rebound of air travel, of the sort of shape that we've seen in the broader economy," Pearce states.
"In the wider economy, certainly in terms of the level of output, there doesn't appear to have been a substantial amount of damage" from the crisis, he observes, citing the positive impact this has had on the airline industry's one bright spot over the past 16 months: cargo demand.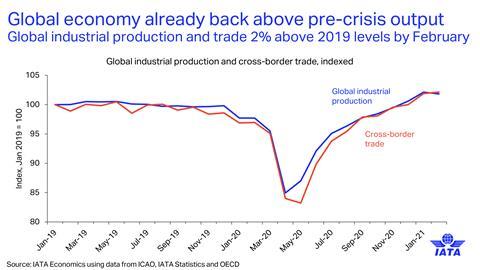 That positive picture for the wider economy, "adds to arguments that there really is pent-up demand for air travel", Pearce says, while also citing booking trends seen in the UK, for example, when the country recently opened up a few markets to non-essential travel.
"Now vaccination is being rolled out, this really should allow international air travel markets to open up more fully," he suggests.
That opening up will be a "staged approach", Pearce states. "We need to wait for governments to lower those travel barriers, which in turn will be dependent on vaccine roll-outs as well as getting… testing regimes in place."
In markets with high levels of vaccination, such as the USA and the UK, "that happens by the summer", and in continental Europe, "by the autumn". In emerging markets, "it will take longer, perhaps not until 2022, maybe in some cases later".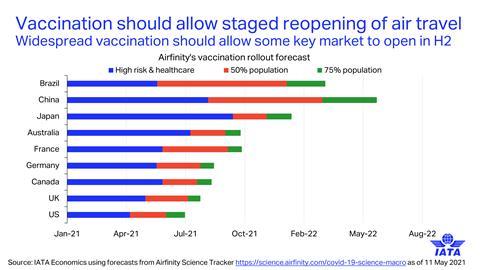 Around the world, domestic markets are coming back first, particularly "the big ones in China and the US", which might see numbers consistently "in excess of pre-crisis levels" later this year. Even Brazil, "which is struggling with a variant of the virus", is expected to see a "full recovery" in its domestic market next year.
Business travel may take longer to come back and there are going to be differences by region, but leisure and VFR traffic should bounce back strongly when they are able to, he predicts.
The world is therefore on the right path. Fundamentally, "the Covid shock is not a supply-side damaging shock", he states. At the same time, airline unit costs have ticked up slightly as a result of the crisis, but "not sufficient to undo the enormous wider economic benefits, as well as the benefits to users" of decades of game-changing industry developments that have driven down the cost of flying.
And, aiding the short-term recovery, data shows that consumers in many key airline markets have built their savings during the crisis, raising the prospect of a travel spending-spree when restrictions allow.
Taking these factors into account, IATA expects full-year 2021 passenger numbers to be 52% of pre-Covid levels, rising to 88% in 2022. In 2023, it expects passenger numbers to be 105% of 2019 levels.
Of course, as Pearce acknowledges, a recovery is difficult to forecast and different metrics tell different stories.
He might have been departing on a less-positive note should this briefing have focused on airline cash burn, for example, or solely on the slower return of long-haul flying, which means the recovery measured in revenue passenger kilometre terms is unlikely to be as rapid.
And much hinges on how quickly governments relax travel restrictions and put the infrastructure and processes in place to manage proof of vaccination and/or Covid-19 testing.
But by using passenger numbers as the headline measure, Pearce could at least demonstrate that air travel demand – which will underpin the first stages of the recovery, and the medium-to-long-term success or otherwise of the vast majority of carriers – has not been structurally knocked off course by Covid-19.
"The effects in the long term are not going to be perhaps as bad as people fear," he states.
In Pearce's view, "the long-term impact is that we've lost two to three years of growth", but strong growth traffic growth will return, with pre-crisis assumptions about the medium-to-long-term shape of the industry still holding up.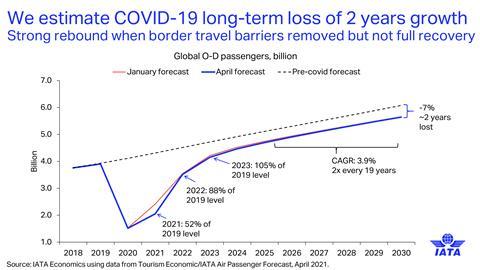 "We would expect Asia-Pacific to be by far the strongest-growing region, followed by Africa and the Middle East," Pearce states of the industry over the next 20 years.
"This pattern of growth – strong in Asia-Pacific, less so in the mature markets of the West… will see the centre of gravity of the global industry" shift towards the former, in Pearce's view.
That is all some way off. Today, most industry stakeholders will take great comfort from Pearce's parting words to the world's aviation media: "Once those travel barriers come down, we will see a fairly rapid snap-back."