With the group restructured during the pandemic, Icelandair under Bogi Nils Bogason is emerging as a streamlined, aviation-focused business with a decision ahead on its future fleet
One year ago, Icelandair was experiencing what chief executive Bogi Nils Bogason described as a "meaningful increase" in the carrier's flight schedule, as it emerged from the worst of the Covid-19 pandemic.
"The ramp-up has started," he said in July 2021, when looking back on the second quarter.
The second quarter of this year is proving equally pivotal.
In common with many of its European peers, Icelandair is looking forward to strong demand during the summer season as Covid restrictions fall away – while keeping a close watch on other external factors, such as the impacts of the war in Ukraine.
The airline has been rebuilding its network since summer 2021, Bogason tells FlightGlobal during an early April interview, seeing capacity rise from 50% of pre-pandemic levels in the third quarter of last year, to around 85% in summer 2022 – via a blip in the first quarter when the Omicron variant of Covid-19 impacted demand.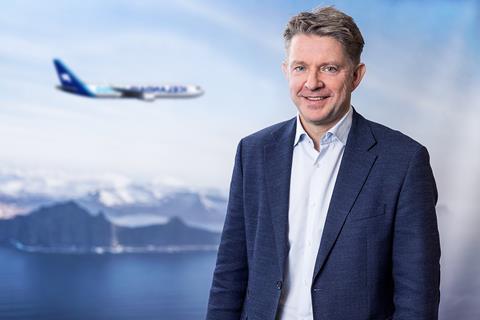 The carrier has since reported that it moved back to 58% of pre-crisis capacity in the first quarter, and foresees reaching 77% in the second quarter and hitting the 85% mark in the third.
"We divide our markets into to, from, via and within Iceland," Bogason says. "Since the middle of January, the booking flow has been very strong in all our markets.
"The market to Iceland is particularly strong and we are seeing high demand to visit the country."
The summer schedule will see Icelandair serving 17 destinations in North America and 24 in Europe, with 30 mainline aircraft.
"Pre-Covid, our biggest fleet in the passenger network was a total of 36 aircraft, so we are getting closer," Bogason says.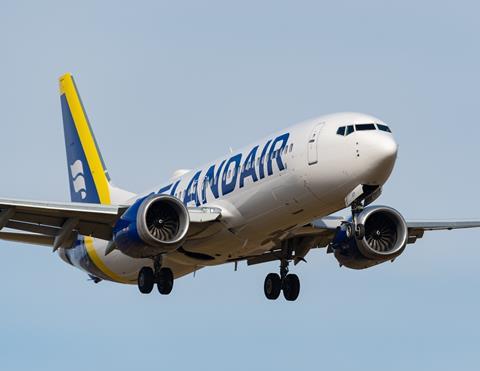 But as it heads towards pre-Covid levels of activity, Icelandair Group is a changed entity, despite going into the Covid-19 crisis in what Bogason describes as "a strong position, with a strong balance sheet, strong liquidity, strong equity ratio".
The severity of the downturn meant that like many of its peers, the group had to "restructure our balance sheet and we needed to renegotiate with most of our stakeholders", Bogason explains, including "lessors, aircraft financers, our unions". Furthermore, some 2,000 staff were let go in April 2020.
"The biggest challenge and the toughest part [of the crisis] was that we had no choice but to lay off a large part of our employees in the spring of 2020," Bogason recalls, expressing his relief that many have since been hired again. "We have a unique team of great employees and they are the heart of our company."
Tough negotiations with unions eventually bore fruit.
"We now have long-term agreements with all the three large unions – aircraft maintenance technicians, cabin crew and pilots," Bogason states.
A crucial equity raise followed later in 2020.
Furthermore, the business has been streamlined via a deal to sell the group's shareholding in tourism operator Iceland Travel in April 2021 – continuing a business simplification effort that Bogason had introduced pre-Covid.
AVIATION FOCUS
"We changed our strategy," Bogason explains. "Previously, Icelandair Group was a conglomerate in the tourism industry in Iceland. But we have divested our hotel company and our travel agency that focused on trips to Iceland, so now we are just focusing on being an airline and our aviation-related services, such as our leasing arm and cargo operations."
The leasing arm retains its importance when it comes to handling the seasonal demand peaks and troughs, while cargo has grown in strategic importance during the pandemic.
In another development, regional carrier Air Iceland Connect – and its fleet of De Havilland Canada Dash 8s – has been subsumed into the Icelandair brand.
And towards the end of 2021, the group said it was splitting its commercial operation into two divisions – focused on customers and revenue.
The revenue division comprises the network, revenue management and sales functions in a single branch, and is led by Tomas Ingason, who previously worked as director of revenue management at Icelandair between 2006 and 2010, and had a spell as chief commercial officer of Wow Air.
The customer division concentrates on fostering a "customer-centric focus" to strengthen the Icelandair brand.
In January this year, Sylvia Olafsdottir was appointed chief customer officer and Rakel Ottarsdottir as chief digital officer of the group.
The new structure is intended to support an "ambitious" strategy of digital transformation and sustainable growth.
"We live in a changed world as we continue on the path to recovery and where the importance to ensure a sustainable future is paramount," says Bogason.
Indeed, having "turned over every stone" and focused on "a lot of efficiencies", Keflavík International airport-based Icelandair is now emerging from the pandemic on a stronger financial footing and with a "simpler business model", Bogason says.
Today, there is evidence that the restructuring work is paying off for a carrier that continues to straddle the low-cost and full-service business models.
CREDIT FACILITY
In February, the group was able to exit a government-guaranteed credit facility worth up to $120 million that had been in place to support the company since September 2020.
"That was part of the restructuring and it was necessary when we did the equity raise in the autumn of 2020, because we were selling new shares to investors in uncertain times," Bogason says. "So we needed a long runway, and the credit line that the government guaranteed was very important to secure our future operations.
"We announced the termination of the government-backed facility earlier this year almost eight months ahead of schedule and without ever having had to draw on it. Our balance sheet is strong, as well as our liquidity position."
With its finances secure, Icelandair is planning for the future with one eye on an aircraft order.
Some 14 of the 30 mainline aircraft it has in service this summer – not including five Dash 8s from the regional operation – will be Boeing 737 Max jets, Icelandair having taken a mixture of Max 8s and 9s so far.
"Our current fleet serves the needs of our network very well, so in the short term, the next two to three years, the growth will come from aircraft types that we are operating today – 737 Max most likely – and we will keep phasing out the 757s," Bogason explains in reference to the dozen or so examples of the ageing Boeing type operated by the carrier.
It is "likely" that 2026 will be the final operating year for 757s on Icelandair's passenger network, he states.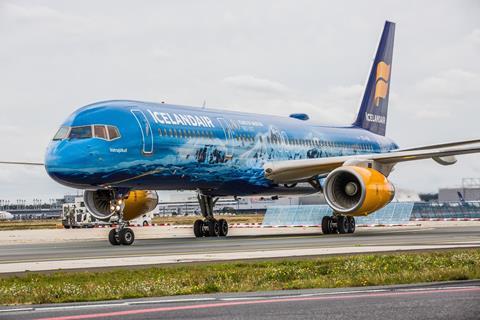 When it comes to replacing those jets, "we have a few options" and "that's a very good position to be in", Bogason says.
He suggests that one option under consideration is for the carrier to take more Max jets, continue with its 767s and eventually take 787s.
"The Max has been performing very well regarding fuel-efficiency, range and we have had positive feedback from our customers," Bogason says. "All in all, the experience so far has been very good and we are adding more Max aircraft to our fleet."
In common with other operators of the troubled Boeing type, Icelandair saw little reticence among its passengers when the Max was returned to service last year.
"We were expecting some hesitance when we reintroduced the aircraft into our fleet a year ago but in general customers have received the aircraft very well and the reintroduction was much smoother than we expected," Bogason says.
Nevertheless, he acknowledges that Icelandair's future fleet does not necessarily need to be a Boeing-focused one.
"Also, we could start to transition into an Airbus fleet," he says. "Both options are open to us."
Bogason has previously said that long-range versions of the A321neo are "definitely an option" for the carrier.
Operating a largely narrowbody fleet gives Icelandair some sustainability advantages over widebody-flying peers, Bogason insists.
"We are sure that we have a robust business model on the transatlantic market that could also create future opportunities when it comes to sustainability," he states.
ALTERNATIVE OFFERING
Whichever aircraft family wins out, the fleet is likely to support Icelandair's continued strategic focus on providing an alternative to the more-traditional transatlantic services offered by the network carriers in North America and Europe.
"In a normal year, pre-Covid, transatlantic or via-[-Iceland] passengers were about 50% of the total," Bogason states.
"Around 35% to 38% were passengers coming to Iceland and 12% to 14% were Icelanders going abroad.
"Going forward we believe we will see a similar mix," he adds, with the current overrepresentation of the tourism market in its passenger mix expected to abate as transatlantic travel reverts to pre-Covid demand patterns.
Iceland's small population of around 360,000 people means that business travel has never been a crucial part of that passenger mix, making any post-pandemic structural changes to that market of little concern to Icelandair.
"We are not very dependent on business travel," Bogason says. "We are more of a leisure carrier."
Away from the passenger side of the business, cargo has been an important income stream during the pandemic – "generating very important revenues during tough times" – and is likely to have grown in importance to the group in the longer term, Bogason suggests. That is reflected the group's plans for its fleet.
"In the past, we were mostly using the belly space on the passenger fleets," Bogason explains. "Two-thirds of cargo was transported in the belly space pre-Covid, but when the passenger network was in hiatus, we started to utilise more dedicated freighters – we have two 757 freighters – and we also temporarily converted some of the 767 passenger fleet into cargo aircraft.
"We are now investing in more capacity in that respect," Bogason states. "We are currently converting two 767s into freighters, so we are growing that part of our business."
The ambition, he continues, is to "strengthen Iceland as an air freight hub".
Among the markets driving freight demand, "we are exporting a lot of fresh fish from Iceland to north America and Europe", Bogason says. "The salmon farming industry is also growing fast in Iceland and that will require capacity to export their product fresh to various markets."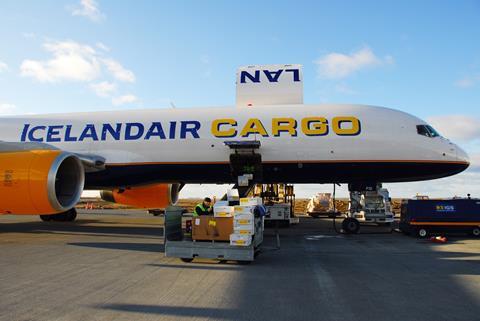 But Icelandair is not alone in having ambitions on the passenger and cargo sides of the business in its home country and beyond.
"We are, as always, operating in a very competitive environment," Bogason observes. "This summer we will have about 25 airlines flying to and from Iceland. For the whole year, probably about 15 airlines. We are competing with most of the big carriers in Europe and North America."
WOW SUCCESSOR
Notably, Icelandair also faces new local competition in the shape of low-cost carrier Play – which emerged last year as a successor to the defunct Wow Air. At one stage, Icelandair was in the market to purchase Wow, which also came close to selling a large stake to William Franke's Indigo Partners. It was the collapse of talks with Icelandair that ultimately sealed Wow's fate in March 2019.
Play – which insists it will not repeat the strategic missteps that derailed Wow – launched its first US flights in mid-April, having begun operations with services between Iceland and Europe.
"We just have to stay on our toes and focus on our operations and exceed the expectations of our customers at all times," Bogason says.
Amid that competitive dynamic, the question of when Icelandair can achieve sustained profitability is a tough one to answer, Bogason notes, particularly in light of the exacerbated fuel-cost challenges that are a consequence of the Russia-Ukraine war. Pre-pandemic, Icelandair had a fuel-hedging policy "where we hedged up to 40-60% of the 12 months ahead", but when Covid struck, "we put that policy on hold", he says.
Nevertheless, with Icelandair's network not directly affected by the Ukraine conflict, Bogason is confident the carrier is on the right path.
"When we published our annual accounts at the beginning of February this year, we reported to the market that our goal was to be profitable this year and we discussed our assumptions at that time on fuel price," Bogason states. "A lot has changed since then… but we are still optimistic for the year."