Three major themes will shape India's airline sector this year: vaccinations, a battle for survival at India's smaller carriers, and consolidation.
As with airlines everywhere, 2020 is a year India's airlines would rather forget. Given the disruption wrought by Covid-19, domestic traffic stands at roughly 270,000 passengers daily, down from 400,000 daily in 2019, and high-yielding business traffic has yet to return. Moreover, international traffic has all but completely collapsed.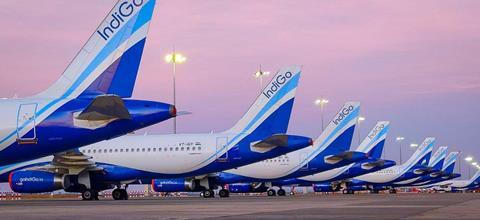 The new year, however, holds out the promise of a continued recovery in domestic traffic, and may just set the stage for longer term profitability in the sector. Smaller players, though, will have their work cut out for them.
Government regulators continue to play a hands on role. At present carriers are still only allowed to operate 80% of their pre-Covid capacity. This has been steadily ratcheted up since mid-2020, and analysts expect the cap to be eliminated in the coming months. New Delhi has has also set a band for fares.
Analysts believe the capacity restrictions and price band are designed to prevent stronger carriers from sharply undercutting the market and knocking out weaker competitors.
Losses have been significant across the board. The country's leading carrier, IndiGo, swung to an operational loss of Rs11.9 billion ($163 million) for the second quarter of its 2021 financial year ended 30 September. Revenues slumped 65%.
Its smaller rival SpiceJet suffered an operating loss of Rs1.06 billion for the same quarter, but this was actually an improvement over its operating loss of the Rs4.6 billion for the same period the previous year. The airline attributed the improved result to its push into cargo, although revenues for the quarter were down 62% year on year.
After SpiceJet's results, HSBC opined that even though the carrier has liquidity issues and its balance sheet is weak, the second quarter result was much better than expected. This has provided much needed breathing space for the struggling carrier. HSBC added that support from lessors and compensation related to the Boeing 737 Max have been a boon for SpiceJet.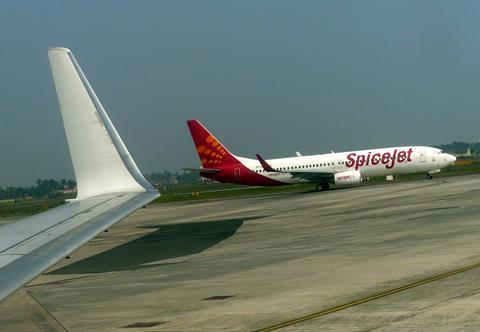 Unlisted carriers also appear to be having a tough time. In its results for the quarter ended 30 September, Singapore Airlines disclosed that Vistara – its joint venture with India's Tata Sons – was operating only 55% of pre-Covid-19 domestic capacity, with load factors of 60%.
Meanwhile, New Delhi finally seems serious about selling the perennially loss-making Air India. Given its failure to elicit much interest in the troubled carrier in previous years, it has eased the terms of the sale, namely its previous condition that the buyer assume all of Air India's massive debt of Rs230 billion.
Bidders can now make an offer for the carrier and select the amount of debt the want to assume – ie bidding for an enterprise value comprised of equity and debt. New Delhi has also forgone its desire of retaining a 24% stake. In years past, the idea of having the Indian government as a partner put off even the boldest of potential bidders.
Tata Sons, the original founder of Air India, is seen as the leading candidate to obtain the state-owned carrier. In addition to this potential deal, it also recently boosted its share in AirAsia India to 83.67% by obtaining a 32.7% stake from Malaysian low-cost carrier Air Asia for $37.7 million. AirAsia is sellling the stake of efforts to raise fresh capital and to focus on its core ASEAN markets.
As 2021 gets underway, vaccines, the fate of smaller carriers, and consolidation are likely to be the three big themes.
VACCINATIONS KEY TO INDIAN RECOVERY
With a population of nearly 1.4 billion, vaccinating the entire country will be a Herculean task, with the effort to start in the coming days. Airlines are playing a key role in distribution of two vaccines, one from AstraZeneca and the other locally produced.
Ambit Capital analyst Varun Ginodia notes that people are willing to fly even though vaccinations have yet to commence.
"India is a big, spread out country that is very heterogeneous," he says. "Vaccinating everyone will be a long process and it's not going to be done quickly. The immediate impact of vaccination will be more from the confidence and sentiment perspective."
Far more critical for India's airlines, he believes, will be government's eventual lifting of the 80% capacity cap. Even then, though, it may take until end of 2021 for demand to return to pre Covid-19 levels.
Ansuman Deb of ICICI Securities believes that for air traffic to fully recover, it will require a reboot of business travel. Up until now, India's traffic recovery has relied mainly on lower-yielding leisure travel.
AIRLINES FACE SURVIVAL BATTLE
India's airline market is notorious for cutthroat competition and losses, underpinned by an irrational competitor in the form of state-backed Air India. IndiGo has been the stand out performer in terms of profitable growth. Others have largely struggled.
While the collapse of the country's second largest carrier Jet Airways two years ago eased some of the capacity pressure and created fresh opportunities for Indian carriers, the pandemic pushed the sector back into crisis mode.
Carriers with scale, strong backing, or both such as IndiGo, Air India, AirAsia India, and Vistara should be able to weather the crisis – albeit with some battle damage.
Analysts, however, question the viability of smaller carriers, namely SpiceJet and GoAir. Statistics from the Directorate General of Civil Aviation show that in November 2020 SpiceJet accounted for just 13.2% of passenger market share, and GoAir 9.1%. This compares with 53.9% for IndiGo. AirAsia India and Vistara, both of whom are backed by the deep pocketed Tata Group, account for 6.6% and 6.3%, respectively.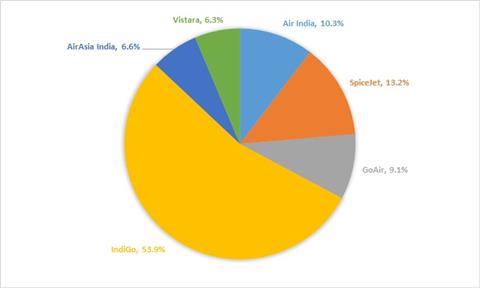 ICICI's Deb notes that both SpiceJet and GoAir have liquidity challenges, and banks could be unwilling to extend much in the way of credit. Both carriers also have the typical vendor payments that accompany running an airline, especially to lessors.
Cirium fleets data shows that GoAir has 57 in-service or stored Airbus A320s, every one of which is leased. SpiceJet has 102 aircraft, mainly Boeing 737NGs and De Havilland Dash 8 Q400s. Apart from 13 Q400s it manages directly, the balance of its fleet is leased.
One market observer notes that lessors were forgiving about late lease payments in 2020 given that there was no market for repossessed aircraft. Should domestic markets globally start to rebound in 2021, creating more demand for valuable narrowbodies, airlines with less financial heft – both in India and globally - could find that lessors are less inclined to let payments slide.
IS THERE CONSOLIDATION TO COME?
It is impossible to discuss India's airline market in 2021 without the topic of consolidation coming up. In a sense this already started in late 2020, with Tata's move to boost its stake in AirAsia India.
The big question, however, is the fate of Air India. Tata Sons views Air India as its birth right, having originally established the carrier in 1946.
In January 2020, New Delhi said it was seeking expressions of interest for 100% of Air India and unit Air India Express, as well as 50% of the AISATS handling unit. This was a sharp reversal from 2017, when it offered only 76% of the flag carrier - and recieved no bidders.
New Delhi had intended to name shortlisted bidders earlier this month, but in late 2020 retreated from this plan. Instead it will work with qualified bidders privately, and gave no timelines for the process.
Tata's interest in Air India has long been reported, and analysts think the government's decision to back away from its more onerous bidding requirements will smooth the way for a deal. Even so, the process could take years.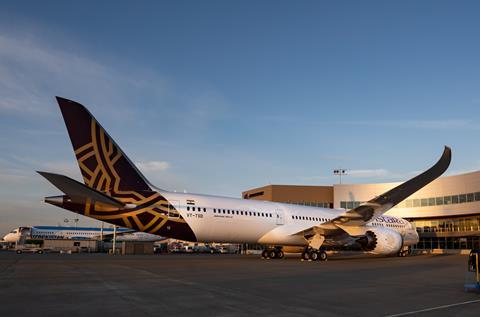 Ambit's Ginodia believes that should Tata acquire Air India, it will merge the flag carrier with Vistara, creating a large, premium carrier with significant scale and excellent routes and slots. In addition, it would merge AirAsia India and Air India Express, creating a single major low-cost unit to compete domestically and provide feed at key for international services at major hubs such as Delhi and Mumbai.
"In the next two to three years, I see three groups of airlines surviving," he says. "Number one will be IndiGo with a market share of 55%. Number two will be the Tata Group, with 20-25%, and number three will likely be SpiceJet."
ICICI's Ansuman adds, however, that there will be major integration challenges for Tata given the diverse cultures and histories of the various airlines that could end up in its stable. Yet, he feels that if anyone can get such a job done, it's Tata.
"Tata does not engage in short term stints," he says. "So, if they are committed to Air India I think they will be in it the for the long run."
The removal of an irrational player in addition to consolidation, could introduce a degree of fare rationality into the Indian market. In the mid to late 2020s, a consolidated, rational Indian airline market could, finally, become a profitable place to do business.

Greg Waldron is the Asia Managing Editor of FlightGlobal, responsible for the team's airline, aerospace, and defence coverage across the region. He has worked at the company since 2009. In the airline space, Waldron has conducted dozens of interviews with airline leaders in the Asia-Pacific. He also covers areas such as MRO and safety. On the defence beat, Waldron has written extensively about the rise of Chinese airpower, as well as broader airpower developments around the region, such as indigenous fighter programmes, and regional acquisitions of foreign equipment. In addition, Waldron writes about commercial helicopters in the region and business aviation. Waldron worked has a freelance journalist with his work appearing in several business publications.