While its striking light-blue livery, evoking the heritage of Italian sports team glories, marks a clear departure from the past, Alitalia successor carrier ITA Airways is set to follow a familiar path with a strategic link-up with Air France-KLM.
At the end of August, Italy's finance ministry revealed it is to begin exclusive negotiations with a consortium comprising Certares, Air France-KLM and Delta Air Lines to take control of ITA, less than a year since it began operations.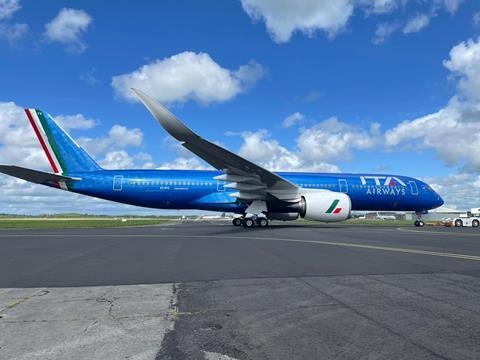 The consortium had faced competition in the form of a rival bid from Lufthansa and Swiss shipping firm MSC Group for a majority stake in the airline.
In opening exclusive talks with the Certares consortium, Italy's finance ministry said it deemed its offer as "more in line with the objectives" set by a prime ministerial decree in February covering the planned sale of ITA.
No details of the size of stake that could be sold have been disclosed, however.
New York private equity fund Certares will act as the equity partner in the consortium, with Air France-KLM and Delta Air Lines serving as commercial partners
"Should this operation be concluded, Air France-KLM would become a commercial and operational partner of the Italian airline, as part of the consortium led by Certares – Air France-KLM at this stage is not investing in ITA's capital structure," the Franco-Dutch carrier says. "However, Air France-KLM Group could consider in the medium term to take a minority stake in ITA."
Selection of Air France-KLM and Delta as commercial partners marks a continuity choice for both ITA and Italy's national carrier. Both airlines are existing partners of ITA – following on from their long-term collaboration with Alitalia – through their membership of the SkyTeam alliance.
Air France-KLM, in which Delta holds a small stake, also had a joint-venture agreement with Alitalia, and was a previous investor in the carrier at the time of its 2009 privatisation, before relinquishing its interest amid later recapitalisations and Alitalia's part-acquisition by Etihad. That in turn followed earlier co-operation between Air France and Alitalia, and an aborted merger plan for KLM and the Italian carrier before that.
History, though, also suggests no deal should be taken for granted, not least given the added complication that September elections will see a new government – and therefore owner of ITA – take office in Italy.
In the meantime, ITA, which launched flights in October 2021, is pressing ahead with ramping up its operations. Having started the year with 52 aircraft, ITA expects to end 2022 with 76 in service, boosted by two new types. The carrier's first four A220s are due to arrive in October – it has both variants of the narrowbody on order – followed by its first A320neo in November.
Having introduced its first A350-900 earlier in 2022, "it's going to be a year with three different entries into service of new aircraft", explained chief executive Fabio Lazzerini during a briefing at July's Farnborough air show.
ITA expects to have received 25 A220s by the end of its 2025-2026 business plan, Lazzerini says, "replacing mainly A319s". Alongside the incoming A320neos, the A220s will also replace older A320s.
Furthermore, ITA will begin taking its first A330neos in April next year, with its A330ceos due to be phased out "by the end of 2025", according to Lazzerini.
The carrier's chief says the ITA brand marks a "fresh start" for the operator, while acknowledging that "we still need to make it very well known outside of Italy".
The company did, however, acquire the old Alitalia brand ahead of launching, and while Lazzerini says this was initially for "practical reasons" because all of its launch aircraft sported its predecessor's livery – and its crew wore Alitalia clothing – the carrier has bigger plans for the old name. "It's a brand which has a value and… we think we can leverage very well the power of that brand," he says. "Alitalia will have a separate project later."
While ITA is seeking a fresh start, it faces no let-up in the competitive dynamics that made Italy such a challenging market for its predecessor to operate in. Notably, low-cost carriers have over the past two decades taken advantage of the weakness of Alitalia and Italy's fragmented airline market – further depleted by the collapse of the country's second biggest carrier Air Italy in early 2020.
That pressure is continuing, as Ryanair estimates more than 30 of the 73 Boeing 737 Max 8-200 jets it took over the summer have been based in Italy. With ITA's fleet significantly down on that of the pre-Covid Alitalia, Ryanair group chief executive Michael O'Leary notes that "all that capacity has disappeared" from the market – to Ryanair's benefit.
"We are the only airline shovelling lots of capacity into Italy, both domestic and international," he says. "And we have been rewarded with extraordinary growth."
O'Leary predicts that by the end of 2022, "we'll probably be at 50% market share" among the biggest carriers serving Italian short-haul markets.
Cirium schedules data shows that in August this year, Ryanair offered nearly five million seats on domestic and international short-haul services touching Italy (comprising sectors up to 1,500km), whereas ITA was at around 1.4 million. In the latter case, that represents a 35% drop from the 2.2 million Alitalia flew in August 2019, but in Ryanair's case it reflects a 40% rise from 3.5 million.
Low-cost carriers EasyJet and Wizz Air also offered more than 1 million seats during the month.
Additional reporting Lewis Harper