Walter Cho stepped into the top job at Korean Air in April 2019, and with an ambitious acquisition stands to transform the South Korean air travel market in the 2020s.
Less than one year after Cho became chairman and chief executive of Korean, the coronavirus pandemic hammered air travel. He immediately found himself in the thick of things.
"I'll always remember when I took the repatriation flight to and from Wuhan, China in January last year," says Cho.
"I've visited Wuhan a number of times before but had never seen it so empty and quiet. I clearly remember the cabin crew who were on the flight with me. I'm very proud of and grateful to our crew members who bravely volunteered to take part in the repatriation flight operations amid such uncertain times."
Despite the challenges Covid-19 poses for all airlines, Korean has performed extremely well, owing mainly to its strong cargo business. Indeed, cargo has placed Cho among the few airline chiefs in the Covid-19 era to maintain profitability, including a W283.3 billion ($242 million) operating profit in 2020.
In its second-quarter results for the three months ended 30 June this year, Korean generated an operating profit of W197 billion as its cargo business posted record revenues of W1.5 trillion, accounting for 77% of the quarter's total revenue.
Given the collapse of international passenger air travel – formerly a mainstay of Korean's business – cargo revenues at the SkyTeam carrier handily outstripped passenger revenues of W200 billion.
"Our cargo business is an absolutely crucial part of Korean Air, and it will continue to play a pivotal role as a core business," says Cho. "We plan to further expand our cargo capacity, but this will depend on our fleet plan, which will be adjusted as we proactively respond to market conditions."
As of 30 June, the airline operated 23 main deck freighters, comprising four Boeing 747-400Fs, seven 747-8Fs and 12 777Fs. Korean has also removed the seats from 10 777s and six A330s, converting them to cargo aircraft.
Still, Korean has seen its share of challenges during the pandemic. One tough decision Cho recounts is the sale of the carrier's catering and in-flight sales business.
"It was the right business decision for the health of our company during the pandemic, but was personally quite disheartening," says Cho. "Once things go back to normal, bringing them back to our group will be my top priority."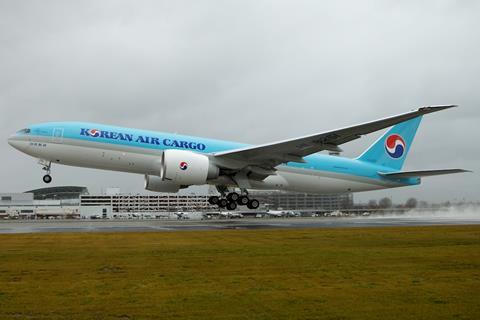 Although cargo will remain a critical area for Korean, perhaps the defining element of its future – and, indeed, Cho's legacy – will be its acquisition of perennial rival, Star Alliance carrier Asiana Airlines.
When the W1.8 trillion deal was announced in November 2020, Korean said the merger would create one of the world's top 10 airlines by size, improving competitiveness against regional rivals and creating cost synergies.
For the time being, Korean is busy securing the blessings of competition regulators in various jurisdictions. It has approvals from Taiwan, Thailand and Turkey, and Malaysian regulators have also proposed to approve the deal. Following all approvals, Korean expects the full integration to take more than two years.
On paper, the combined carriers will have scale and an unsurpassed position at Seoul Incheon. Cirium fleets data shows that Asiana is big, with 83 aircraft compared with Korean's 165. Asiana holds orders for 38 aircraft, while Korean holds 90.
Despite the clear potential, Cho is sober about the challenges.
"Korean and Asiana have travelled different paths from the beginning, and have developed completely different systems," he says.
"The integration process will be complicated, and the actual integration will start after receiving approvals from all relevant authorities. We expect the approval process to be completed by the end of this year. After the approval, Asiana will become a subsidiary of Korean Air. Both airlines will work closely to integrate all the operational areas – including processes and systems – to create synergy."
To help expedite the process, Korean may hire external consultants.
Asked what is most on his mind when he thinks about the Asiana acquisition, Cho points out that the two airlines have been competitors for 30 years, and have developed "very different cultures".
"Thus, for the two companies to become one, it's critical to merge the two cultures based on understanding and harmony," he says. "We'll make this happen during the two years from when Asiana becomes a subsidiary of Korean Air."
Cho adds that the approvals are going as planned, with the carrier in touch with relevant authorities.
When the deal concludes it will also see Asiana exit Star. This, believes Cho, will further strengthen Korean's joint venture with Delta Air Lines, creating compelling schedule options on trans-Pacific routes.
In addition to the mainline carriers, the Asiana deal will also see Korean Air low-cost unit Jin Air combined with Asiana LCC units Air Busan and Air Seoul.
"Our LCC will support Korean Air's network and give leisure travellers many more options," says Cho. "Jin Air is planning to expand its market and also operate long-haul flights."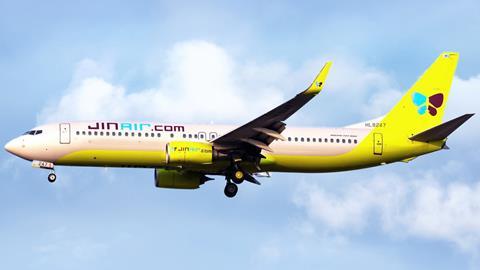 More immediately, Cho and Korean must deal with the upheaval caused by Covid-19. He readily admits how unpredictable the situation is, but feels that the world will eventually learn to live with the coronavirus, just as it lives with other endemic diseases such as the flu. The focus will shift to controlling the spread of Covid-19, rather than eliminating it altogether.
As for the lessons Covid-19 holds for chief executives, Cho believes they will place a greater focus on diversifying business models, pointing to the importance of Korean's vibrant cargo business during the pandemic. While not all airlines will buy freighters, they will certainly look at how to diversify.
Finally, Cho strongly believes that passenger air travel will stage a big comeback.
"I've had countless video conferences during the past two years, but they aren't enough to replace in-person meetings. I still believe face-to-face communication is critical and inevitable in business. Covid-19 has replaced handshakes with fist bumps, [but] holding each other's hands has been a long-time symbol of respect and goodwill."
He says that although email and technology have largely replaced written letters, the postal service still exists. He feels that demand for business travel will return.
"There were several times when we experienced a sharp drop in air travel demand due to other virus outbreaks or economic slumps, but the impact of the Covid-19 pandemic is unprecedented. Covid-19 created a lot of mental stress and fear. Therefore, [an] air travel recovery may be slow at first, but when demand returns, I predict it will be explosive."

Greg Waldron is the Asia Managing Editor of FlightGlobal, responsible for the team's airline, aerospace, and defence coverage across the region. He has worked at the company since 2009. In the airline space, Waldron has conducted dozens of interviews with airline leaders in the Asia-Pacific. He also covers areas such as MRO and safety. On the defence beat, Waldron has written extensively about the rise of Chinese airpower, as well as broader airpower developments around the region, such as indigenous fighter programmes, and regional acquisitions of foreign equipment. In addition, Waldron writes about commercial helicopters in the region and business aviation. Waldron worked has a freelance journalist with his work appearing in several business publications.
View full Profile