For many global commercial air travellers, the rules that defined flying during the first two years of the coronavirus pandemic are distant memories. But not for airline passengers flying in Canada.
"Air travel is one of – if not the only – economic sector that still has some sort of pandemic restrictions," Jeff Morrison, chief executive of National Airlines Council of Canada (NACC) tells FlightGlobal on 7 September. "I can go to a hockey game, I can go to the movies, I can go grocery shopping with no restrictions in place."
The NACC, Canada's aviation lobby group whose members include carriers Air Canada, Air Transat, Jazz Aviation and WestJet, maintains that strict Covid-19 air travel rules are burdensome for the country's airlines and out-of-step with current public health policies in most Canadian provinces, territories and cities.
The eastern Canadian province of Ontario, for example, recently lifted its mandatory five-day quarantine for residents who test positive for Covid-19, and most other Canadian provinces have lifted mandatory mask requirements for indoor spaces.
In response to the NACC's criticisms, Transport Canada maintains its policies for airline travel have followed recommendations from the Public Health Agency of Canada that are based on "scientific evidence, expert opinion and established public health practices".
"The government of Canada has taken a comprehensive, layered approach, since the beginning, to respond to the Covid-19 pandemic, with measures informed by available data, operational considerations, scientific evidence, and monitoring of the epidemiological situation both in Canada and internationally," Transport Canada says.
In spring 2022, masks became recommended but optional on most major airlines in the USA, and the country no longer requires airline passengers to provide proof of a negative Covid-19 test before entering the country from abroad.
Dozens of countries, including many European nations, have lifted pandemic restrictions entirely. Holdouts such as Australia, Germany and New Zealand have recently indicated that they will soon drop mask requirements for air travel.
"For those that still have something in place, they tend to be fairly minor," Morrison says. "We are falling behind other countries in terms of removing these legacy restrictions."
In March, Canada ended its pre-entry testing requirement for international customers who are fully vaccinated against Covid-19. However, several of the country's coronavirus-related restrictions remain active, such as the requirement that airline passengers wear masks during flights.
"We know many countries have lifted that requirement, but in Canada it's still mandatory," Morrison says.
Domestic and international travellers are also required to fill out travel and health information via the ArriveCAN app, which requires proof of vaccination and asks a host of pandemic-related questions, including regarding quarantine plans in the event of a positive Covid-19 test.
Morrison criticized the app as onerous, as it assumes all air travellers have a smartphone or internet access. And he argues that uploading information to the app has been a factor in recent delays at Canadian airports.
"If you arrive at an airport and don't have the ArriveCAN app filled in, you need to take the time to do it," he says. "You add a few minutes to every passenger's processing time, it adds up. So, this has definitely been a contributing factor to some of the issues we've seen this summer."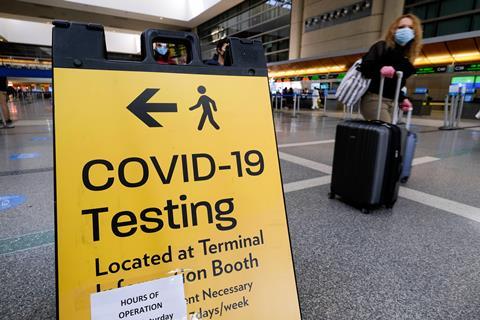 Fully vaccinated airline passengers who arrive in Canada at one of the country's four major international airports – Vancouver, Calgary, Montreal and Toronto Pearson – are also subjected to mandatory random testing, potentially resulting in a 14-day quarantine.
The mandatory random testing policy was paused for a month starting in June and reinstated on 11 July. "Testing was and remains an important part of our surveillance program to track the importation of Covid-19 virus into Canada and identify new variants of concern," the Public Health Agency of Canada says.
Travellers who aren't fully vaccinated must test for Covid-19 on the first and eighth days of their mandatory 14-day quarantine, the agency says.
Coronavirus variants are still circulating, and many health experts predict another surge in cases during the upcoming winter months. Morrison acknowledges that some countries may reimpose or strengthen existing travel restrictions if Covid-19 makes a significant resurgence. Germany, for example, recently tightened its coronavirus rules for travelling by public transportation this winter.
Meanwhile, there is no indication from the Canadian government that it plans to lift requirements to use the ArriveCAN app, wear masks on airlines or comply with mandatory random testing after arriving in the country, Morrison says.
"We hope the federal government will pay attention and announce something soon," he says.