Recent developments at Cathay Pacific underscorehow far the iconic Hong Kong carrier – once the regional powerhouse and the envy of many other airlines – has fallen from grace.
Cathay expects to continue its loss-making streak, though it forecasts a lower full-year net loss, which it attributes to strong cargo performance as well as strict cost management measures.
For the year ended 31 December 2021, it estimates a "substantial" net loss of between HK$5.6 and 6.1 billion ($719-783 million), compared to the record HK$21.6 billion red ink in 2020.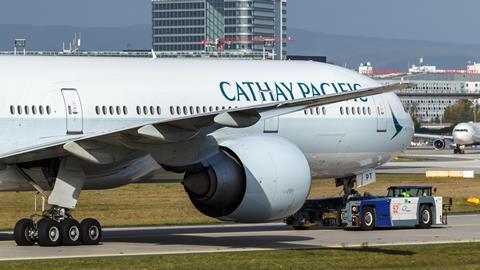 Cargo traffic held strong, but passenger numbers for the full-year sunk to a new low at just over 717,000, which was 84.5% lower year on year. More significantly, the figure was just 2% pre-pandemic passenger numbers, the carrier states in traffic results released 24 January.
It is the latest woe in recent weeks to confront the airline, as it enters the third year of a pandemic-driven downturn.
Hong Kong leader Carrie Lam on 11 January spoke out harshly against Cathay, warning that her government could take legal action against the carrier over "non-compliance" with the city's strict quarantine measures.
It came after a number of Cathay air crew were found to have breached home quarantine rules in late December. Two crew members who tested positive for Covid-19 were dismissed by Cathay and have since been arressted by Hong Kong police.
Pre-Omicron, Hong Kong had eased quarantine requirements – among the most onerous in the world – for air crew, to allow airlines to sustain air cargo operations into the city.
But the Hong Kong government's threat of punitive measures against its home carrier is the latest in a slew of woes confronting the beleaguered airline.
The recent tightening of quarantine restrictions – amid an Omicron spike that Lam partially blamed on Cathay's allegedly quarantine-flouting crew members – forced the airline to slash a pared-back schedule even further.
This time, not even cargo operations were spared.
Cathay cut passenger capacity to an all-time low in January – just 2%, down from earlier projections of 10% pre-pandemic capacity. That is even lower than the 3% capacity it was flying at the onset of the coronavirus pandemic in March and April 2020, when global borders were tightly shut.
Cathay also made even steeper cuts to cargo operations, which had been its sole bright spot, from 71% of pre-pandemic capacity, to just 20%.
The carrier already expects these measures to increase cash burn to at least HK$1 billion a month, and risks undoing earlier attempts at becoming cash positive.
The most recent capacity cuts were announced barely a week after Cathay said it was to operate a "skeleton" schedule in January, stating that quarantine measures "[continue] to constrain our ability to operate flights as planned".
Hong Kong also ordered the suspension of all flights from several of Cathay's key markets, including Australia, Canada, the UK, and the USA, for a month from 8 January.
It marks a stark turn in sentiment at the airline, which, as recently as early December 2021, was cautiously optimistic of some recovery in the new year. At the time, the airline said the impact of the Omicron variant was too early to tell, and that it was maintaining a strong liquidity position into the year-end.
For the airline, its woes stem from a lethal mix of causes: a strict zero-infection policy imposed by Hong Kong to keep it in step with mainland China; as well as the total lack of a domestic market.
It also bears the unique burden of having entered the pandemic on shakier financial ground compared with its regional rivals, after bearing the impact of political unrest in Hong Kong in mid-to-late 2019.
It was also during the political turmoil of 2019 that Cathay first found itself on the government's bad books, after it refused to sanction staff members who took part in pro-democracy protests. Since then, the carrier, which underwent a management shake-up in the aftermath, has treaded carefully with Hong Kong's political powers – until most recently, that is.
The airline offers few clues what the new year will bring, only stating: "We will strive to maintain passenger connectivity with key destinations, although at reduced frequencies, under the confines of the place-specific and flight-specific suspension mechanism."
At this juncture, however, it would also appear the available options to the carrier are fast running out. Caught between political crosshairs, and heavily bruised by a long-drawn pandemic, how much longer before the one-time "Heart of Asia" stops beating?