In the coming northern hemisphere's winter, Norse Atlantic Airways is planning to broaden its long-haul offer to sun-thirsty vacationers looking for a break from the cold, wet weather.
The start-up carrier, which launched discount wide-body flights across the North Atlantic last June, will be markedly shifting its network to cater to European and North American leisure passengers looking for warmth during the darkest months of the year. In so doing, the carrier hopes to find a unique and profitable niche.
"We're going to be pivoting the network a lot and trying to eliminate cold-to-cold flying," the Oslo-based start-up's president Charles Duncan tells FlightGlobal on 17 March. "Think Oslo-to-JFK. It's very difficult to get someone in Oslo to go to New York in the winter, or New York to Oslo… It just isn't appealing."
"We've been doing too much of that flying," he adds.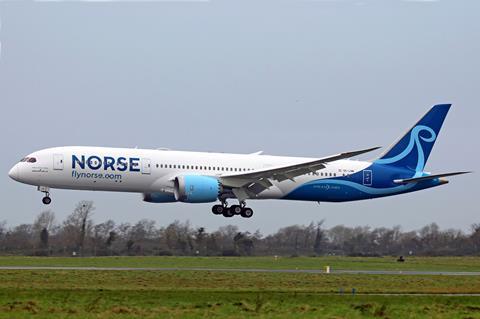 Norse, which launched flights on 14 June last year, has 15 leased Boeing 787 Dreamliners, five of which it has dry-leased to Air Europa and will receive back into its fleet in 2024.
Of the remaining 10, six aircraft are currently operating on routes out of London Gatwick airport to various destinations in North America, and from New York's John F Kennedy International airport to London and continental Europe, according to Cirium fleets data. By July, Norse will be utilising nine of the aircraft.
In the past weeks, Norse announced a host of new destinations in the USA for the coming summer season, which will bring it to 34 weekly flights from Gatwick. Routes to Fort Lauderdale and Orlando will commence at the end of May, flights to Washington-Dulles International airport and Los Angeles will begin in June, and in July Norse plans to launch three-times weekly connections between London and San Francisco. Five-times weekly flights from London to Boston are to begin on 2 September.
While that network is successful during summer, operating some of those connections profitably in the colder and darker months becomes a challenge, Duncan says.
"In the North Atlantic, everybody makes money in the summer. Demand is strong in the summer, it's built around holidays," he says. "Nobody makes money in the winter."
For that reason, Norse aims to be an east-west-focused airline during one season, and a north-south carrier during another.
Duncan says Norse looked at Canadian leisure carrier Air Transat's model, which similarly moves some of its long-haul flying to warmer destinations during winter months – to accommodate tourists looking for a winter respite.
"To survive in Canada one must do that," he says. Norse's strategy is "very much influenced in that way".
"We'll be doing a lot more sun flying… north to south –from Europe to Florida," he says. The carrier has also been in discussions with cruise lines, aiming to offer packages to cruise customers. In addition to Florida, Norse is considering destinations in the Caribbean, Mexico and other cities in southern California.
European tourists also often travel to the Middle East to escape the winter, and popular tourist destinations in Asia could also be on Norse's radar.
"If you think about it from a European point of view, more of the sun flying will be to the west, meaning towards the US and Caribbean, but there will be some to the east," Duncan says.
Norse has been speaking to representatives from various cities and hopes to finalise the framework of a 2023-2024 winter schedule by the end of this month.
"Where we can legally fly and not fly is a complicated question," Duncan says. "It becomes airport by airport, country by country, where are there bilateral rights that are open and available to us."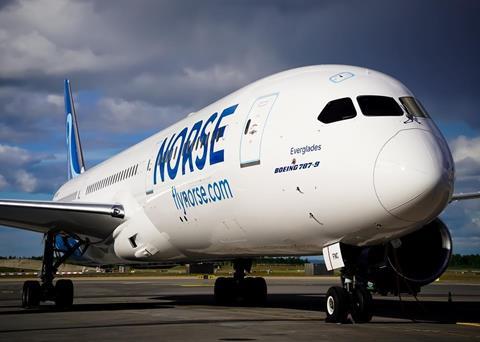 As for the airline's cash cow – low-cost transatlantic travel during the northern hemisphere's summer – Norse will in the short term look to densify its operations to cities it currently serves rather than exploring new ones.
"We're much happier to fly to one city seven times a week than to have two cities three and four [times weekly]," he says. "Think about the flight crews – we can actually fly everyone in and out without having extended hotel stays, and that lowers our cost and supports the business model. But also, if we have more flying activity at an airport, we're likely to get better handling costs. It's cheaper to market in one city versus two. You build more brand awareness."
"In the same way, if a city can support daily service, maybe next year we will have 10 flights a week, or 14," Duncan adds. "Above and beyond all of that, we have got to make money. So if we don't make money, we're not going to do it."
He aims for Norse to be profitable by the "second half of this year".
By some measure, Norse appears to be a reincarnation of the former Norwegian long-haul operation; several executives with ties to Norwegian were behind Norse's founding in March 2021. Norwegian halted widebody operations in the wake of the Covid-19 crisis.
But Duncan says Norse will not repeat Norwegian's mistakes. The airline is focused on making the model work with a single fleet type, and has secured leases on its 787s at a time when that type was not in demand.
"In the depths of Covid… no one else wanted the airplanes," he says. "If you fast forward to right now with all the supply chain and delivery delay issues, lease rates are significantly higher."
Since loading its summer schedule late last month, the carrier has been "almost day after day setting new records in terms of booking revenue", Duncan adds. "We're still seeing quite a bit of pent-up demand for travel across the Atlantic, and we are seeing that people are hungry for our model."
That low-cost, unbundled model involves selling cheap base airfares and charging fees for extras like reserved seats, checked baggage and meals.
"Our focus is to be the first successful low-cost, long-haul airline," Duncan says. "No one is going to have lower costs than us."

Pilar Wolfsteller, Americas Air Transport Editor, is based in Las Vegas and brings a pilot's perspective to her beat. She covers airlines across the hemisphere and her interests also include future-oriented sustainable aviation technology and urban air mobility projects. Pilar began her journalism career at the global news agencies Bloomberg and Reuters, and has reported from more than 50 countries.