While there has arguably been remarkably little executive churn at the top of airlines during the pandemic, the past few months suggest that might be starting to change – and that some positive trends could emerge from the crisis.
Importantly for an industry that acknowledges it would benefit from more gender diversity in top roles, three of the chief executive appointments at top 100 passenger airlines in the second quarter of 2021 were women: Lynne Embleton took over as chief executive of Aer Lingus in early April, Annick Guerard was named as the new leader of Air Transat parent Transat AT in late May, and Christine Ourmieres-Widener was appointed chief executive of TAP Air Portugal in late June.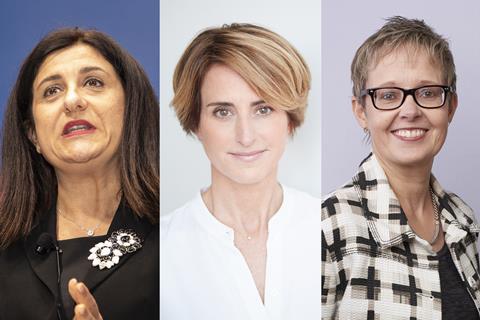 They join Anne Rigail at Air France, Nguyen Thi Phuong Thao at VietJet Air and Jayne Hrdlicka at Virgin Australia as women leading the world's largest airlines.
Given FlightGlobal's last full survey of the top 100 passenger airlines in 2020 found just three women leading carriers, this marks significant progress, albeit from a low base.
Industry stakeholders, including IATA, have argued that diverse, forward-looking workforces tend to perform better and that, more than ever, airlines need to ensure they are not consciously or subconsciously limiting the pool of talent that will lead the recovery from Covid-19.
And former IAG Cargo chief executive Embleton is under no illusions about the task that she and her peers face in that regard.
"I think we will be smaller for some time to come," she told an Irish parliamentary transport committee in mid-June of the challenges she faces at Aer Lingus. "This has had a serious impact on the airline and it will take a long time to fully recover.
"If I look at Aer Lingus now, we are still burning cash," says Embleton, who ultimately succeeded Sean Doyle following his move to the top role at British Airways. "That's not the end of our problems. We need to repay the debt, pay the interest, restore the balance sheet. We need to have the money to pay for aircraft and the capital associated with that.
"So the pathway to restoring connectivity and getting the airline back to financial health is a long one."
Meanwhile, former Flybe chief executive Ourmieres-Widener says that TAP will "emerge stronger, with a relentless focus on our customers" and "an eagerness to embrace challenges and executive change and innovation".
A change in ownership at TAP last year as it struggled amid the impact of the pandemic saw the Portuguese state take control of the stake held by a David Neeleman-led consortium, with former Azul president Antonoaldo Neves stepping down from the chief executive role.
In Canada, Guerard stepped up from the chief operations officer role at Transat AT to succeed long-serving Jean-Marc Eustache.
But she will have her work cut out at the struggling leisure operator.
The Montreal-based airline, which effectively shuttered operations in January but hopes to restart in July, lost C$69.6 million ($57.5 million) in its fiscal-year second quarter, which ended in April. It booked just C$7.6 million in revenue during the period.
"Following a quarter without revenues, progress made on vaccinations allows us to plan for a gradual resumption starting 30 July," said Guerard when the results were announced. "We hope that a safe travel recovery plan can be deployed as soon as possible and will lead to a lifting of restrictions in the near future."
Outside the top 100 passenger airlines, there are other examples of female leaders, including RwandAir's Yvonne Makolo, Lufthansa Cargo's Dorothea von Boxberg, Wingo's Carolina Cortizo, Blue Air's Oana Petrescu, Transavia France's Nathalie Stubler, Hong Kong Express' Mandy Ng, Alliance Air's Harpreet A De Singh, Indonesia AirAsia's Veranita Yosephine Sinaga, and Atlantic Airways' Johanna a Bergi.