A few years ago the notion that Michael O'Leary would argue Ryanair's relationship with its unions would give it a competitive advantage in the marketplace would seem absurd.
But O'Leary, speaking during a wide-ranging interview as part of Eurocontrol's Hard Talk webinar series on 7 December, did just that in explaining why he is unconcerned by the threat of expanding Central European budget rival Wizz Air.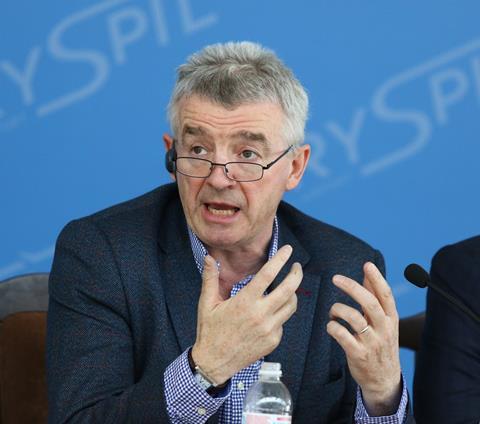 Prior to late-2017, the pan-European low-cost carrier had been resolutely non-unionised and O'Leary a colourfully vocal critic of the idea of working with unions. But then came the unlikely olive branch of union recognition, offered in a bid to stave off strike action on top of a year in which it was already battered by a wave of flight cancellations stemming from pilot rostering problems.
Recognition and labour deals followed across the airline's network over the subsequent two years, though not without challenges along the way.
By contrast fast-developing Central European budget carrier Wizz Air remains non-unionised.
Speaking during the interview, in which O'Leary took the opportunity to namecheck the challenges or cuts of almost all Ryanair's rival operators in Europe, he flagged union opposition as a hurdle for Wizz's aspirations to further develop within Western Europe.
The Central European carrier's recent move to establish a base at Oslo Gardermoen airport and operate domestic Norwegian services to Bergen, Tromso and Trondheim from early November prompted calls for a boycott from Norwegian unions and even support from prime minister Erna Solberg – who, in comments reported locally, ironically flagged her previous refusal to fly Ryanair in explaining she would not fly an airline that does not recognise unions.
Back in 2015, Ryanair closed a short-lived base in another Scandinavian country, at the Danish capital of Copenhagen, after a local labour court ruled the carrier must open talks with local unions.
"I think he's [Wizz Air chief executive Jozsef Varadi] beginning to understand that operating in Western Europe, as Ryanair did in 2017 when we had to recognise unions, is considerably different," he says. Such challenges will prompt Wizz to delay an expansion into Western Europe or lose its existing lower labour cost advantage, he argues.
"We were non-union up until 2017. I think it was inevitable that we'd be unionised at some point in time. I thought it was going to be when we started opening up bases in France and Scandinavia, it came a little earlier than I had predicted it would," O'Leary says.
Now the carrier now has good relations with most of its unions, he says, and points to agreements it has reached on cost-savings to help avert job cuts through the coronavirus crisis.
"We've agreed pay cuts over the first two years with a restoration over the next three years which over the next five years is probably manageable. We are willing to share the pain and I think thus far the unions have found us professional and relatively straight forward to deal with," he says.
He says there have been some unions where agreements have not been reached. "In those markets we have gone ahead with the job cuts – but in 90% of the cases they have worked with us to agree pay cuts in the short term so we can avoid job losses."
Competition with Wizz has come more into focus in recent months as the two low-cost carriers are among the most pro-active and bullish about returning capacity to the market. Wizz has expanded by establishing a number of new small bases across Europe and Varadi has consistently described the crisis as an opportunity to expand.
Ryanair too has signalled its intent to grow – not least by recently increasing its firm order for Boeing 737 Max aircraft with a further 75 of the type. The approach echoes the expansion the carrier undertook after the financial crisis a decade ago.
"I think it will work even better this time," says O'Leary. "The legacy guys have taken out 10-20% of that capacity and I'm not sure that will ever come back. They see this as a chance to reset the marketplace. They have all received multi-billions in state aid, and they want to come back with less capacity and higher prices.
"Unless you have additional capacity – which is why Ryanair's Boeing Max order is so critical – to take up the slack left by Norwegian [and] EasyJet cutbacks, then fares will rise," he says.