Indian carrier Vistara entered 2020 with plans for rapid growth, but the coronavirus pandemic has kept the airline from meeting its full potential.
Vinod Kannan is chief commercial officer (CCO) at Vistara, a joint venture between Singapore Airlines and Indian conglomerate Tata Sons. He served in a number of roles within SIA from 2001 to 2017, and spent two years as CCO of SIA low-cost unit Scoot. He joined Vistara in June 2019.
"We started the year on a high note celebrating our fifth anniversary with plans of rapid expansion," he says. "We launched services to our fifth international destination – Kathmandu - and added India's first Boeing 787-9 Dreamliner to our fleet to start medium and long-haul operations."
As with the rest of the world's airline sector, normality ceased abruptly with the Covid-19 pandemic. This saw Vistara suspend operations for two months from late March during a national lockdown. Fixed costs, however, remained, and this depleted the airline's cash reserves.
Though domestic operations resumed on 25 May, Kannan says that demand has "remained rather muted" owing to individual states imposing various travel restrictions and quarantines. In addition, regular international operations remain suspended.
Ten months into the pandemic, India is among the hardest hit countries in the world. According to Johns Hopkins University India has over 6.1 million confirmed cases. This makes it the second most infected country after the USA.
As with other carriers, Vistara saw cargo as a way to eke out some revenue. During the lockdown period, when passenger travel was non-existent, Vistara operated 34 cargo operations that transported over 220t of goods, relief material, and medical supplies. The airline's flagship 787-9 was even commandeered for cargo work.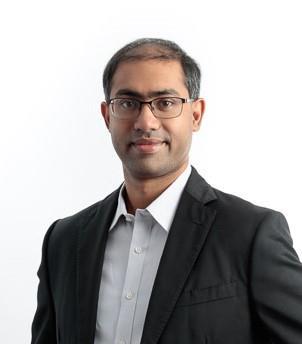 "As the economy is opening and the world is starting to reconnect, demand for cargo services is also picking up," says Kannan. "We are leveraging all viable opportunities for cargo services to maximise our revenue. We continue to carry commercial cargo on our scheduled passenger flights. On a few sectors we have operated special flights carrying cargo on seats as well."
The airline has also conducted some repatriation work under the government's Vande Bharat mission. In addition, "transport bubble" arrangements with other countries have seen limited operations between Delhi, Mumbai and Dubai, as well as flights between Delhi and London Heathrow.
"We are reviewing the opportunity to operate similar flights to Paris and Frankfurt as well," says Kannan. "Other destinations are also being reviewed from an operational and commercial perspective."
One area in which Vistara stands apart from global peers is that it has grounded none of its 43 aircraft – 34 Airbus A320 and A320neo aircraft, one A321neo, six 737-800s, and two 787-9s.
"We've planned operations in such a way that our entire fleet is utilised and continues to be fully functional," says Kannan.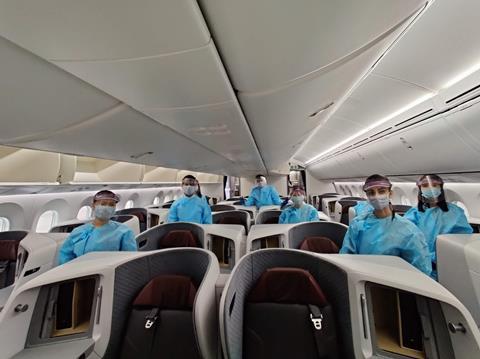 Fifteen A320neos, the single A321neo, and the two 787-9s are deliveries from 2018 orders for 50 A320neos and six 787-9s. While Kannan says the airline may make adjustments to the delivery schedule, it remains committed to its overall orders with the two big airframers. The six 737s, which it inherited from the collapse of compatriot Jet Airways, will be retired over the next three years.
In order to save costs, the airline has also taken what Kannan calls "the painful step" of implemting salary cuts. He stresses that communication with staff is key to shoring up morale. The airline has emphasised transparency and has a communications initiative it refers to as #inthistogeher, aimed at helping employees working remotely feel connected.
"The initiatives and programs under this campaign aimed to inform, recognise, and engage with every member of the Vistara family," adds Kannan. "During the lockdown, we also rolled out more than 30 online courses for employees to upskill themselves."
Kannan is optimistic that air travel demand will improve as the economy opens up. For the time being, however, potential travellers remain concerned with health and safety, as well as challenges around state restrictions and quarantines.
Still, a July customer survey indicated that demand is pent up, with 65% of respondents showing a willingness to travel before December. Of those willing to travel, 25% wanted to fly to visit friends and family, while 35% wanted to fly on business.
The airline is placing a strong focus on providing passengers "touchless" journeys, for example using facial recognition technology for passengers in India, self-check-in kiosks, and automated bag drops. The airline also offers an ancillary service where passengers can book an extra seat beside them to ensure it remains empty, and the ability to upgrade to a more premium experience for an affordable fee.
"Due to the increased focus on the health and hygiene measures, touchless is going play a key role in ensuring safety throughout the customers' journey and will be a deciding factor for the customers to choose an airline," adds Kannan.

Greg Waldron is the Asia Managing Editor of FlightGlobal, responsible for the team's airline, aerospace, and defence coverage across the region. He has worked at the company since 2009. In the airline space, Waldron has conducted dozens of interviews with airline leaders in the Asia-Pacific. He also covers areas such as MRO and safety. On the defence beat, Waldron has written extensively about the rise of Chinese airpower, as well as broader airpower developments around the region, such as indigenous fighter programmes, and regional acquisitions of foreign equipment. In addition, Waldron writes about commercial helicopters in the region and business aviation. Waldron worked has a freelance journalist with his work appearing in several business publications.
View full Profile