When trying to gauge the prospects for a recovery in air travel, the Asia-Pacific market paradoxically offers both reasons for some of the brightest optimism and greatest concern for airlines.
On the one hand Asia-Pacific carriers seem well placed in the mid-term to benefit from continued strength in the air freight market, the presence of large domestic markets that have been among the first to recover lost ground, and from the relatively tight control states in the region have kept on the spread of the pandemic.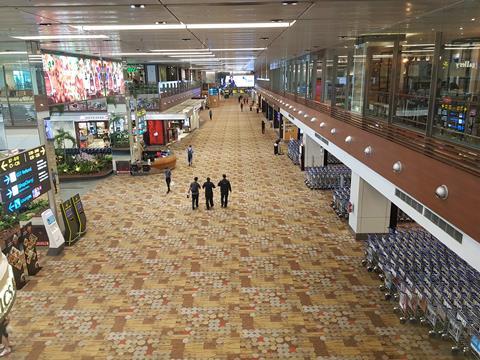 The latter has helped some domestic markets to thrive, notably in China where the 'big three' carriers all report domestic traffic above or close to previous-year levels in October.
The strong air cargo market, to which Asia-Pacific carriers have a relatively large exposure, meanwhile helped bolster the performance of several carriers in the region. Notably troubled Asiana Airlines – subject of a takeover move in November by Korean Air – was able to report a small profit for the third quarter off the back of a sharply improved cargo performance.
This goes some way to explaining why IATA projected Asia-Pacific's airlines to be the strongest performing – or more accurately the least unprofitable – region by EBIT margin in both 2020 and 2021 in its latest industry outlook. The region's carriers though are still expected to post net losses of $31.7 billion this year and remain $7.5 billion in the red next year.
But domestic travel has not rebounded in all markets, for example in Australia where cross-state travel restrictions have been in place to help curb the spread of the virus. And it has barely recovered at all for international travel. The same tight grip that has driven coronavirus case numbers down across the region has kept international travel to all but a minimum.
IATA's regional director for airports and external relations in Asia-Pacific Vinoop Goel says: "[Essentially], the whole of the region has either totally restrictive conditions, or even partially restrictive conditions, which involve quarantine."
Goel notes current international air traffic figures for the region are only at 5% of pre-pandemic levels. That makes the region the worst performing globally in terms of international traffic levels.
TRAVEL BUBBLE HOPES BURST
Airlines in the region hope a catalyst for some international travel may come in the form of travel bubbles. Much attention has focused on the one proposed between Hong Kong and Singapore, which was to start on 22 November with daily flights of 200 passengers to be alternated between Cathay Pacific and Singapore Airlines.
Bubble flight passengers are not obligated to serve quarantine, removing a huge disincentive to travel. Passengers from Singapore would only be required to take a coronavirus test prior to departure and upon their arrival. Originally, passengers from Hong Kong only required a pre-departure test.
The move was widely hailed as an important first step back to something resembling air travel normalcy – and mooted as a model for similar arrangements with other states in the region where the pandemic had been contained.
But it was postponed for two weeks on the eve of its opening because of a spike on coronavirus cases in Hong Kong. It has since been pushed back into 2021.
Whereas airlines view risk as something to be managed, in the context of Covid-19, governments view transmission risk as something to be eliminated altogether, says Conrad Clifford, regional vice president Asia-Pacific at IATA.
"In respect to why haven't we seen more bubbles, it's really about the attitude towards risk," he says. "What we're seeing with public health authorities is that they tend to have a policy to totally eradicate the infection so that they tend towards border closures, [and when there are] zero cases reopen. That tends to gravitate away from opening up bubbles."
"It's been very difficult for passengers because they are never quite sure what regime is going to apply, and that has had a direct dampening effect on demand," he says. "And so there is a weak link within current attempts to reopen."
HARD MILES FOR HUB CARRIERS
With no domestic markets and facing a total collapse in international travel, 2020 has been a year of horror for both Cathay and SIA. While both enjoy government support and have successfully raised funds, they continue to suffer extremely heavy losses.
The travel bubble, in its original tentative form, would have done little to restore profitability at either airline, but was a cautiously optimistic first step to a post-pandemic future.
Both carriers have in recent weeks announced widespread cuts.
Cathay on 21 October announced broad restructuring measures, including laying off 5,900 employees as well as shuttering the Cathay Dragon brand and integrating it into mainline Cathay operations and that of low-cost unit HK Express. The Oneworld carrier expects to operate at half capacity in the coming year, given that recovery will be slower than expected.
SIA too only expects to be operating around 50% of pre-pandemic capacity come the end of next year. The group earlier in November took on a hefty impairment charge of S$1.33 billion ($987 million) from the early retirement of 26 older aircraft – including seven Airbus A380s – which led to a record net loss in its half-yearly earnings.
The 26 aircraft were "deemed surplus to fleet requirements", following a company-wide review of its future fleet and network that kicked off in July.
Additional reporting Alfred Chua and Greg Waldron