The latest round of passenger traffic figures exposes the stark difference in fortunes being experienced by carriers in the Asia-Pacific region that rely on international traffic versus those that can fall back on large domestic markets.
Cathay Pacific reported a third consecutive month of traffic declines in March from its Hong Kong hub, as it began to feel the impact of tightened crew quarantine measures imposed by the government.
It averaged just 600 daily passengers, down from 755 in February, for a total of 18,500.
Singapore Airlines Group meanwhile carried 100,100 passengers in March, down nearly 91% year on year.
In a region where governments are jealously guarding often successful efforts to avoid the worst impacts of the Covid-19 pandemic, carriers are likely to face one of the longest waits globally for international traffic to rebound.
Indeed, Qantas chief executive Alan Joyce said in mid-April that "it's our best guess at the end of October for the market to open up".
And that prediction looks optimistic after recent comments from the Australian government, with health minister Greg Hunt saying in mid-April: "Vaccination alone is no guarantee that you can open up."
Even if the whole country had been inoculated, "you couldn't just open borders", he adds.
Qantas can at least fall back on a reasonably large domestic market to offset a devastated international network.
As can carriers in China, where a buoyant local scene is giving major carriers a significant outlet for their capacity.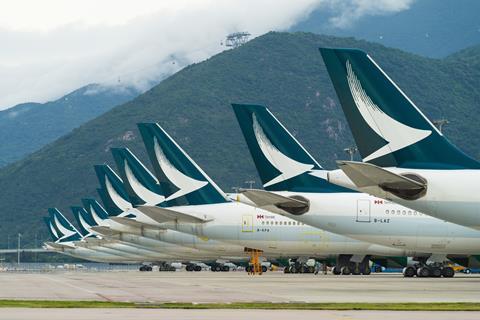 Domestic traffic in China was about 0.6% higher than 2019 levels in March this year, according to the latest figures. That marked a recovery after numbers wobbled during a spike in Covid-19 cases earlier this year. Before then, domestic traffic had also exceeded pre-crisis levels at points in late 2020.
The Civil Aviation Administration of China disclosed in March that Chinese carriers are expected to recover around 90% of pre-pandemic traffic this year, underscoring the recovery China is experiencing.
But Chinese carriers are not immune from the international woes being experienced by peers, with the lack of cross-border travel leaving a big revenue gap for many operators, whatever the RPK figures suggest.
Speaking in mid-April, Guoxiang Wu, China Southern Airlines' senior vice-president of international and corporate relations, said the carrier had "just started to retire some old aircraft, such as the Airbus [A330]" in response to that challenge.
He also suggested the future of the operator's five A380s was under review.
"From our view, the international network still faces many difficulties in the future," Wu explains. "We must [rethink] our structure, our business model, our future.
"The future demand for the international routes – up to now we still haven't got the signals [of a] recovery in the coming years, so we must be thinking about [the] structure of the fleets, especially for the widebodies."
Amid this challenge, recent results filings show China's three largest airlines swung deeply into the red in 2020.
Air China, China Eastern Airlines and China Southern all racked up significant losses at an operating level, their full-year figures show.
And in their 2021 outlooks, the three carriers reiterated that the global recovery from the pandemic's impact "still remains uncertain". They continue, however, to work on growing their respective domestic networks to tap into local travel demand.
Pointing out the "huge market potential", Air China believes that domestic air travel "will continue to rise and market potential will remain immense".
"As the pandemic is under control, business travel and holiday tours continue to be drivers of the development of the aviation industry, and air travel will become increasingly customised and popular," the carrier states.
It notes, however, that the domestic Chinese market will face "intense competition" in the short term, with airlines focusing capacity on their home turfs.
China Southern says it will make "steady progress" in a "new development pattern" aligned with the Chinese government's strategy, "where domestic and foreign markets can boost each other, with domestic market as the mainstay".
According to an HSBC Global Research report released after the carrier's 2020 results, the three airlines are likely to continue their loss-making streak this year – although the losses will be significantly reduced on the back of strong domestic traffic.
Among its observations, the report notes that China Eastern and Air China are at risk of "further impairment charges" from the disposal of older aircraft.
In particular, it says Air China has greater exposure, given its older fleet and higher share of widebody aircraft, "which have become unemployable due to the stalled international market".
Compatriot China Southern took a hefty CNY4 billion ($611 million) impairment charge in its 2020 full-year results, for the early retirement of an unspecified number of aircraft.
"Despite facing a similar market situation, we do not see such extent of impairment being taken by Air China or China Eastern," the report states. "Therefore, we caution that there might be a possibility for further impairment charges from these two airlines."
HSBC researchers also note that cargo, alongside the domestic traffic growth, will be two bright spots in China for the year.
As things stand, a similar assessment could be applied to the vast majority of the Asia-Pacific commercial airline network.
Additional reporting by Alfred Chua