The Philippines has had a tough run during the coronavirus pandemic, but Philippine Airlines (PAL) is determined to keep fighting to preserve the island nation's connectivity.
Covid-19 has hit the Philippines hard. The Johns Hopkins Coronavirus Research Center lists it as having 362,000 confirmed cases, the second highest number in Southeast Asia after Indonesia. The country also had one of the region's most draconian lockdowns from mid-March until early June. Similar to other countries, the impact on both domestic and international air travel has been devastating.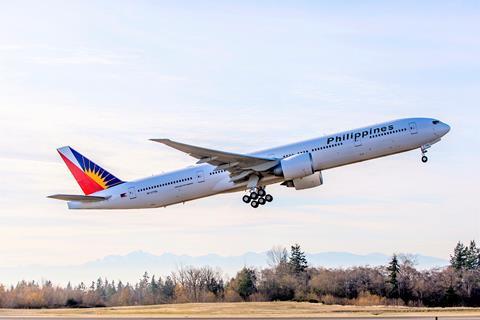 "We've basically had to reinvent ourselves overnight since March because of all the lockdowns and everything," says Jose Perez de Tagle, vice-president of corporate communications at PAL. "We were only able to resume flying only on 1 June, and of course, we started with only three or four percent of our total operations."
The airline's most recent financial results testify to the impact of Covid-19. For the second quarter ended 30 June, the carrier posted an operating loss of Ps11.5 billion ($237 million), compared with an operating loss of Ps2.3 billion a year earlier. Revenue for the quarter was Ps4.7 billion, 90% below the second quarter of 2019.
It has been a difficult slog, but Perez estimates that PAL is back to 12-15% of its pre-coronavirus operational levels.
"We've been climbing back very slowly…more slowly than we ever expected," he says. "So it has really been tough."
Similar to regional peers, PAL has been able to fall back on a mix of ad-hoc cargo flights and repatriation work. The airline has also kept its international network to key markets, such as North America, up and running albeit with reduced frequencies.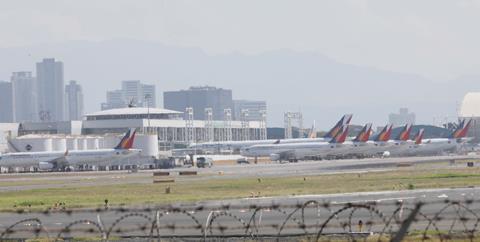 The combination of cargo and international flights has allowed PAL to keep most of its widebody fleet out of storage. Cirium fleets data show that eight of its ten Boeing 777-300ERs are in service. In addition, four of six Airbus A350-900s are in service, as are eight of 15 A330-300s.
"We are maintaining our long haul network to all the points we serve in the US and Canada, but at very low frequency levels," says Perez de Tagle.
"We've also been using a lot of the aircraft for cargo flights between the Philippines and points in Southeast Asia, and we have several weekly flights from the Philippines to the United States with 777s repurposed as cargo aircraft. We're talking about belly cargo and occasionally cargo carried in the cabin for very light shipments. More than ever we're a cargo airline."
Still, 33 of the airline's 66 aircraft are in storage. As for the status of the carrier's firm orders for 13 A321neos, Perez de Tagle says discussions with Airbus are underway, but declines to provide specifics.
For the most part PAL has cut services to domestic leisure destinations, but continues operations on major trunk routes such as Manila-Cebu, and Manila Davao. Regional traffic is limited, but the carrier has used narrowbodies to operate "sweeper" flights around the region, mainly returning Filipino workers from overseas.
To help facilitate traffic through Manila, the airline has set up a dedicated Covid-19 test facility at Manila airport to screen incoming passengers. The facility can handle over 3,000 arrivals daily, and complements the government's efforts to test arriving passengers.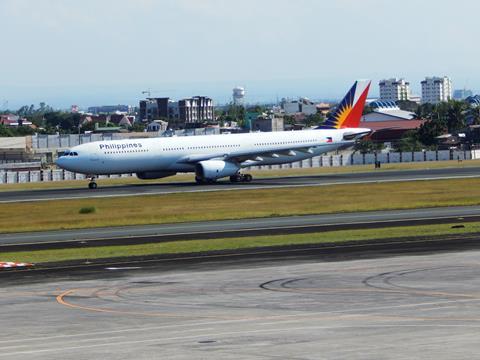 Also similar to its global peers the airline, with 7,000 employees, is considering laying off about 2,700 people. Perez de Tagle estimates that since April only about 20% of the company's employees, namely airport workers and management staff working from home, have been working. A good number of staff are on partial pay under what Perez de Tagle calls an "extended furlough" scheme. Initially the airline plans to ask for volunteers to take up a redundancy offer, but inevitably some retrenchments could be necessary.
Perez acknowledges that capital is also a challenge, but says the airline has received support from businessman Lucio Tan, the main shareholder in PAL's parent, PAL Holdings.
"No matter what, it will take some time to build back up. But I'm glad that we, as an airline, have decided that we're going to keep on with the international flights, including long-haul flights," Perez de Tagle adds. "Because that has actually been both beneficial to our customers, to ourselves, and even our government…as well as helping the running of the economy."

Greg Waldron is the Asia Managing Editor of FlightGlobal, responsible for the team's airline, aerospace, and defence coverage across the region. He has worked at the company since 2009. In the airline space, Waldron has conducted dozens of interviews with airline leaders in the Asia-Pacific. He also covers areas such as MRO and safety. On the defence beat, Waldron has written extensively about the rise of Chinese airpower, as well as broader airpower developments around the region, such as indigenous fighter programmes, and regional acquisitions of foreign equipment. In addition, Waldron writes about commercial helicopters in the region and business aviation. Waldron worked has a freelance journalist with his work appearing in several business publications.