Despite operating below pre-pandemic capacity, Royal Brunei Airlines is in no hurry to ramp up back to full capacity, as it eyes a more strategic path towards recovery.
Airline acting CEO Sabirin Abdul Hamid says the national carrier is currently operating at around 50% pre-pandemic capacity – a figure that some of its larger regional peers have long surpassed since pandemic restrictions eased and markets reopened.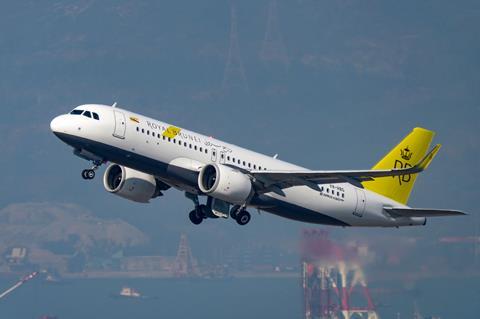 This is also despite the airline restoring flights to nearly all points across its network – save for Mainland China. The reason for that, says Sabirin, is because of weakened demand following the pandemic, which has led the airline to operate at lower frequencies than in pre-pandemic times.
"[Although] people talk about…pent up demand – [and] you hear it quite often here…we're nowhere near where we were before…the pandemic," says Sabirin, who was speaking with FlightGlobal at the Association of Asia Pacific Airlines' Assembly of Presidents in Bangkok.
The airline currently flies to over 20 points in its international network, most of them within Southeast Asia, as well as London in the UK and Jeddah and Dubai in the Middle East.
Royal Brunei previously flew to several cities in China, in part because of growing Chinese investment in the country. Points included Beijing's newly-opened Daxing airport, as well as Hangzhou, Nanning and Shanghai Pudong.
The airline is very much reliant on transit traffic – especially given that Brunei is a nation of just over 440,000 people. Yet, it is in the neighbourhood of larger regional operators – like Singapore Airlines and Malaysia Airlines – who are stronger in the intercontinental transit market.
At the same time, Sabirin is also "cautious" about expansion: "We don't want to be ramping up drastically…all at one go, and then we find out [that] this airport doesn't have the resources, that airport does not have enough resources. Then we end up scaling down and cancelling flights…[causing] disruptions."
Sabirin, who took helm of the airline in late-2021, says the airline is now also rethinking the need to return to pre-pandemic levels, stressing that recovery is done "cautiously, deliberately".
Asked about when the airline forecasts to return to pre-pandemic capacity, Sabirin says: "The question is – do we want to go back to pre-pandemic levels? We're not going back to 100%, just because we were operating [at that level] in the past."
He adds that the "more important" factor in recovery is yield, noting that Royal Brunei's yields are "already like pre-pandemic yields".
Indeed, Sabirin says the airline will focus on regional routes in the near term.
On the other hand, he tells FlightGlobal an area of concern is in airport slots, particularly the 'use it or lose it' policy, where airlines have to maintain a certain level of operations in order to keep their airport slots.
"We need to make sure that when we operate, it is making sense, it is contributing [to our bottomline], and not for the sake of just keeping those slots. The challenge is for us to continue that dialogue with the slot coordinators and airports," he says.
On the airline's fleet, Sabirin notes "fleet management has always been on our agenda", but did not commit to an immediate fleet replacement.
"We're looking at our fleet contribution, whether this aircraft is contributing to the bottomline, we are continuously looking, when the timing is right and the right product comes around, we will make a decision," he tells FlightGlobal.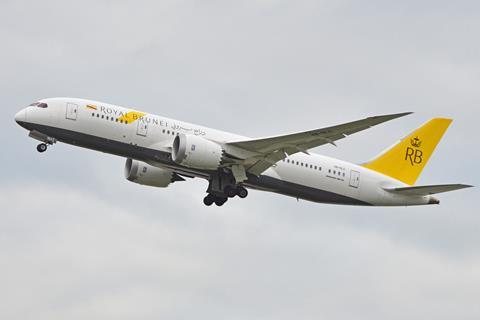 According to Cirium fleets data, Royal Brunei has an operational fleet of 12 aircraft comprising seven Airbus A320neos and five Boeing 787-8s. A further two A320ceos are in storage.
The first A320neos arrived in the fleet in 2018, while the airline took delivery of its first 787 in 2013, and is the first Southeast Asian carrier to fly the type.