The Covid crisis may have created numerous immediate challenges, but RwandAir chief Yvonne Makolo says the carrier has many reasons for optimism about its long-term future
For most airlines seeking to recover from the coronavirus crisis, securing a formidable new business partner would be among the most desirable – and unattainable – goals.
But for RwandAir, the government-owned flag carrier for the landlocked central African country, that objective is set to become a reality, as it closes in on securing a 49% shareholder in the shape of Middle Eastern carrier Qatar Airways.
Indeed, RwandAir's chief executive Yvonne Makolo says that while the coronavirus pandemic has created substantial near-term challenges, the new shareholder gives the airline plenty of reasons to be optimistic about its long-term future.
"It's an exciting time for RwandAir, especially to be working with a world-class airline like Qatar Airways," she tells FlightGlobal during an early September interview. "Obviously they see a potential in not only the airline, but in the African market, and they're willing to come in and explore that opportunity."
The former telecoms executive, who stepped up from the deputy chief executive role to lead RwandAir in 2018, says that once the Qatar Airways stake is finalised – a milestone expected soon – RwandAir can "tap into the muscle" of its new partner.
Among many benefits, RwandAir can adopt "best practices" from its partner and take advantage of "knowledge transfers". Tapping into Qatar Airways' "procurement power" will also be beneficial, Makolo states, while noting an ambition to bring RwandAir's onboard service level to "four, five-star level".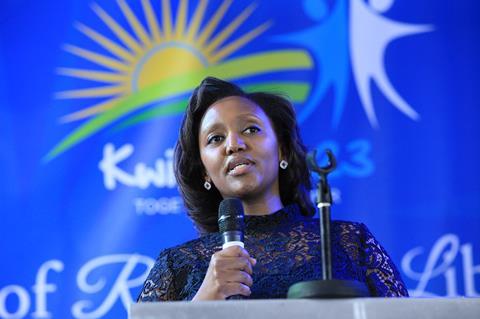 There is a long way to go and a lot of crisis recovery to get through first, but RwandAir ultimately has ambitions to become a key player in the development of pan-continental African carriers – something hinted at elsewhere in recent weeks with talk of Ethiopian Airlines taking a stake in ailing South African Airways.
"We really believe we have a place in the continent as a world-class airline," Makolo says of RwandAir's aims. "There's a lot of potential within the African continent – a lot of untapped markets as well.
"We really want to connect Rwanda to the rest of the continent, the rest of the world, and also other African countries to the rest of the world, so that really is our vision to grow and expand the airline as much as we can."
Qatar Airways' move to acquire a stake in RwandAir was first unveiled by the former's chief executive Akbar Al Baker in February this year, when he cited Rwanda's "location, the stability of the country, and the very favourable business environment that exists in that country".
Indeed, in 2019 RwandAir's home country was one of the fastest-growing economies in Africa, with the World Bank suggesting this was likely to continue into 2020, before coronavirus hit.
The country has also achieved political stability since the dark days of a civil war in the early 1990s.
"We really believe we have a place in the continent as a world-class airline"
Al Baker also has an eye on the wider continent: "In Africa there is a big demand for air travel and today Africa is very poorly connected, so we always look at opportunities in our field to do investments similar to what we have done in the past."
Qatar Airways' interest in the country was cemented in December 2019, when it agreed to take a 60% stake in the new Kigali airport.
That facility will be "very important – especially if we are looking to grow", Makolo says of RwandAir's base, noting that "the current airport has become a bit small for us".
When the first phase of Bugesera International airport is completed, "it will have the capacity for seven million passengers, so that allows the airline to really grow and be a contender within the continent", Makolo says. When Qatar Airways' investment was unveiled, it was also announced that the facility's capacity would double to 14 million passengers by 2032.
Such figures are a significant increase from those announced when the airport plan was originally launched in 2017.
The regional hub ambitions are all part of Rwanda's Strategic Transport Master Plan, which puts aviation front and centre of the economic growth efforts, with Rwandan president Paul Kagame speaking of ambitions to transform the country into "Africa's Singapore".
But with the Qatar Airways deal still being finalised and the new airport a work in progress, for now the focus at RwandAir is on ramping up operations following a months-long grounding of scheduled flights.
HOW QUICKLY IS RWANDAIR'S NETWORK RECOVERING?
"It's very scaled down – we are operating at about 15% of what we had previously, so it's a gradual resumption, but I'm glad we've started," Makolo says of RwandAir's operations in the first days of September.
Rwanda closed its airspace on 20 March, and the airline's scheduled services only resumed on 1 August.
During that lockdown period, "we were still carrying out a number of cargo flights, to Brussels and London to bring essential goods here and to support the export sector here with horticultural products mainly", Makolo recalls. "And we are also bringing in medical equipment from Guangzhou, Dubai as well. And then carrying out a number of repatriation flights."
By early September, the carrier was operating around eight of the 29 routes it served pre-crisis, she says. The services it resumed were mainly focused on east and west Africa, including destinations such as Dar es Salaam, Arusha, Nairobi, Lusaka, Libreville, Cotonou and Douala, as well as Kamembe, a domestic service.
Kinshasa was also due to be reinstated, after the Democratic Republic of the Congo reopened up its borders. Accra, Abuja and Lagos were following in mid-September as well, but the carrier still has a long way to go to reach pre-crisis levels of service.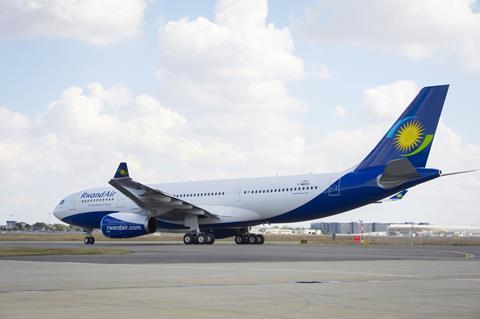 And inevitably, the crisis has prompted urgent action to keep the business viable.
An "almost complete shutdown" helped to protect the carrier's liquidity, Makolo explains, alongside steps such as having to "restructure a number of our financial obligations" – including aircraft leases.
"We had to take some tough decisions in terms of our staff, putting some of them on paid leave, others with reduced salaries, and we're gradually bringing them back as operations ramp up," Makolo continues. "So we had to make some difficult decisions, and… we had some revenue coming in with the few operations that we were still carrying out."
Makolo says that the upheaval offered a rare opportunity for the business to stop and consider its future direction.
"It was also a very good opportunity to look at the business again and repurpose the business so that when operations begin we are right-sized and fit for purpose in terms of growth," Makolo says.
"That's the silver lining that was there, if you can call it a silver lining. We really had to rethink our business and look at the cost structure, and look at how we've been operating, and streamline it and make it more efficient. So that I am grateful for, and it's been very helpful, and I'm confident we'll be a better organisation going forward."
Among the measures taken so far, "automation has been very key", Makolo says of the airline's systems. At the same time, "getting people to transact more using online platforms, instead of coming to our sales offices" has been accelerated by the pandemic.
"A lot of people were used to coming to our sales offices, and with the overheads that we were incurring with that. So we were able to see where we can trim some things, and now people are used to purchasing their tickets online or checking in online, or checking in using the self check-in kiosks. That has made us more efficient as well."
A rethink on RwandAir's future fleet is also under way.
WHAT ARE RWANDAIR'S FLEET PLANS?
Makolo confirms that the operator is not taking the Airbus A330neo or Boeing 737 Max jets it had ordered via lessors.
It was due to receive two of each type, but is instead working with Qatar Airways on a new fleet plan.
Cirium fleets data shows the A330neos were to be supplied via Air Lease, while the Max jets were ordered through SMBC Aviation Capital. All four were ordered in 2018 and were originally due to arrive in 2019.
The new aircraft were intended to boost Rwandair's capacity – with the A330neos launching a New York service – but the grounding of the Max and various delays affecting the A330neo meant none had been received by the time the global pandemic began to have an impact.
"The process of rationalising the fleet and working on the fleet mix is still a work in progress," Makolo says. "In line with our growth with our future partner, the fleet mix will change," she adds, noting the large number of types currently operated by the carrier.
The carrier had 12 aircraft in service pre-crisis: one A330-200, one A330-300, four 737-800s, two 737-700s, two De Havilland Canada Dash 8s, and two Bombardier CRJ900s.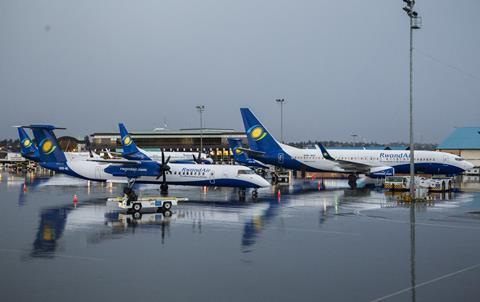 "We are going to keep the fleet as it is for now", Makolo says, explaining that "we've had to slow down" network-expansion plans amid the current uncertainties.
Recent history suggests Qatar Airways is open to leasing its aircraft to carriers in which it has an equity stake. Now-defunct Air Italy, for example, leased A330s and 737 Max jets from Qatar Airways before its collapse.
RwandAir is also "looking at acquiring a cargo freighter in the near future", Makolo says – something it may also work on with Qatar Airways.
The importance of the freight sector to RwandAir has grown, she explains.
"Cargo has been important for RwandAir, especially once we got our widebodies, so were seeing a big increase in cargo revenue," Makolo says. "When the pandemic happened it was good for us to be able to continue."
The freight revenues did not offset the lost passenger revenue "because we had been using our belly capacity for cargo", she states, noting that cargo accounted for around 10% of RwandAir's revenue pre-crisis. But the carrier did manage "to repurpose our widebodies in order to fill the cabins with cargo as well".
"It was good because it kept us going, and we're still continuing along that trajectory," Makolo states.
Pre-pandemic, "we were looking forward to growing [cargo services] even more, especially with the opening of the China route", she says, referring to the fifth-freedom service to Guangzhou via Mumbai that the carrier launched last year.
In the nearer term, as with most airlines, predicting the timeline back to anything like normality is all-but impossible.
"It's really difficult to plan because we still have a lot of network which is still closed… In our plans we had assumed that they would be open by now, and they're not. We're taking it basically week by week, and monitoring what the situation is and then quickly ramping up as they open up their airports."
Among the key markets that were yet to reopen in early September were Zimbabwe and Uganda – although by the middle of the month there were signs that both were to begin accepting flights in October.
"We've really been focused on setting off our African operations and then incorporating our long-haul routes," Makolo notes.
In September, RwandAir's only long-haul passenger service was to Dubai, with London, Brussels, Mumbai and Guangzhou yet to restart – although it was serving its European destinations with cargo-only flights.
It announced in mid-September, however, that it would resume passenger flights to London and Brussels from 3 October. Crucially, its services to the UK capital will switch to Heathrow airport – which it had been serving with its cargo flights during the crisis – rather than Gatwick, which it previously flew to.
The carrier cites Heathrow's strong feeder traffic in explaining the change.
"We've really been focused on setting off our African operations and then incorporating our long-haul routes"
With long-haul routes starting to come back, the opening up of intra-African services is a key focus.
"Pre-Covid, I think out of the 29 routes, 22 were African markets," Makolo states. "So they are really our key markets because they are the feeders for the long-haul routes.
"We really want to focus on rebuilding our network within the African continent and then beyond as well. So we are looking at, eventually… opening up other new routes within the continent and also more international routes. But very key is the African market in order to feed our long-haul routes. "
That means RwandAir is already taking a close look at the destinations it will serve as it emerges from lockdown.
"During this time we've also had to review some of our routes and prioritise them… We've had to do some rationalisation of our network, and we continue doing that as we go along, until we have the right mix."
Regarding potential structural changes in the market, Makolo reserves judgement.
"It's difficult to predict… I think initially, we will see that, as people continue meeting more virtually, as opposed to face to face," she states. "I am confident that we will see a ramp-up of business travel, tourism as well as people become more comfortable travelling and as more countries open up their borders… but in terms of the segments which will come back faster than the others, we are watching to see what happens."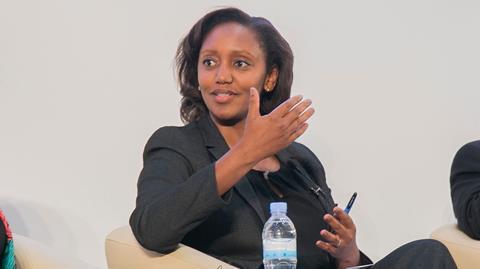 Historically, RwandAir has relied on a mix of passengers – but the trader market is extremely important.
"Especially in the African market, a big section is the trader market… coming to West Africa, going to Dubai or China to buy goods and they come back to sell," Makolo says. "So a big chunk of our market segment was the trader market."
Friends and family traffic is also a "big segment", Makolo explains, noting that "the African diaspora is all over the place".
"The tourism segment has also been key and has been growing," she says, adding that pre-pandemic, tourism was "the number one foreign exchange earner for the country", with visitors drawn by attractions such as the gorillas in the Volcanoes National Park.
In terms of attracting visitors back to the country, there is some good news for RwandAir in terms of its home country's handling of the crisis so far.
"Rwanda has been dealing with the pandemic extremely well," Makolo states. "It was very quick to close its borders, as soon as we got just a few cases. The government has been very, very careful in terms of the reopening as well. The number of cases is relatively low… and very few deaths as well."
She adds that RwandAir is fortunate that the government has focused on testing to open up its borders – something that would be the envy of carriers in other regions.
"Having 14-day quarantines, that's going to be devastating for airlines," Makolo says. "What has been good for Rwandair has been the focus on testing, as opposed to quarantine. Everybody on departure from the originating airport has to have a PCR Covid-negative certificate, and once they arrive here they are tested again. They stay in a designated hotel for 24 hours only, they receive their second test and if they are negative they are released, they go about their business."
Rwanda's government is also mentioned when the discussion turns to the lack of gender diversity at executive levels in the airline industry.
IS INDUSTRY DOING ENOUGH ON GENDER IMBALANCE?
As a woman leading an airline, Makolo is in a tiny minority – FlightGlobal's most recent survey shows that the industry lags others, with just 4% of chief executives women at the world's largest carriers.
Makolo's home country is "extremely progressive in terms of women", she explains, noting that 61% of parliamentarians and 50% of the government's cabinet are women.
"And you have women in a lot of leadership positions," she says. "So we take it for granted that women should be up there."
Acknowledging that the airline sector has taken steps to address this imbalance, she also notes that "a lot more work needs to be done to really bring more women into the industry".
"There is a gap, definitely, and I don't think I should stand out as a woman in aviation. It should be the norm – more than 'there's the one woman CEO'.
"The good thing is, everybody recognises that there is an issue there, and IATA is addressing it and different organisations are addressing it, so I look forward to seeing more women in the aviation industry at leadership positions."
She highlights her own career path, which began in the telecoms sector, in suggesting that airlines might look outside the industry for future female executives.
"I come from a completely different industry – bringing in women from other industries to breathe fresh blood into the aviation industry, that's great," she says.
"There is a gap, definitely, and I don't think I should stand out as a woman in aviation. It should be the norm"
But she states that "a lot more needs to be done to encourage women into entry-level positions" as well, citing technical roles such as pilots and engineers, and noting that RwandAir's own academy has focused on "trying to bring in as many women as possible".
"There's a focus – we realise there's a gap there and we need to address that gap as quickly as possible," she states.
In the meantime, Makolo hopes to set a strong example by guiding RwandAir out of the current crisis and to the next level with its new partner.
"We'll have a world-class airline and a world-class airport, and make Kigali really a major hub in the region. So for us it is only positive and we are looking forward to the collaboration between the two airlines," she concludes.