South African Airways chief executive John Lamola believes that the Star Alliance carrier emerging profitably from its first full year of operations since resuming flights almost two years ago underlines it is in good shape to expand.
SAA entered a formal business restructuring process in late 2019 amid mounting financial challenges. This process, together with ongoing travel restrictions during Covid-19, meant SAA only resumed flights in September 2021 – and did so at a much smaller scale.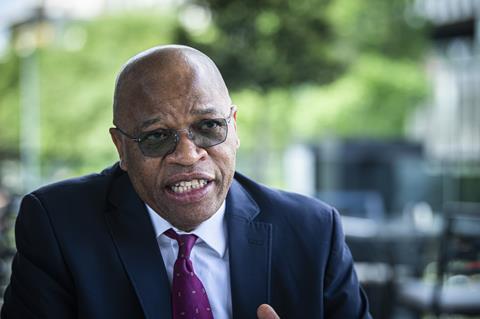 "We are rebuilding South African Airways and rebuilding it on a different platform altogether as a resized and repositioned airline," Lamola tells FlightGlobal during an interview at the IATA AGM in Istanbul.
"We have had a very successful year," he adds. "We have just closed the financial year [March 2023] which is historic, in the sense that after a long time we posted a profit, an operating profit and a net profit, both as an airline and with our two subsidiaries [catering and maintenance].
"What drove it is the fundamental that South African Airways has come from business rescue, so not only is the balance sheet cleaner, but we have been resized. We have slashed our overheads and we have maximised the utilization of our aircraft," he explains. Lamola also points to an innovative and flexible approach, for example noting that negotiations with lessors to retain three of its aircraft for three months during the Southern Hemisphere winter also helped lift revenues during peak season.
"One of the secrets of our success is we chose very carefully the routes we knew would be profitable," Lamola explains, contrasting that with some of the "political" decisions of the past. "We choose routes out of commercial considerations."
That approach is about to see the restoration of long-haul flights, starting with Perth and Sao Paulo. This fits with SAA's mandate to fly long-haul. "Given the geographical factors of South Africa, a country locked into the southern hemisphere at the tip of the African continent, there are imperatives for us to provide widebody, long-haul airlift. So we have a strategy that is based on providing widebody, long-haul airlift," says Lamola.
The airline is in the process of adding six more Airbus aircraft, including an A330 widebody to deploy on long-haul routes. While the struggle to secure aircraft amid the wider supply chain challenges has pushed the long-haul launch back towards year-end, Lamola notes that the course of SAA's own scaling up means it has not been too badly impacted by these issues.
"We have not been stressed about it because it has been matched with the pace of the post-Covid market recovery. We found the fleet we had was good for our purposes while we were also awaiting working with the strategic partner on the business plan," he says. "This was really like South African Airways in maintenance – in a kind of holding pattern, where we had to defend and protect our traffic rights. The fleet we have was matched to our cost structure – we were anticipating breakeven, but we went through to an operating profit."
SAA will though now turn its attentions to growth as hopes that a recent breakthrough with the country's competition authorities will unlock the stalled completion of new investor the Takatso consortium acquiring a 51% stake in the airline. This will see the carrier return to some markets it has not served since before the pandemic. Lamola though says the new SAA will be operating a network on different foundations.
"The market share that South African Airways had, was not clinically robust. It was also bolstered by a lot of support from the taxpayer. We now have a real airline that is competing with a real size and muscle with its competitors," he says.
Neither will that carrier retain an interest in the low-cost market – a sector in which its had previously established budget unit Mango Airlines. "We are not interested in it any more. We have given an order for Mango to be sold to whoever is interested, and that process will continue," he says. Mango is currently in its own business rescue process, though progress on a potential new investor is stalled amid a dispute between Mango's administrator and the government.
"The idea is South African Airways will focus on a full-service carrier, geared for a long-haul network. We are the only airline that currently flies to Accra, Lagos and we will be able to fly further before the end of the year," says Lamola.