Southwest Airlines, an all-Boeing carrier since its inception almost 50 years ago, is again flirting with the idea buying aircraft from a competing airframer.
And with a hot new Airbus family of jets – the A220 series – proving its mettle in the US and overseas, analysts say such a move may be long overdue.
"The A220 is the logical follow-on for Southwest," says Mike Boyd, president of airline consultancy Boyd Group International. "It is a leap ahead of the A320 series, and it will be years and years before Boeing has a clean-sheet 737 replacement on the ramp."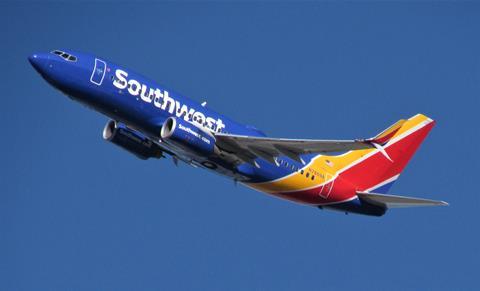 Southwest executives have in recent years expressed interest in the idea of branching out beyond operating only 737s, a discussion that gained traction following the 737 Max grounding, which hit Southwest particularly hard.
The airline is among Boeing's top 737 Max customers; it has 34 Max in storage and 260 additional jets on order with Boeing. Regulators grounded the Max about 19 months ago, in March 2019, following two crashes that killed 346 people.
Amid the coronavirus pandemic and its long-term effects in the air transport industry, the idea of acquiring new jets seemed to rest on Southwest's back burner until the company's third-quarter earnings call on 22 October.
"If there were ever a scenario for us to consider making a change in aircraft, it would be now, because we're not desperate to grow the airline, and may not be for a long time," Southwest's chief executive Gary Kelly said during the call. "We absolutely do need the smaller airplane. We have a ton of 737-700s that are coming up for retirement in the next several years."
Indeed, as of 23 October, Southwest had 421 737-700s in service, including more than 60 that are at least 20 years old, plus another 72 737-700s in storage, according to Cirium fleets data. Southwest equips 737-700s with 143 seats, all in economy class.
But which mid-range aircraft will be the bride that Southwest takes to the altar? A Boeing product – in this case the as-yet-untested 737 Max 7, of which the airline holds 28 orders – had been the likely shoo-in.
Perhaps no longer. In the post-coronavirus world there's more to think about.
"The A220 is a new variant – [a] younger, more fuel-efficient aircraft than the 737-700," says Helane Becker, analyst at Cowen Securities.

She also notes that the 737 Max 7, unlike the clean-sheet A220, is based on a decades-old design, and that Boeing has secured relatively few Max 7 orders.
Boeing's 737 Max 7 backlog stands at just 53 firm orders, nearly all from Southwest and Canadian discounter WestJet, according to Cirium. Unlike the 737 Max 8 and 9, the Max 7 has not been previously certificated.
Airbus acquired the A220 programme (then called the CSeries), from Bombardier in 2018. Two variants – the A220-100 and A220-300 – are becoming popular go-to aircraft for short- to medium-haul routes.
For Southwest, that would mean flights lasting less than 100min, Becker says.

As of the end of September, Airbus had delivered 123 A220s globally and had another 516 on order.
The A220 family is the smallest in Airbus' product line, and can be configured to hold up to 150 seats. Boeing says 737 Max 7s can accommodate up to 172 seats.
The two aircrafts' range is similar, topping out at around 3,500nm (6,300 km), but performance, economics, passenger comfort and mission flexibility are key as airlines begin pondering a post-coronavirus environment.
"A220 is flat out the most-advanced single-aisle airliner in the world," Boyd says. "[It has] far better economics than even the Max, the cabin is superior in comfort and the A220-300 can do Providence to Washington, DC, and Providence to London, profitably."
And for an airline rebuilding following the pandemic – Southwest reported a record $1.2 billion loss in the third quarter – efficiency and profitability are top of mind.
"We will need [a smaller aircraft] to fly shorter to medium-haul markets, and we will make sure that we have economics that will serve us well," chief financial officer Tammy Romo said.
"We have long been an all-Boeing carrier and there are certainly efficiencies that come with that. All that [will be] factored into that evaluation," she added.
The one-manufacturer-is-best argument only goes so far, analysts say. Southwest has previously operated various 737 types concurrently, with differing training, maintenance, parts and support.
"The nonsense that Southwest would take a hit with adding another airplane type is common fodder," Boyd says. "With a fleet this size, they have already operated different categories of airliners in the past – the 737-200s were aeons different from the 737-300/500s, which were different from the -700s. At one point they operated all three."
Cowen's Becker says the airline will "have to work harder to maintain their low-cost advantage" since new aircraft would add complexity. She adds that another possible contender to replace the -700s could be Embraer E-Jets E2s, though the airline has not disclosed discussions with the Brazilian airframer.
Southwest says it plans to make a fleet decision within the next year, with potential deliveries of new jets from 2025. Airbus did not respond to multiple requests for comment.

Pilar Wolfsteller, Americas Air Transport Editor, is an FAA-certified flight instructor (CFI), and holds a commercial pilot certificate with instrument rating. She joined FlightGlobal in 2019, and is based in Las Vegas. She covers airlines across the hemisphere and her interests also include future-oriented sustainable aviation technology, advanced air mobility projects and pilot training topics. Pilar began her journalism career at the global news agencies Bloomberg and Reuters, and has reported from more than 50 countries.
View full Profile