Southwest Airlines' operational meltdown continued 27 December as it cancelled thousands more flights in what has been a calamitous holiday travel period for the Dallas-based discounter.
Other major US airlines have also struggled due to heavy holiday traffic and extreme winter weather, but not to the same extent as Southwest. The carrier cancelled 2,909 flights on 26 December – 71% of its total scheduled operations, according to flight tracking site FlightAware.com. Southwest has cancelled another 2,590 flights – 63% of its operations – as of 12:30 Pacific Time on 27 December. A further 680 flights were delayed, FlightAware.com data show.
"The major problem is the IT infrastructure from our scheduling department that keeps track of our flight crews and makes sure we can complete a flight legally because of our [Federal Aviation Regulation] liabilities," Michael Santoro, vice-president of the Southwest Airlines Pilot Association (SWAPA), told FlightGlobal on 27 December. "That software just can't keep track of where we are at any given time. When they lose track of where pilots are the system just breaks down, and that's what happened."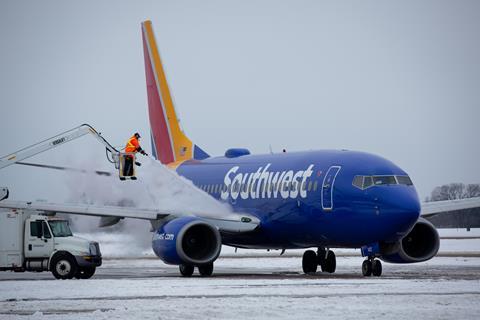 Southwest's operational issues began with the winter storm that hit the Midwest and Northeast USA in the busy travel days before Christmas, and the situation snowballed thanks to the decades-old software.
"With consecutive days of extreme winter weather across our network behind us, continuing challenges are impacting our customers and employees in a significant way that is unacceptable," the airline had said on 26 December. "As we continue the work to recover our operation, we have made the decision to continue operating a reduced schedule by flying roughly one third of our schedule for the next several days."
The result of the software snafu has been parked aircraft across the country, and thousands of Southwest flights crew members stranded in airport terminals and hotels like hundreds of thousands of their customers. Santoro could not say exactly how many Southwest pilots are "no longer married to their original schedules", but added that it's "the majority of them".
"Like passengers, we have planes we need to get to where we're going, we want to get to our overnights, we want to get home at the end of our trips," he says. "None of that's happening for us, either. We have a lot of people who were stranded and weren't able to see their relatives for Christmas."
"When you cancel 2,500 flights, that's 5,000 pilots that are just sitting around," he continues. "So, it's not a lack of crew members who are out there, ready and willing to work."
Southwest did not immediately respond to FlightGlobal's request for comment.
Aside from a few Twitter posts and company-wide emails, SWAPA hasn't heard directly from Southwest management regarding the scheduling quagmire. "That's frustrating to deal with," Santoro says. "We want to help them fix things and when they don't include us, we can't."
Southwest's disarray has caught the attention of the US Department of Transportation (DOT), which has pressured major US airlines to improve their operations following a summer of frequent air travel disruptions, often during busy holiday weekends.
"US DOT is concerned by Southwest's unacceptable rate of cancellations and delays and reports of lack of prompt customer service," the agency said in a 26 December social media post. "The department will examine whether cancellations were controllable and if Southwest is complying with its customer service plan."
On 1 September, the DOT rolled out a new Airline Customer Service Dashboard to provide information to air travellers faced with flight delays or cancellations for reasons under carriers' control. The move came at the urging of US Secretary of Transportation Pete Buttigieg, who sent an 18 August letter to the 10 largest US airlines blasting the airlines' summer operational issues as "unacceptable".
The US Federal Aviation Administration (FAA) declined to comment on Southwest's operational meltdown.
SWAPA's Santoro is optimistic that operations will return to normal by this weekend. Southwest has temporarily frozen all new ticket sales as it focuses on getting stranded passengers and flight crews to their destinations, and a pause will allow the airline to "reset" its scheduling system, he says.
That said, the airline has so far pre-emptively cancelled almost 4,000 flights in the coming two days.
The airline will always be vulnerable to major operational disruptions so long as it relies on antiquated technology for scheduling, Santoro says. The software was developed in the 1990s and "really hasn't been updated to handle the number of flights we do in a day".
"Anytime we have a big hiccup, it snowballs."
SWAPA is currently negotiating with airline management on a new contract that contains "scheduling enhancements that will make the system more efficient" and the union will continue urging Southwest to update its software.
"We need them to seriously invest in the IT infrastructure and scheduling software because our network is complex; we're not a hub-and-spoke system, we're point-to-point," Santoro says. "But they've known that for years and we've had a meltdown every year for the past five or six years. They need to invest in software that can completely track flight attendants, pilots and airplanes at all times. Until they do that, we could have this problem happen again."
"For our pilots, we just feel embarrassed that this is happening," he continues. "We apologise profusely. We're tired of apologising for Southwest Airlines, but we'll keep doing it."