SriLankan Airlines chief executive Vipula Gunatilleka is laying the groundwork for the airline's future in the post coronavirus world.
After moving into the top role at SriLankan in August 2018 after three years at TAAG Angola Airlines, Gunatilleka says things were going well for SriLankan in 2019.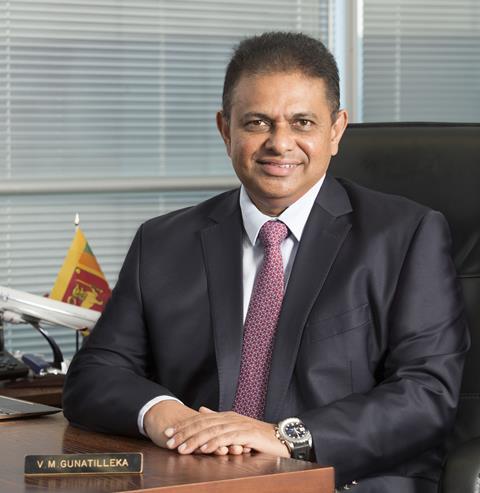 Tourism was strong despite a major terrorist attack in April of that year which Gunatilleka says left the country deeply shaken. Fortunately business bounced back in a few months. The demise of Jet Airways also created opportunities for SriLankan in the pivotal India market.
Then Covid-19 hit in 2020, resulting in what Gunatilleka calls the toughest year of his life.
"In 2020 we were hoping all would be good, but of course we had the situation in Wuhan and the Chinese numbers going down initially…finally in March the airport was shut down and we had to curtail our operations," says Gunatilleka.
Gunatilleka and his team had to quickly shift the strategy of SriLankan, a key player in bringing both business and leisure passengers to Sri Lanka, a country of spectacular beaches with a rich cultural heritage.
With tourism frozen owing to quarantine measures in Sri Lanka and abroad, one solution to keep things moving was air cargo. Using passenger aircraft, the airline operated cargo services to countries in Europe, Australia, and North Asia. Outbound cargo included fruits, vegetables, seafood and garments, while inbound cargo included electronics, some of which headed to India.
In addition, the carrier operated repatriation flights for Sri Lankans stranded overseas. Such flights generate load factors of 70-80%. For scheduled flights during the pandemic, Gunatilleka admits that "it's hard to get five percent."
Reduced lease rates were negotiated with lessors, with an overall reduction of 17%, although one lessor provided a 23% reduction. Staff numbers were reduced from 7,500 in 2017 to the present level of 5,800 resulting in a 23% reduction, which Gunatilleka says is an optimum level.
The company has also implemented a headcount freeze, a voluntary separation scheme, eliminated non-essential roles and amalgamated some positions.
As for the carrier's fleet, Gunatilleka says most of the carrier's 24 aircraft – 12 Airbus A320 family jets and 12 A330s – are in service, although utilisation is low, particularly for the A320s. An A330 that had seats removed last year for loading cargo in the cabin has been withdrawn from service so that it can undergo refurbishment. The carrier has floated a tender for a maindeck freighter.
As for the airline's four orders for A350-900s, Gunatilleka says Srilankan still intends to take these jets when the air travel situation improves, and that Airbus has been very understanding.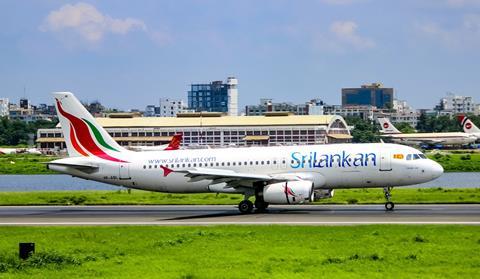 SriLankan has also received assistance from the government. A major cost for the carrier is roughly $1 billion in debt. Much of this is owed to government affiliated banks, including an $800 million government bond.
Colombo recently provided the carrier with a $500 million injection. Part of the first $150 million tranche went to repay loans from the Ceylon Petroleum company.
In preparation for the post-Covid-19 world, Srilankan has used the downtime afforded by the pandemic to update a number of back office systems, booking engines, and implement improved analytics. One objective is doubling the airline's ecommerce penetration to 30% from 15% before the pandemic.
Still, the airline's future relies on the return of passengers. In SriLankan's case, the challenge is particularly acute because it has no domestic market to speak of. Everything is contingent on an international opening.
At present, business people can visit Sri Lanka on a restricted schedule, but other travellers require a two-week quarantine. Gunatilleka hopes that this requirement is reduced, and is upbeat about a potential travel bubble arrangement with India.
"Hopefully this materialises and we see a lot of movements between the two countries," he says.
Forward bookings from India are picking up, as well as those from Singapore and the United Kingdom.
"We are lobbying the government…because we need to bring the tourists and we see quite a lot of optimism."

Greg Waldron is the Asia Managing Editor of FlightGlobal, responsible for the team's airline, aerospace, and defence coverage across the region. He has worked at the company since 2009. In the airline space, Waldron has conducted dozens of interviews with airline leaders in the Asia-Pacific. He also covers areas such as MRO and safety. On the defence beat, Waldron has written extensively about the rise of Chinese airpower, as well as broader airpower developments around the region, such as indigenous fighter programmes, and regional acquisitions of foreign equipment. In addition, Waldron writes about commercial helicopters in the region and business aviation. Waldron worked has a freelance journalist with his work appearing in several business publications.