With sustainability now firmly an intrinsic part of the industry's future, more airlines are tasking dedicated executives with taking the lead on the topic
As the airline industry gears up to meet its net-zero targets, more and more carriers are appointing executives with responsibility for sustainability efforts.
This reflects the rising importance of an issue that now tends to be among the highest-profile topics in boardrooms and at industry events – and with outsiders when they are asked about aviation's biggest challenges.
FlightGlobal has spoken to three airline heads of sustainability to find out what their backgrounds are, what steps they are able to take on the issue today, what the biggest challenges are looking ahead, and how they think the industry can ultimately meet its targets.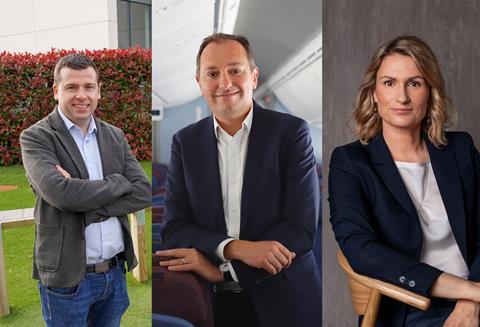 Their answers reflect the fact that on many topics, the industry is in agreement – notably the importance of sustainable aviation fuel (SAF) and the desire to avoid taxation becoming the default government lever for addressing airlines' environmental impacts.
Indeed, for most carriers and industry bodies that have so far put forward pathways to net-zero, SAF is responsible for a big proportion of the effort. The speed at which operators jump on the minuscule amount of SAF available today reflects that.
On other topics, however, differences of opinion are emerging. Some airlines trumpet their current investments in new aircraft as worthy of praise in the sustainability context. Some are big on carbon offsetting as a lever to meet targets. Others are focused on operational efficiencies and cite the importance of initiatives such as the Single European Sky. A few are big on investments in breakthrough technologies.
At the same time, many share a concern that airlines cannot be punished competitively by moving early on sustainability.
And many agree that ICAO, national policymakers, regulators, airports and the energy industry will play a crucial role in ensuring that change does happen.
Most airlines are hedging their bets.
There is also a fundamental question around how sustainability is treated by the industry. Should it be like safety, where the issue is deemed too important for airlines to compete on the topic?
And exactly how should an airline's individual performance be judged? Is agreement on a set of industry standard metrics the way forward?
Furthermore, is there a place for defending the industry's environmental impact, given it is variously estimated at 2-3% of global emissions? Does it get a bad deal and should it do more to push back?
Then there is the question of what's at stake for the industry. A few years ago, it was arguably not mainstream opinion that sustainability was an existential issue – a crisis, even. Today, that has changed.
Voices such as United Airlines chief executive Scott Kirby have been instrumental in spreading the debate far beyond Europe, where the 'flight shaming' movement no longer feels like a niche concept.
And what comes next, over the next five to 10 years? Will that period be one of airline public-relations challenges amid a lack of available concrete progress on the necessary advancements?
For that reason and others, most stakeholders are in agreement that hitting net-zero targets is not going to be easy.
The sustainability chiefs leading the airline industry's net-zero charge
1

Currently reading

The sustainability chiefs leading the airline industry's net-zero charge

2

3

4